The showbiz industry of Bollywood keeps coming up with a new form of trend each day. At times they are literally into a good cause and at times they are into a cause just for a photograph session. You really never know what's actually cooking in their mind. There's this new tactic they have come up with, you might have noticed this new form of a trend in Bollywood these days.
The Bollywood film industry has suddenly come out in support of sanitary pads through a campaign called "The Padman Challenge". The campaign is basically a chain challenge in which the nominated person has to share a selfie with a sanitary pad and then post it in the social media websites. Then nominate the next person to carry forward the challenge and it goes on.
The campaign was purportedly started by the people involved with the upcoming movie "Pad Man". Many of the popular celebrities of the Bollywood industry have boldly taken part in this campaign, posting their selfies holding the PAD in both hands! Amir Khan, Alia Bhatt, Shabana Azmi, Anil Kapoor, Rajkumar Rao and Ayushman Khurana are some of the names to mention.
Thank you @arjunk26.@RajkummarRao & I are just out here hanging out in a chemist's shop holding a pad.

Yes, that's a Pad in my hand & there's nothing to be ashamed about. It's natural! Period. @PadManTheFilm #PadManChallenge.
I challenge @Oprah @MadhuriDixit & @priyankachopra pic.twitter.com/5IPPyCozrU

— Anil Kapoor (@AnilKapoor) February 4, 2018
I accept this challenge @radhika_apte. And now I nominate @psbhumi @sanyamalhotra07 and @RajkummarRao for the #PadManChallenge ✌️Go for it guys! pic.twitter.com/RWinMmB9uh

— Ayushmann Khurrana (@ayushmannk) February 3, 2018
Yes, that's me and a Pad in my hand.. u know Life as usual! There is nothing to be ashamed. It's natural! Period. #PadManChallenge
Here I am Challenging @Saqibsaleem @theathiyashetty @itsSSR @HarshKapoor_ All the best @akshaykumar @sonamakapoor @mrsfunnybones @radhika_apte pic.twitter.com/Z3mthbOkP7

— Huma Qureshi (@humasqureshi) February 4, 2018
The cause behind this campaign is said to be raising awareness about usage of sanitary pads among the people. No doubt the cause is both noble and important. But what I personally felt the real motive behind this campaign is something different. It is just a publicity stunt in order to promote the upcoming Akshay Kumar starrer, Pad man. Let me explain…
The producer of the movie – Akshay Kumar's wife, Twinkle Khanna, had also made a quick run to the Oxford University in order to promote the movie. She's into repeated posts on the social media sites talking on this topic and talking about measures to be adopted regarding it.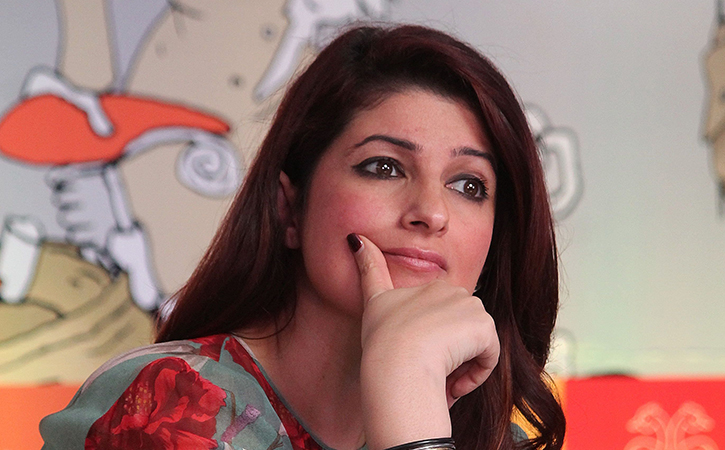 If the industry literally wanted to do something for the cause of sanitary pads they could have done a lot more than these selfies. Couldn't they? To be frank, a selfie with a pad is not gonna bring any major change in the society. Nor it will get a change in the lives of those rural women to who cannot even afford to buy these branded pads produced by huge multinationals.
Bollywood is a wealthy industry, it consists of well to do people in it. If they literally had a huge heart of doing something good, they could have donated in lakhs and crores for this cause. Or even made a visit to the rural areas and spread awareness about the use of sanitary pads and menstrual health. In order to bring a change we need to educate the people first. Clicking selfies and tagging people in social media won't get the so-called change. Will it?
I can bet even today there exist people who aren't aware about the "white stuff" they are holding in these posts. Women in rural areas cannot afford to buy sanitary pads in some parts of the country. They need to compromise with their monthly budget in order to buy sanitary pads. Women in our country's rural areas use filthy rags and newspapers during their periods. This is quiet unhealthy and can cause harm to their body.
Menstruation is still a closed door topic in India…
Menstruation is a monthly reality for women for more than three decades of their lives. Thus, menstrual hygiene is fundamental to their dignity and well-being. We can't afford to keep believing it as something unclean or dirty and ignore it. Menstruation must be discussed freely in households. It is important to educate mothers in a family who are usually the principal point of contact when a girl first gets her period. Unfortunately, studies have reported that 70 % mothers in India consider menses 'dirty' and 'polluting'.
This needs to change sooner than later. However, the discussion on the subject should not remain restricted to women members of the household. It must involve the male members as well who need to understand its scientific basis and need of menstrual hygiene. We must reach that stage quickly when sanitary napkins can be asked for in a shop in a loud voice and brought home without wrapping them in newspapers and black polybags.
Creation of an enabling environment in schools is another vital aspect. The subject must be a compulsory part of the curriculum. Teachers need to be trained to become a significant source of information for girls. As the girls tend to discuss menstrual problems with their peers, students must be motivated to become peer leaders and act as models, mentors, educators and counsellors.
Let's not waste a single day more to mitigate the physical agony, mental trauma and sufferings of millions of girls and women owing to menstruation.
While Bollywood is just talking… here's an organization turning it into reality!
CSC VLE Society in Bangalore held awareness drive for use of sanitary pads by women at Dr. S Gopalraju Government College, Anekal, Bangalore. Swathi V K young lady, operator distributed pads manufactured by her unit to girl students.
CSC VLE Society in Bangalore held awareness drive for use of sanitary pads by women at Dr. S Gopalraju Government College, Anekal, Bangalore. Swathi V K young lady @CSCegov_ operator distributed pads manufactured by her unit to girls students. #SafePeriods pic.twitter.com/E0gqyN8obL

— RSPrasad Office (@OfficeOfRSP) February 7, 2018
Glimpses of awareness activities on the use of sanitary napkin and women's health, including distribution of sanitary napkins conducted by VLE's across different parts of the country on Day 6.
Glimpses of awareness activities on the use of sanitary napkin and women's health, including distribution of sanitary napkins conducted by VLEs across different parts of the country on Day 6 of #SwachhtaPakhwada . pic.twitter.com/bisq88MjgB

— CSCeGov (@CSCegov_) February 6, 2018
http://postcardhindi.com/bollywood-selfie/
http://www.dnaindia.com/analysis/column-menstrual-hygiene-is-still-a-closed-door-topic-in-india-2582488
---
Advithi