A particular product of a leading MNC will be branded and launched into the market quite royally, but only once. But an alleged youth icon–who will soon celebrate his 50th birthday– from a century-old political party is branded and launched not once a year, not twice but again and again. That too in new, innovative and peculiar flavors.
This product launched by the Congress party is none other than Rahul Gandhi. Even though this man fails in the attempt to impress the people, his team will pamper him by saying that he has succeeded in gaining "moral victory". Perhaps this is the first time in the history of Indians politics that the head of a political party is considered as a star campaigner of the rival party.
Few people mock that he can't even fill the election nomination application by his own but his team call him as the future of India. Now, let us make an effort to find out whether Rahul Gandhi is really a star campaigner of BJP as claimed by his rivals.
Rahul Gandhi says India got Independence due to NRIs!
In USA, Rahul Gandhi had mocked India's freedom struggle by saying "Mahatma Gandhi was an NRI. Jawaharlal Nehru came back from England. Ambedkar, Patel, Maulana Azad, everyone of them went to the outside world, saw the outside world, returned to India and used some of the ideas that they had got and transformed India".
How can a man who cannot write a letter on his own handle the nation?
In the year 2015, Rahul Gandhi visited the Nepal embassy to pay condolences to the victims who died in the deadly earthquake. But ended up embarrassing himself and his party as he was caught on camera copying the entire letter from his cell phone.
When Rahul Gandhi didn't know what is NCC
The day when Rahul Gandhi said that he doesn't know what does NCC stand for, he lost the youth support in India. When asked what he will do to help the NCC cadets, he replied "I don't know the details of NCC training, so I won't be able to answer that".
This was an insult to the largest uniformed youth organisation that had joined hand-in-hand with the Indian Army in two wars.
When Rahul Gandhi entered into ladies toilet!
With full of enthusiasm and over-confidence, Rahul Gandhi had entered Gujarat to uproot the BJP government in the assembly election in December 2017. With the same enthusiasm and over-confidence he had even entered a toilet during the campaigning but soon he realized that he had entered into "ladies toilet". The people around rushed towards the toilet and gathered outside the toilet to see Rahul Gandhi coming out of the ladies toilet.
Finally, a machine that produces gold has been invented, not by a scientist, but by India's very own Rahul Gandhi!
2017 was really pathetic to Rahul Gandhi. This was the year when the Congress spokespersons were hell busy in defending the blunders of Rahul Gandhi that had all potentials to wipe out Congress from the nation instantly. The evergreen blunder was of converting potatoes into gold. "I will install a machine which will convert potato into gold" claimed Rahul Gandhi.
After ALOO KI FACTORY here Comes ALOO Machine which will Convert Potato into Gold!!

Only Rahul Gandhi can imagine people will fall for his theatrics ??? pic.twitter.com/xbKLiIH6b6

— Abhishek (@abaranwal1802) November 14, 2017
In the year 2016, Rahul Gandhi went to a hospital in Una, Gujarat to meet the youths who were flogged publicly. Then came the "Jaadhu Ki Jappi". Yes, Rahul Gandhi hugged a woman named Ramaben Muchhadiya at the hospital thinking that she was a relative of the victim.
But later it was found out that she was not even related to any of the victims. Reports revealed that the 55-year-old woman who Rahul Gandhi had hugged had a criminal record that included cases of extortion and rioting.
Agricultural Miracle: Rahul Gandhi creates Potato in factory!
Before turning Potato into gold, we should have enough quantities of potatoes. That's why Rahul Gandhi will help the farmers to produce potatoes not in the field but in factory. In a meeting with the farmers in Firozabad, the villagers' request was to set-up "aaloo ke chips ki factory".
But Rahul Gandhi jumped into "aaloo ki factory" and said that "You all are demanding a potato factory in your area, but you should understand I am an opposition leader, I can put pressure on the government, but cannot take the decision. I cannot open a potato factory for farmers".
Rahul Gandhi Ji, yeh kya hua? Kaise hua? Which hybrid potato is created in factory?
Rahul Gandhi jumbles up Bhrashtachar and balatkar?
In a rally, while addressing the women, Rahul Gandhi said that "What has the government done for the tribals here? Have they indulged in corruption (apke saath bhrashtachar kiya?)", targeting the BJP government in the year 2013, in Gwalior, Madhya Pradesh.
The day when Rahul Gandhi begged to let him go to the toilet!
It was the day when Rahul Gandhi had attacked PM Modi with his "fair and lovely" jibe scheme on black money and JNU issue. But as soon as BJP's Prahlad Joshi started to counter Rahul Gandhi's claims, he began to leave the house. When asked why he is running, Rahul Gandhi shouted "Toilet tau jaane do! (Let me go to the toilet)".
The day when Rahul Gandhi forgot his grand mother's name?
In another attempt to tag India's nooks and corners with the names of the Gandhi dynasty, Karnataka CM Siddaramaiah had invited Rahul Gandhi to inaugurate the most "anticipated" Indira canteen. Rahul Gandhi lived up to his reputation by calling the canteen as "Amma canteen".
Amma canteen is a scheme of late Jaya Lalitha but Rahul Gandhi (accidentally) tried to impress the Tamilians on the Karnataka soil.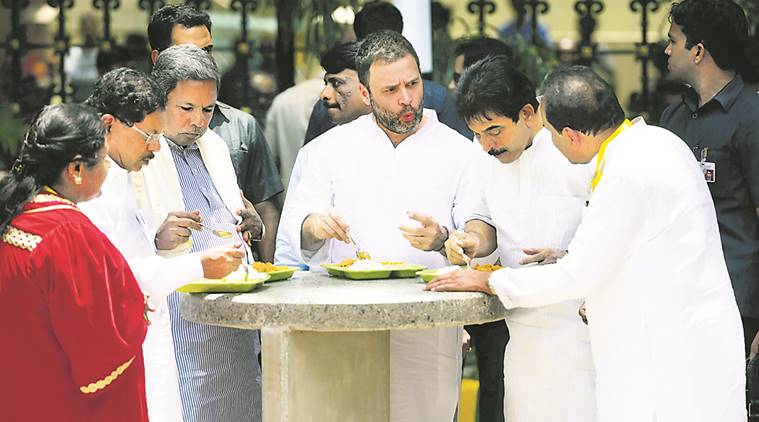 Rahul Gandhi's blunders continue even in United States!
The 3 time MP from Amethi doesn't know that that there are 545 seats in Lok Sabha. Rahul Gandhi embarrassed the crores of Indians with his poor knowledge by saying that the number of seats in the Lower House was 546, not 545.
Rahul Gandhi is scared of Hindus. Here's why!
Hinduism is the only religion in the world which is very secular when it comes to elections. But Rahul Gandhi ensured that the Hindus would vote only for the party that believes in the principles of Hinduism. This miracle happened after Rahul Gandhi called the temple going men as womanizers. "Those who go to the temples, worship the goddess, refer to women as daughters and mothers, molest women in the bus" said Rahul Gandhi.
At times, Rahul Gandhi gets confused with the gender!
During a speech in parliament, Rahul Gandhi referred to Dr P Venugopal, who was in the Speaker's chair as 'Madam Speaker'. Someone shouted that Rahul Gandhi is reading out the speech and that's why he didn't realize who was sitting in the chair. This is what happens you don't use your common sense but just keep on reading what's written in the letter.
Rahul Gandhi had tried to unite Hindus in 2009!
Almost a decade back, Rahul Gandhi made an attempt to unite all the Hindus by saying that "the bigger threat (to India) may be the growth of radicalized Hindu groups, which create religious tensions and political confrontations with the Muslim community". This is when Hindus used their common sense before voting to the Congress party.
"Bhool gaya, bhool gaya" said Rahul Gandhi in the parliament. Here's why!
After hijacking the "Gandhi" surname, Rahul Gandhi made an attempt to eliminate Mahatma Gandhi from a central government scheme. Couple of years ago, Rahul Gandhi made an attempt to corner PM Modi using the scheme Mahatma Gandhi National Rural Employment Guarantee Act (MGNREGA).
But in a hurry, he missed out the letter "M" that represented the "father of the nation" and called the scheme as NREGA.
These are the gist of the blunders created by Rahul Gandhi since he joined politics. After reading the above points, one might not just call him as a star campaigner of BJP but also a total unfit to become India's Prime Minister.
From India to United States, Rahul Gandhi has succeeded in defaming the Congress party. Along with the star campaigner tag, Rahul Gandhi will go down in the history of India as a leader who hit the final nail in the coffin of the Congress party.
---
Hansika Raj