Two teenagers, students of a high school in Adugodi, committed suicide by jumping into Sankey tank in Sadashivanagar 4 years back on this day, allegedly after being reprimanded by teachers for their poor academic performance and also participating in Holi celebrations.
The dead girls were identified as J. Priyanka (16) and Sonali Gupta (15), students of SSLC and 9th standard respectively at Mary Immaculate English School in Adugodi. They stepped out of their school after they were punished for playing Holi on the campus and reached Sankey tank where they tied their hands with school uniform before jumping into the lake.
Please RT in the memory of 2 Hindu girls Priyanka & Sonali who committed suicide in 2014 after they were punished by Convent Christian school for playing Holi in Bangalore. No INTOLERANCE ?
Please RT in the memory of 2 #Hindu girls Priyanka & Sonali who committed suicide in 2014 after they were punished by Convent #Christian school for playing #Holi in Bangalore.

No INTOLERANCE ? #HappyHolihttps://t.co/qI0aN23eYr pic.twitter.com/O1NxZhrzdo

— ShankhNaad (@ShankhNaad) March 1, 2018
According to the parents of Priyanka and Sonali, who jumped into Sankey Lake, seven girls of Mary Immaculate High School, Lakkasandra, were made to stand outside the staff room for playing Holi.
The incident came to light around 2.30 p.m. after a security guard of the lake noticed the abandoned bags at the lake bed and alerted the police control room. Their school bags were kept on the park bench along with their shoes and socks, which were kept neatly aside on the walking pavement of the tank.
The police and the Fire and Emergency Services personnel rushed to the spot and recovered the bodies after two hours of search operations. The suicide notes were found in their bags. They said that their principal Mary Laila and teacher Philomena Immanuel were constantly harassing them over a long time regarding studies and other school activities.
Earlier, the school headmistress had summoned the parents to the school around 1.30 p.m. to inform them that their children vanished from the school premises. It was learnt, seven students, including the dead girls, who were made to stand outside the principal's office as punishment for playing Holi on the school premises.
Sonali's father Dayanand Sagar, a cab driver, said he had no clue about his daughter's academics. Priyanka, daughter of Janardhan, a fireman attached to Jayanagar fire station and Bhagyalakshmi. Her mother said she knew about her daughter's poor performance in her academics and had been notified repeatedly by the school authorities to find a way to improve her studies. School authorities had even threatened to bar Priyanka from appearing for her 10th standard examination.
The bereaved family and relatives alleged that harassment by teachers led to the suicide and threatened to stage a protest in front of the school with the dead bodies demanding action against the guilty. The Sadashiva Nagar police, who had registered two cases of unnatural deaths, have summoned the teachers seeking an explanation.
"There was a special class. Many girls played Holi near the school and authorities were unhappy with them. Seven girls, including Priyanka and Sonali, were punished. The school management called us around noon saying Priyanka and Sonali were missing," a relative of one of the girls told.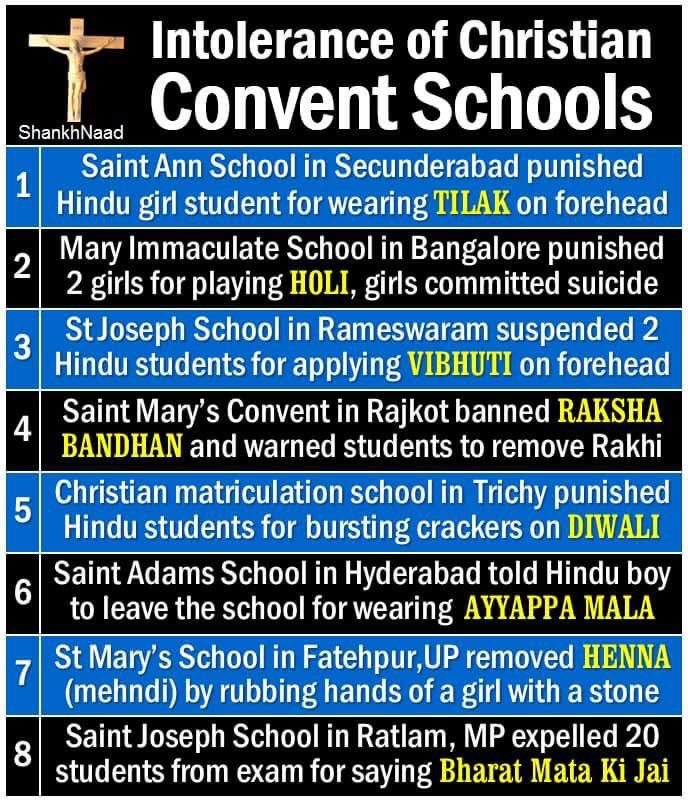 There are a number of such cases registered in the name Christian convents and schools run under the Catholic board. Students are being brutally punished for practicing basic Hindu rituals and school authorities harass and threaten Hindu students for minor mistakes.
Christian Fraud, Missionary Fraud, lies and Deception School is Mary Immaculate Convent in Bangalore, India. This school is still operating.
Source:  Hinduhumanrights
---
Advithi