Since the time the Cambridge Analytica controversy got exposed, the Congress has been facing major embarrassment. The major expose on Congress links with the company Cambridge Analytica which is known to steal people's private information to influence their political choice. This information was out recently after the Facebook banned the access to the company.
Later it was found that Congress had hired this same company for the upcoming 2019 elections. This information was exposed by Republic Tv which gathered evidence of 8 top political leaders meeting with Cambridge Analytica Company founders in the year 2017. The documents also showed that an NGO was opened by these political parties through which payments were made to the Cambridge Analytica company. An estimated of Rs 800 Crore is said to be paid by the political party to strategize for the upcoming 2019 elections. Cambridge Analytica is in the eye of a global storm over its alleged data theft and the other means by which it influenced global elections.
This same company was also used by Donald Trump before the American elections to influence the psychological preference of the voters. After it was understood that Facebook was used to breach millions of personal information, the union law minister Ravi Shankar Prasad yesterday gave warning to Facebook founder Mark Zuckerberg of stern action if the allegation is found to be true.
But the other shocking part which has been exposed is that around 68 journalists, writers, bureaucrats and film stars have been hired by Cambridge Analytica company which is paying Rs 2-5 Lakhs/month to write against PM Modi. This news was discussed on Republic Tv which said that many journalists names were listed in the disclosed Emails of Cambridge Analytica.
68 Journalists, Writers, Film stars, Bureaucrats have name in #CambridgeAnalytica list who were being paid ₹2-5 Lakh/month to write against PM.

— Prashant P. Umrao (@ippatel) March 22, 2018
But the Congress denied the charges and shifted the blame on BJP. However, their own Congress member has submitted proof busting the Congress lies. Shehzad Poonawalla, who has been a close associate of Rahul Gandhi and Vadra family said that a man called Amrish Tyagi was working with Ovleno, and was "in touch with Rahul Gandhi and team." "There is concrete proof that Amrish Tyagi of Ovleno was in touch with Rahul Gandhi and team. There was nothing till now, but today when law minister Ravi Shankar Prasad has raised the point, some kind of white-washing is being attempted."
Amrish Tyagi is none other than the son of JdU leader K C Tyagi's son. And it is found that Congress and JdU had taken the help of Cambridge Analytica during the Bihar elections during 2015. Shehzad Ponawala also disclosed certain Emails which reveals that Amrish Tyagi of Ovleno was in constant touch with both Sonia Gandhi and Rahul Gandhi since 2012.
In Sept 2016 Amrish Tyagi of Ovleno was in US – met Cambridge Analytica's Alexander Nix… (see pic) PRESENTATIONS TO INDIAN OPPOSITION LEADERS PLANNED… services were to be offered through front companies..Since 2012 Amrish was in touch with "boss" of INC as per his mail to me pic.twitter.com/EUTOg2XsDS

— Shehzad Jai Hind (@Shehzad_Ind) March 22, 2018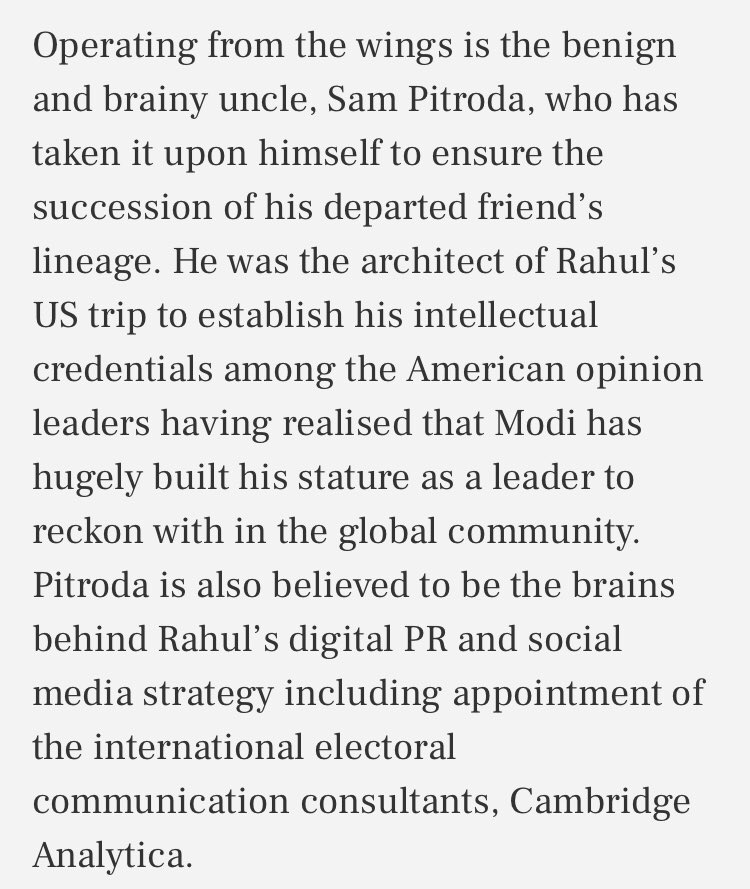 It is now clear that the Congress has hired this company called Cambridge Analytica in order to influence the voters decision on political affiliations. It is a matter of great concern that a National Party hired a foreign company to breach into the private information of millions of Indians just to win elections jeopardizing the security of people.
The government announced that it will probe the matter and if any party or company was found guilty of breaching personal information of people, they will be subjected to stringent punishment.
---
Aishwarya S**