Recently a list was doing rounds in the media that had signatures of 600 theater artists of India including Amol Palekar, Naseeruddin Shah, Girish Karnad and Usha Ganguli demanding not to re-elect PM Modi in the 2019 Lok Sabha elections. But in no time, the lies behind this move were busted as several people in the list of 600 artists claimed that they never signed that particular list. What was even more hilarious is that in the list of 600 artists, several names were repeated multiple times.
Now in a counter attack to this propaganda move, 907 artists including several Indian classical music and Bollywood stars have issued a statement appealing Indians to vote for PM Modi in the 2019 Lok Sabha elections.
The letter was written by "Nation First Collective" titled "Statement by 907 artistes and persons in the field of Literature". The letter stated "We, creative artistes and persons belonging to the field of literature appeal to all our fellow citizens to cast their vote and exercise their right to elect the new government. without any pressure and prejudice".
It added "We believe that during the last five years, India has seen a Govt. that has delivered corruption-free good governance and development-oriented administration. During this period, globally India has acquired greater respect. It is our firm conviction that the continuance of government. led by Prime Minister Narendra Modi is the need of the hour".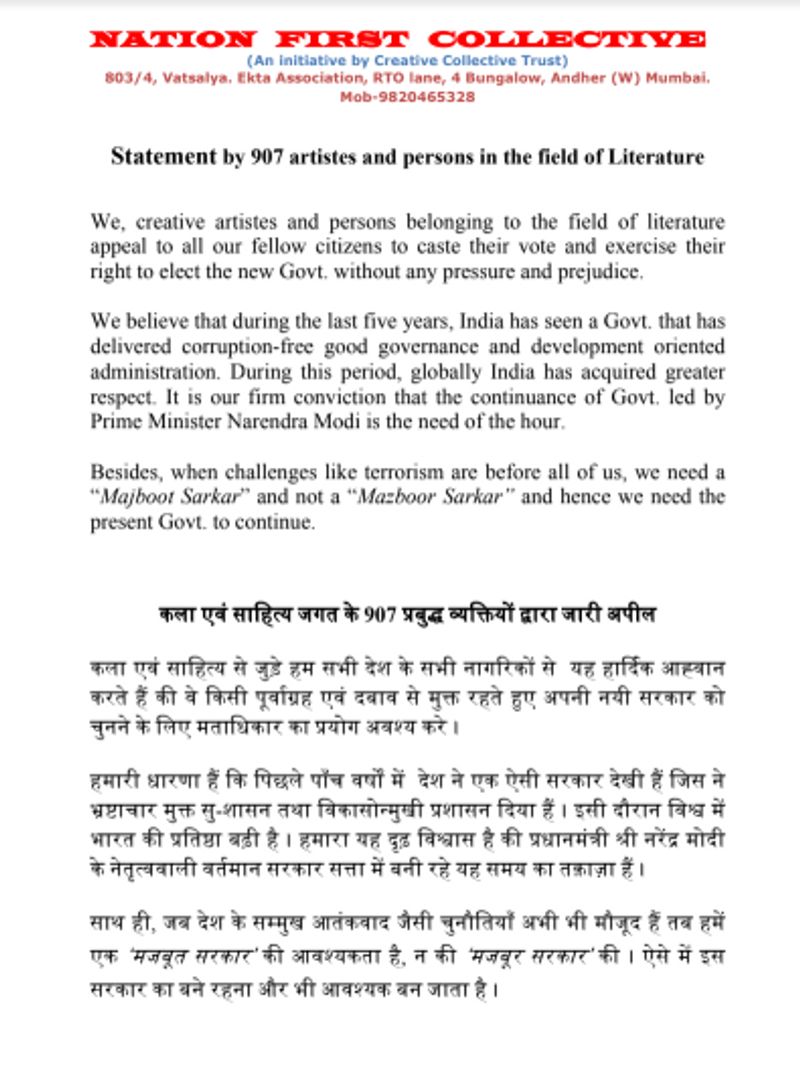 It concluded stating "Besides, when challenges like terrorism are before all of us, we need a "Majboot Sarkar" and not a "Mazboor Sarkar" and hence we need the present Govt. to continue".
The list included renowned Indian classical vocalist Pandit Jasraj, Ustad Ghulam Mustafa Khan, Ram Sutar, Pt Debu Chaudhary, Saroja Vaidyanathan and many more. Not just in India, even in NRIs are working towards re-electing PM Modi so that India's progress won't be checked.