There is a peculiar disease spreading across the length and breadth of the nation. If something happens in India then either blame PM Modi or the Hindus. In a fresh attempt to defame the Hindus, Times of India (TOI) has resorted to a spread a fake news so that the Hindus would be projected in the bad light.
Days ago Times of India had hurt the sentiments of the Hindus after it tried to depict the 'Veda Pathshalas' as human trafficking centres. On July 16th, it had published an article titled "11-year-old boy's rescue reveals 'trafficking' prevalent at madrassas, Veda pathshalas".
But the article was not at all based on the Veda pathshalas. It was about an 11-year-old boy who was rescued by Childline volunteers and child protection officials in Chennai from a madrasa. It was suspected that the minor boy was a victim of child trafficking.
Soon this article with "Veda pathshalas" angle was slammed by the alert Hindus on social media and that's why the Times of India changed the headline to "11-year-old boy flees from Kodungaiyur madrassa, rescued".
In another such act of misleading the society by portraying Hindus in a bad light, Times of India published an article titled 'Godman' held for forcing men into 'unnatural sex'. What was disgusting in this was that the Times of India had tweeted this news article on its Twitter handle with a picture of a Hindu Rishi. Below is the image.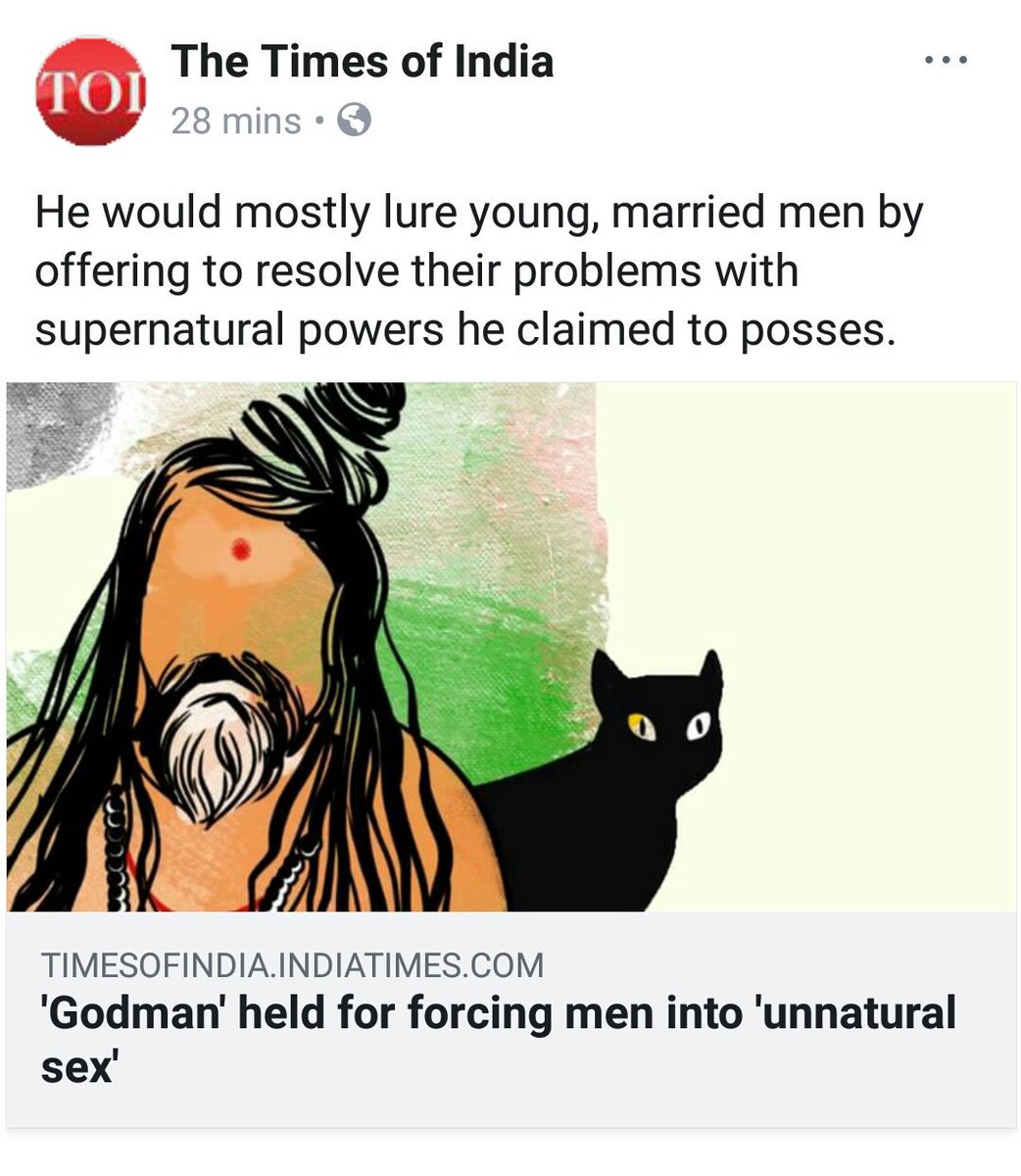 With the caption "He would mostly lure young, married men by offering to resolve their problems with supernatural powers he claimed to posses".
It was crystal clear that the accused was not of Hindu community as his name was Asif Noori. The article began with "a 38-year-old self-proclaimed godman was arrested from Maharashtra's Buldhana district on Sunday, days after audio clips and videos of him allegedly forcing male devotees into unnatural sex went viral on social media. The accused, Asif Noori, had been targeting men in different districts of Marathwada, especially Parbhani and Nanded, for a decade".
So what was the point in putting a picture of a Hindu Rishi when it was clear that the Hindu community didn't have any connection? Soon this tweet faced massive anger on the social media platforms.
Soon the Times of India went into a damage control mode by deleting the tweet. However, it didn't render an apology, like it did in its previous case of "Veda pathshalas" article earlier.
When it comes to defaming Hindu Rishis, Times of India is a regular offender!
Incident 1: Months ago a Muslim man named Akmal alias Akmalbaba A Raza had raped a woman and her 14-year old daughter for one year by a baba. But Times of India gave a headline as "Swami booked for rape of woman, daughter".
Incident 2: Once, a man named Deen Mohammad alias Deenu and his assistant Daraab Khan were booked by the Haryana police on charges of raping a 19-year-old woman. But the titled of the article published by Times of India was "Gurgaon tantric, father of 10, held for teen's rape" and the feature image was of a Hindu baba and a devotee in a saree.
---
Hansika Raj