Not once, not twice but it has become a habit and fashion for the so-called media houses to spread fake news to attack the central government. Rahul Gandhi has committed a major blunder and embarrassed himself calling the Rafale Deal a scam. Just with an intention to malign Modi government, Rahul Gandhi started spreading fake narrative on Rafale Deal which boomeranged big time against Congress. So, now he desperately wants to prove himself right for which he is looking for all means.
Probably some of the paid media seems to be helping Rahul Gandhi achieve his goal of spreading fake news on Rafale deal. But this time they played with the wrong person for which they are likely to pay a heavy price.
The Portal India times made an article quoting that Subramanian Swamy called the Rafale deal corrupt and would move to court against it. The India Times claimed they obtained the news from PTI (Press Trust of India) saying that no one was willing to buy Aircraft from Dassault, but it was only India which has agreed to buy.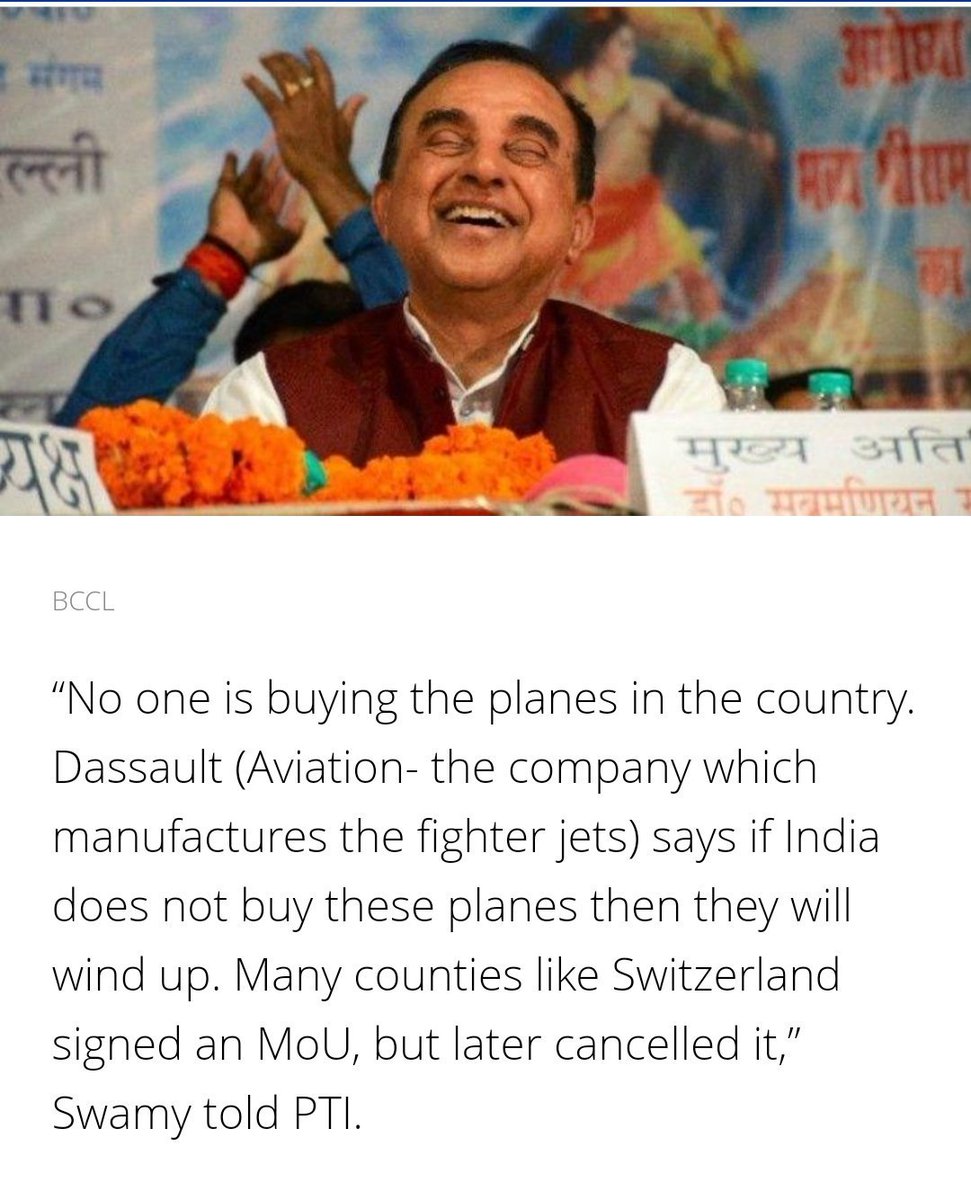 The moment the news became viral, Subramanian Swamy immediately rejected the claims made by India Times and called it a lie. He demanded the News channel to apologize for quoting fake story against him.
Some India Times is quoting me that I said today the Rafaela's deal is "corrupt" and that I will go to court against it. Rubbish. It is totally fake news probably put out by paid India Times

— Subramanian Swamy (@Swamy39) July 29, 2018
India Times I learn is owned by Times of India group. So Toilet paper dirty trick. Twice in the past Toi let paper had to apologise. Now they need a rocket

— Subramanian Swamy (@Swamy39) July 29, 2018
After the issue became a big controversy, the PTI also issued a statement saying that they had not published any statement quoting Subramanian Swamy which confirmed that it was a hit job by India Times to create rift between party members.
PTI has not issued any story quoting Dr Subramanian Swamy @Swamy39

— Press Trust of India (@PTI_News) July 29, 2018
The India Times finding no other go, issued apology to Subramanian Swamy and claimed that the story was from 2005. But Dr Swamy is in no mood to forgive these repeat offenders who have done the hit job deliberately to malign Modi government.
We published a story carrying a quote of @Swamy39 on the Rafael Deal. The story was based on an agency copy from 2015. Since the quote has been denied by #SubramanianSwamy & The Agency, we are taking the story down.We apologise to @Swamy39 & our readers for this inadvertent error

— Indiatimes (@indiatimes) July 30, 2018
---
Power Punch