Karnataka which was once known as peaceful state, probably cannot have the tag anymore. Under the Congress rule, the state has completely turned into goonda raj with rowdy elements, criminals and jihadi elements roaming free and running the state parallelly.
Just 3 days back, Bangalore witnessed one of the most terrifying goonda act of MLA's son Mohammed Haris who brutally assaulted an innocent man in a restaurant. Vidvat was thrashed with liquor bottles, kicked in stomach and punched in face went into a coma after the attack. Mohammed Haris and his friends displayed the brazen attitude of power and money attacking common people in public. Despite the entire state condemned the incident and demanded justice, the police deliberately delayed arresting Mohammed Haris on orders of powerful people in government.
The news channels reported that Mohammed Haris was hiding in an undisclosed location with the help of police themselves. It is said that the police itself escorted Mohammed Haris in their car to keep him safe after the assault. What is more disgraceful is that, after Mohammed Haris surrendered yesterday, it is said that the police gave him royal treatment in police station offering him a comfortable chair and cool drinks. There cannot be a bigger shame on the part of police and politicians. The police even refused to file 307 IPC (Attempt to murder) section against Haris under the pressure of his father. Instead, the police have registered FIR against Vidvat who got attacked by these rowdies.
Take a look at the condition of this man who got attacked!
Now, after Haris episode, video of another Congress goon leader Narayan Swamy assaulting government officials in BBMP office in K R Puram, Bangalore has emerged. This goon leader demanded to get an illegal land allotted to his name, when the officials refused to do so, he has come back with a can of petrol and split it all over the BBMP office threatening the officials of burning them.
Watch this rowdy behavior!
This goon is a close aide of Chief Minister Siddaramaiah and is the member of Karnataka water board. This incident has taken place on February 16 but the video came into light today morning.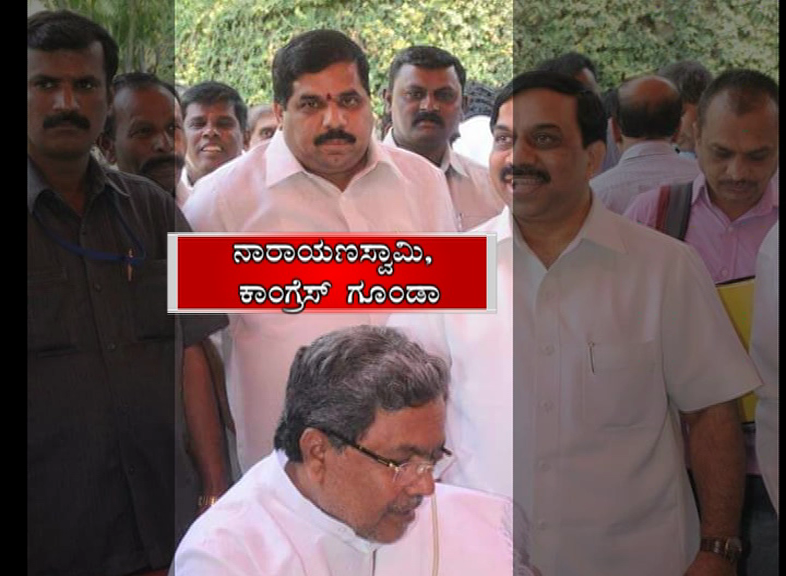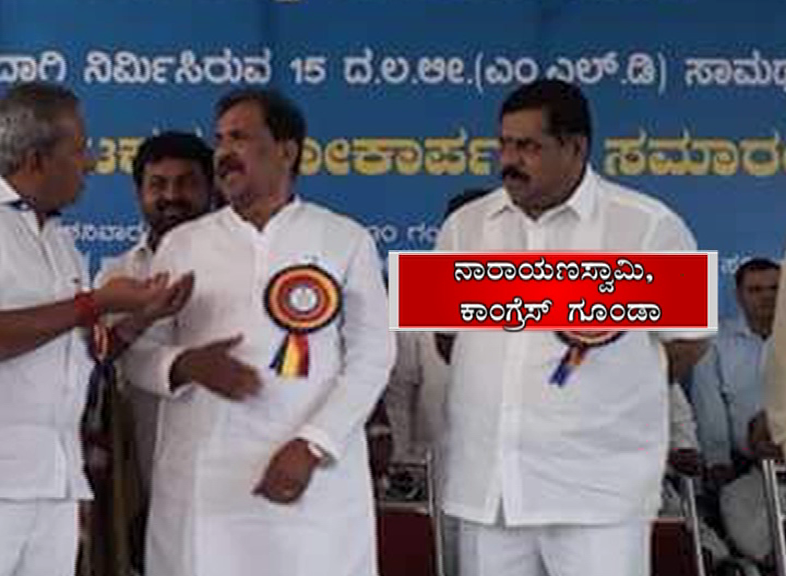 Now decide what should we call this government? should we still believe that law and order is under control? Is this the way to run a state? These criminals get into politics not to serve people, but to make money and display their rowdy character on streets threatening people.They get power, they make money, so who will ever stop them? They do not fear the law, they do not fear the police, they do not care for people, do you expect your city to develop under such goons?
It is a matter of great concern that such goon elements are given tickets and people vote for them. But ultimately it is the people who will suffer in the hands of such criminals. A sincere man like Vidvat who pays his taxes, who respects law and who loves country will have to face humiliation, abuse and get attacked under such criminal politicians while rowdies and goondas who loot the country and people's money will go on rampage burning public offices and threatening people.
It is for the people to decide whether they will vote for such people and encourage more such goondas in society or teach them a lesson by kicking them out of electronica politics.
---
Aishwarya S