TM Krishna the well known carnatic classical singer has been in media lenses for quite sometime now for his anti Hindu stance, hate and support to missionaries who have indulged in mass conversion.
TM Krishna was accused of having a biased political view and using the classical music of the great Hindu saints to please Christian missionaries. Recently he was seen using the most objectionable language against the Prime Minister, BJP and RSS calling them communal,  castist, trolls which gained him the name politically biased. The same person who blamed Modi for intolerance, did not speak a word against when the JNU leftist lobby chanted Azadi slogans in the heart of the capital.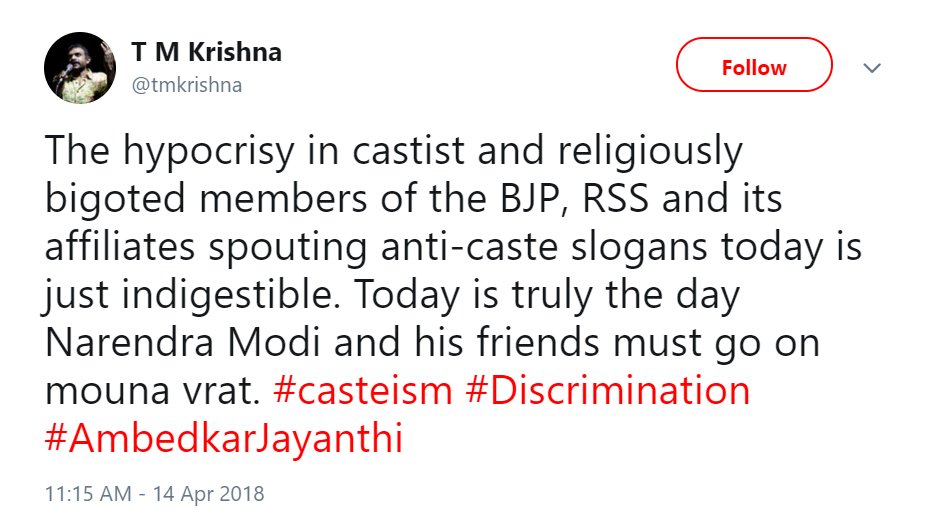 Recently, the Airport Authority had organised a two-day 'Dance and Music in the Park' festival at Nehru Park, New Delhi in which TM Krishan was invited for the event. However, since the organisation was hosted by AAI and cultural body, SPIC-MACAY, the public money was being used for the event. But this irked many Nationalists who were wary of TM Krishna's support to left lobby and anti Nationals and raised concerns of using public money to support a man who is against Indian values and Indian culture.
The issue became public and many Nationalist voiced their support against the event which has now made the AAI call off TM Krishna's concert in Delhi.
The AAI in the mail said, "Because of some exigencies of work, we are not in a position to go ahead with the dance & music concert jointly organised with SPIC MACAY on 17th and 18th November 2018 at Nehru Park, New Delhi. Hence, we request you to kindly postpone to a new date and inform all concerned. The new date will be discussed with SPIC-MACAY soon," the email said.
AAI Chairman Guruprasad Mohapatra denied that the concert was postponed because of the criticism the government body received for inviting Krishna. "We have some issues. Some exigency has come up and we are not free that day. Whatever note we have given in the media, that is all, there is nothing more I want to say on this," Mohapatra told The Indian Express.
But TM Krishna who is well known for his bullying attitude said "Give me a stage anywhere in Delhi on November 17, I will come and sing. We just can't let ourselves be cowed down by this kind of threats."
Recently his concert in in Maryland was also cancelled as the organisers did not like his Hinduphobic attitude and said he will use Carnatic Classical to make songs on Jesus and Allah.
This is not the first time TM Krishna has sparked controversy, but he had even mocked Bharat Ratna M S Subbulakshmi of her Devadasi caste and wanted her to stay in the same caste of Devadasi community.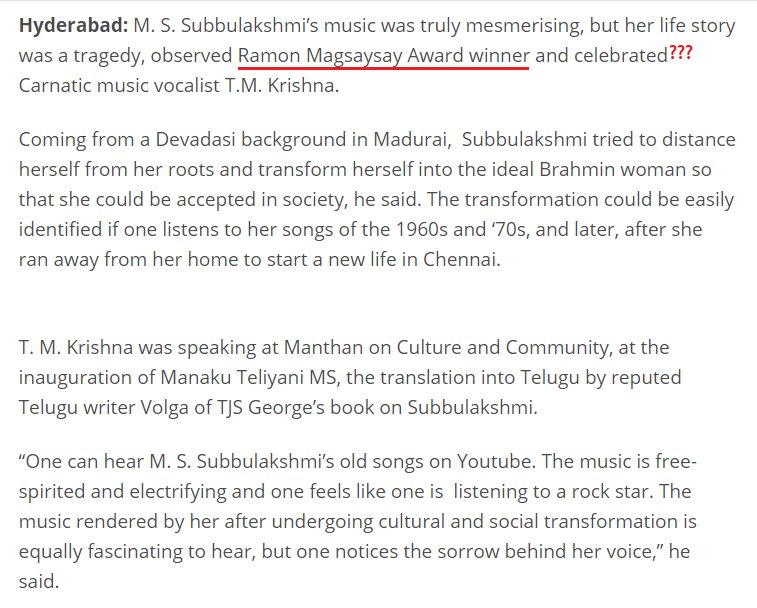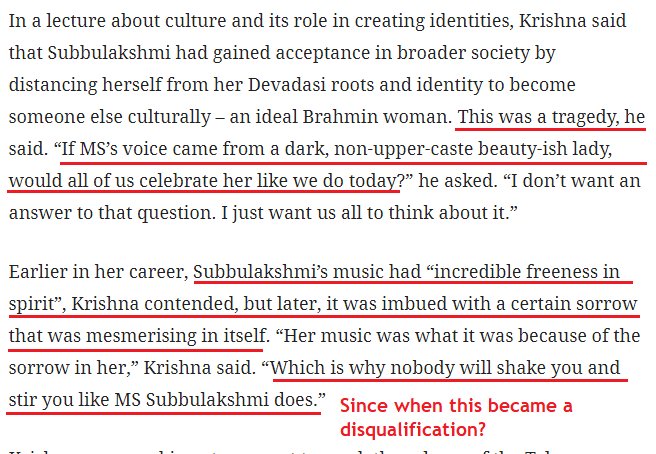 So, with this attitude he expects Hindus and Classical lovers to treat him with respect?? Looks like he used Carnatic Classical developed by the great Hindu saints to get name and fame and is now trying to impress missionaries.
Of course Music has no boundaries, no religion, no caste…but this holds good as long as they respect all religion and not call Hindus as communal, castists and trolls to favour Missionaries. They are free to compose what ever song they wish on whom ever they want, but let them not utilize the RAGAS and Kritis which were invented by Hindu Saints and then twist them and polish them to serve others interests for conversion.
---
Power Punch