In a most ridiculous and unbelievable move, the Delhi CM has asked the central government to scrap the Farmers Insurance scheme which is providing insurance cover to millions of farmers in the country.
The Scheme Fasal Bhima Yojana was started by Narendra Modi government aimed at providing security cover for their crops if in case of natural calamities or drought, for which they can claim insurance. But shockingly, Arvind Kejriwal has said that he wants the central government to stop this scheme.
Addressing a public rally here, Kejriwal demanded that if a farmer suffers crop loss, the government should pay for it and not the insurance companies.
"We demand that the PMFBY should be scrapped immediately and the money deducted from the farmers' account should be returned. We don't accept your scheme. Cancel this and stop fooling us. This scheme was started to benefit insurance companies," he said.
The Aam Aadmi Party (AAP) leader also said that people voted for the Bharatiya Janata Party (BJP) in the 2014 Lok Sabha election because they were fed up with the Congress.
"They were hopeful that the BJP will do something. But the farmers are still suffering and killing themselves. It will not be wrong to say that the farmers are now in the worst condition ever," he said "There cannot a bigger fraud with farmers other than Modi's APMFBY. I visited Haryana two days ago and the farmers there too were unhappy with the scheme."
Few days back, AAP leader Rampal Jat  had announced that he will take up hunger strike in Rajasthan pressurizing the Modi government to meet some demands of farmers. Kejriwal who visited the place said "These people (BJP) do not understand the language of the hunger strike but vote. I asked him to break his fast and to go to every village demanding that people should vote against the BJP. I am happy that he accepted my request," Kejriwal said."The work we have done in Delhi in the last three years proves that all the other political parties misguided the people for 70 years." Business Standard Report.

Kejriwal who has become a total irrelevant subject in the political circle is finding it difficult to convince his own people about the his works. Within a span of 3 years he has earned a name of corrupt, anti National for his support to the break India forces and terrorists.Now, he wants the Fasal Bhima yojana to be scrapped as he very well knows that most of the farmers have gained huge benefit from it and are appreciating PM Modi for the initiative.
His request to scrap something which is benefiting every farmer shows the mindset of his and what exactly he wants. One cannot forget how Kejriwal became a mere spectator and watched the fun when a Rajasthani farmer committed suicide right in front of his eyes 3 years back. And one cannot forget how Kejriwal and his team were laughing at the sight and used it for their political gimmick.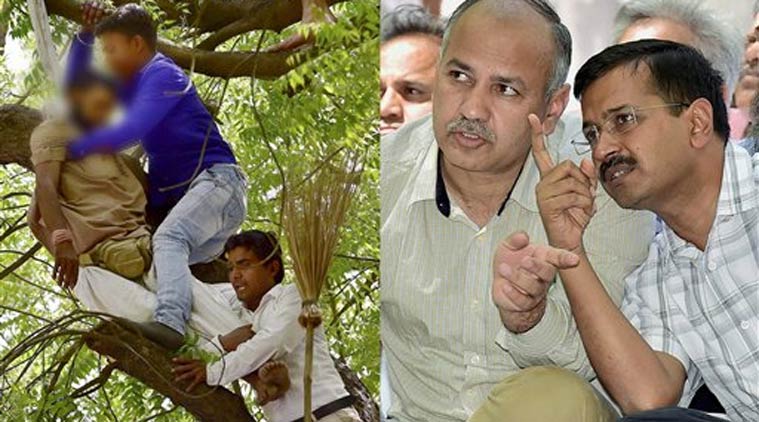 So, on what moral basis does he speak about farmers or make a ridiculous demand of scrapping Fasal Bhima Yojana!
---
Power Punch