In a horrific incident the terror lych mob killed JK DSP Mohammed Ayub Pandit outside a mosque which shook the entire Nation yesterday. This is the second incident in 2 months where these so called misguided youth have attacked a police man to death.
Just a month back, Army officer Ummer fayaz was dragged out of his house by terror gang and hacked to death. Before this incident happened, the terror gang also had attacked CRPF jawans in public while they were performing election duty.
Now, the death of Mohammed Ayub Pandit has disgraced the Nation and exposed the real mentality of these people in Kashmir. These terror supporters hacked Mohammed Ayub who was giving security to separatist leader Mirwaiz who instigated people inside the mosque. Immediate after the prayer a group of 100 men pounced on DSP Ayub stripped him in public and shot him 3 times with a pistol and started hitting him with stones until he was dead. His name plate read M A Pandit, this is when they thought he was a Hindu and killed him o the spot. (Mentality and tolerance of the peace loving community?!)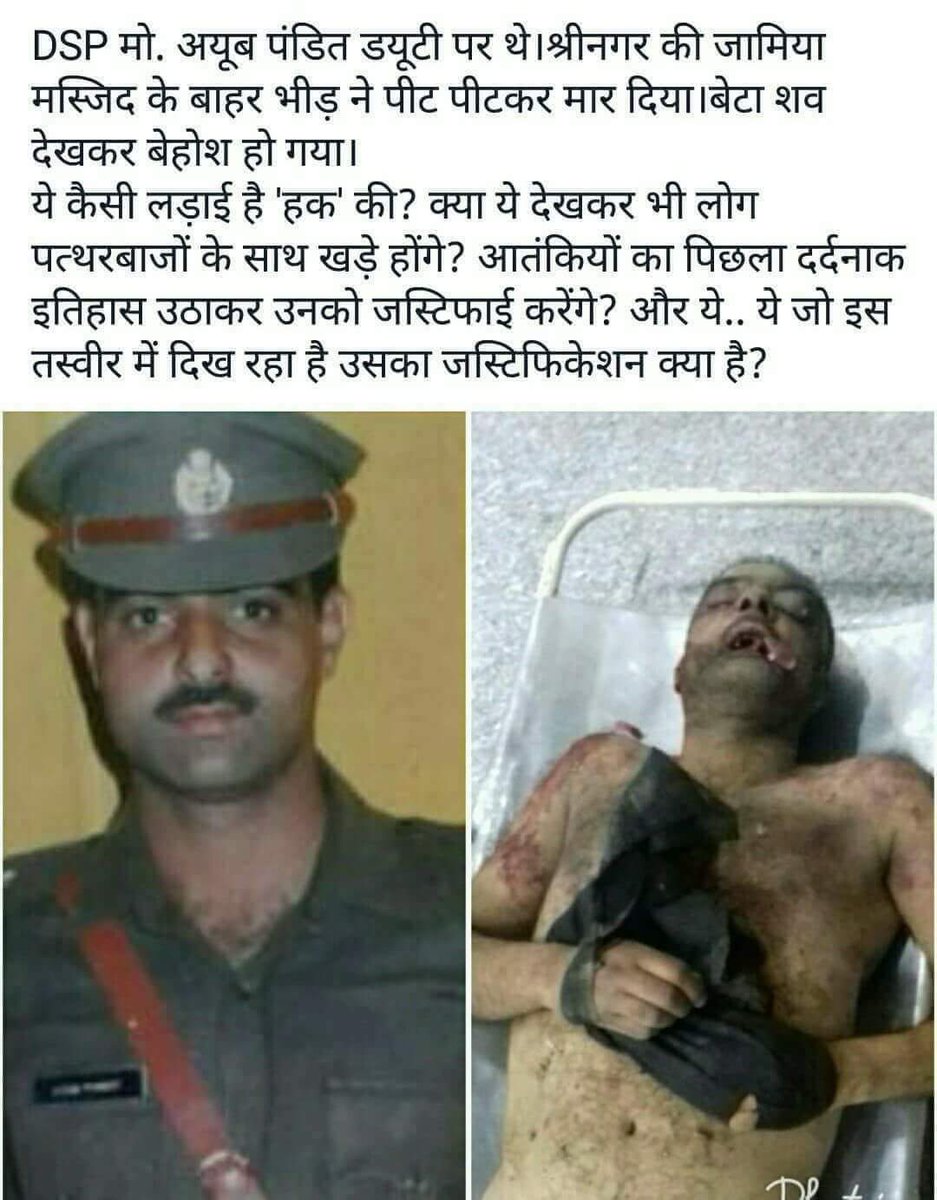 But Separatist leader Mirwaiz did not speak a word against these people and instead tried to support them saying it was the fault of the army. But it was not just Mirwaiz who came in support of these terror agents, but NDTV and The Hindu, and The Indian Express twisted the story completely and indirectly tried to protect the mob.
Take a look!
This is the ACTUAL NEWS! But check what NDTV reported!
Another officer sacrificed his life in line of duty DySP Mohammed Ayub Pandith of Security beaten to death by mob at #Nowhatta last night.

— J&K Police (@JmuKmrPolice) June 23, 2017
It was not just NDTV, check how The Indian Express and The Hindu twisted the story!
Now do these people deserve to be called journalists or media? This is nothing but an escape route given to terrorist from media. As soon as people started to question NDTV and The Hindu, they deleted the old headline. But Indian express continues to claim that DSP Muhammed Ayub was an ALLEGED GUN MAN!
These shameless news agencies are the reason why the terrorists have gained importance in India. The Indian Express was the name news paper which spoke against the hanging of Yakub Memon! Check how much importance they gave for APJ Abdul Kalam.
Let people decide whether these news agencies who support terrorists so openly should be called Nationalists or anti Nationals!
---
Aishwarya S