The bilateral relationship between the two countries "India and Israel" has blossomed at the economic, military, agricultural and political levels. Both countries see themselves as isolated democracies threatened by neighbouring countries that train, finance and encourage terrorism. Thus both countries also view their cooperative relationship as a strategic imperative.
I personally see deep ties between the 2 countries, primarily due to two main reasons:
1. Both countries were once a British colony.
2. Both have a territorial dispute with armed neighboring states.
India is of most importance to Israel industries and foreign relations and India too holds Israel in the same respect. This is evident with Shri Narendra Modi becoming the first Prime Minister to be visiting Israel, as he embarks on a tour in 2016.
Let's go back in time and have a look what actually led to this cordial relationship between these two countries in the past.
"Jews have lived in India for over 2000 years and have never been discriminated against. This is something unparalleled in human history" – Chief Rabbi of Israel Yona Metzger.
Relations between Jerusalem and New Delhi were not always warm. Although both countries gained their independence from the United Kingdom within months of each other, they found themselves headed in pointedly different directions for nearly four decades – India as a leader in the Non-Aligned Movement that maintained close relations to the Arab world and the Soviet Union and Israel which linked its future to close ties with the United States and Western Europe.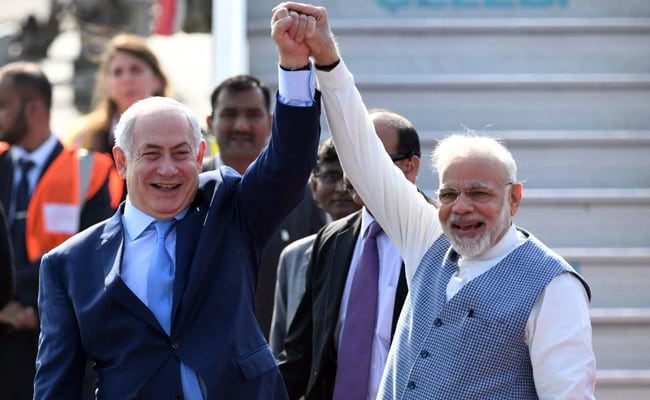 New Delhi started official ties with Jerusalem in 1992 but it was back in 1950 that India set up a consulate in Mumbai to help Jews wanting to move to Israel. With a significant population of Jews residing in west-coast of India, Israel also holds India culturally important.
India's large Muslim population was another major obstacle to building a relationship with Israel, as India feared that close relations with the Jewish State might somehow radicalize its Muslim citizens – numbering more than 100 million – and hurt its relations with the Arab world.
Although India publicly kept a distance from Israel until the late 1980's, there was, in fact, a great deal of bilateral activities between the two countries in the preceding years. India extended de-jure recognition to Israel in 1950 and allowed Israel to maintain a consulate in Mumbai (Bombay) to facilitate the voluntary immigration of thousands of Indian Jews to Israel.
Thousands of Indians have also travelled to Israel for special courses and training in agricultural technology and community development. Israeli supplied weapons aided India in winning the Kargil War against Pakistan in 1999. Israel also provided humanitarian relief to India. Following a devastating earthquake in 2001, Israel sent an IDF (Israel Defence Forces) emergency response delegation to India for two weeks to provide humanitarian relief and treatment for the victims.
Since firmly establishing diplomatic ties, both countries have benefited immensely. India has become one of Israel's largest trading partners, many of the world's leading high-tech companies in Israel and India are forging joint ventures that are successfully competing in the tough international marketplace. Trade and cooperation between the countries now centers primarily on security-related deals and aid in areas such as agriculture and water desalination. As of July 2013, India-Israel trade had risen to approximately $6 billion a year, far surpassing the modest $200 million level it was at in 1992.
The key to the growing India-Israel ties however is in the realm of security and defense. In the early years of 2000, the Indian army declared its intention to implement a modernization program to which resources of 10 billions of dollars would be allocated. Since then, defense deals with Israel have grown exponentially – today India is the number one export target of Israel's defense industries.
Including diamonds, bilateral trade between Israel and India amounted to $4.13 billion during 2016. Israel exported $1.15 billion worth of goods to India during 2016 not including diamonds, amounting to 2.5% of Israel's total exports for the year.
Jew's are not ungrateful people. They remember the favour they received and respond back with willing cheerfulness.
Relations with Israel now…
Indian Prime Minister Narendra Modi became the first sitting Indian PM to visit Israel on July 4, 2017. Israeli Prime Minister Netanyahu appeared with Modi throughout his three-day visit, accompanying him on visits to Yad Vashem and water desalination plants as well as various cultural events.
Multiple collaborative agreements were signed between Indian and Israeli entities during Modi's visit. "The Israel Space Agency" and the "Indian Space Research Organization" signed an agreement to foster partnership in the development of electric propulsion systems for small satellites, and creating systems to accurately measure the extreme conditions of outer space. Israeli officials and their Indian counterparts signed an agreement to create the India Israel Innovation Initiative fund (I4F) on 5th of July, 2017, modelled after the US-Israel BIRD foundation.
The two countries pledged $4 million per year each to I4F over a five-year period. Representatives from a number of India's largest corporations signed eight trade agreements with Israeli firms including Elbit Systems and Israel Aerospace Industries on 6th of July, 2017. A collaborative agreement was also signed during Modi's visit to Israel between the "Asher Space Research Institute at the Technion and the Indian Institute of Space Science and Technology". This agreement aims to establish joint study and research exchange programs.
Concluding his visit, Modi bid farewell to the people of Israel via a Twitter post in Hebrew and English that read "I thank the people and Government of Israel for their hospitality. This successful visit will add more energy to India-Israel relations. Israeli Prime Minister Netanyahu posted a message on Twitter in Modi's native language of Hindi as well".
Source: https://www.quora.com/What-benefits-does-Israel-get-from-India-and-why-are-they-helping-us/answer/Amit-Jain-183?srid=LgDC
---
Advithi