Since the day the Bhima Koregaon violence took place, the way Congress took political advantage indicated that they had some sinister role in the entire violence. The Maharashtra police who went behind the culprits arrested over 10 members who were alleged to have links with Maoists and played a key role in fanning the violence.
The investigation unearthed that these urban Naxals were not just part of Bhima Koregaon violence but were planning the assassination of Prime Minister Modi. The police along with Maharashtra ATS arrested all the urban Naxals and recovered numerous documents which revealed their connections with not just Maoists but also few political parties and few NGO's like Elgaar Parishad which pretends to fight for Dalit rights.
But now, shocking news has emerged in which a senior Congress member's phone number has been recovered from the arrested members who has been apparently referred to as "Friend."   One of the letters allegedly seized from the 10 arrested activists in connection with the Elgaar Parishad violence cites the willingness of Congress leaders to assist them in organising protests. It also quotes a contact number that is listed as senior Congress leader Digvijaya Singh's on the party website (The Print).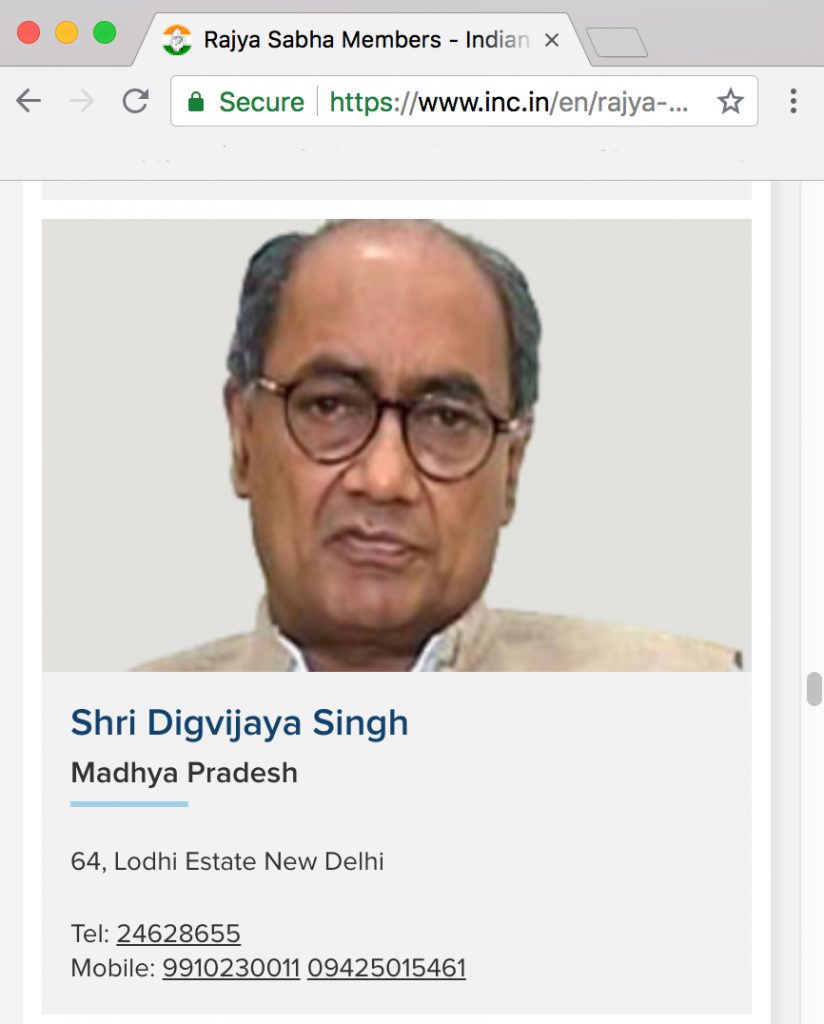 The letter which was seized was said to be written by 'Comrade Prakash' to 'Comrade Surendra' and is dated 25 September 2017.
"We must intensify nationwide protests using students, state forces will be soft against students which will gradually put the state at a disadvantage while acting against us," 'Comrade Prakash' has written in the purported letter.
"Congress leaders are very much willing to assist in this process and have also agreed fund further agitations whenever such opportunities arrive. In this regard you can contact our friend at 9910230011."
The number when verified with the official INC website was found to be of that of Congress leader Dig Vijay Singh. However, the number was not in use currently. When Dig Vijay Singh was questioned, he reportedly said he has no idea about any such connections. "As a public figure so many people have my number. I don't know how and when they are using it for what," Singh said (Print Report).
The letters which were recovered initially were also produced to the court which read….
"Com. M has expressed satisfaction with regards to Arun's efforts to motivate research scholars and get them involved in the revolutionary movement. He has been asked to continue the work across Mumbai, Pune, Aurangabad and Konkan region too. Senior CC leaders have also appreciated his selfless contribution in strengthening the party across the Western zone."
The letter written on January 2, 2018, mentions the Congress link…
Comrade M' to 'Comrade Rona'. It says: "Congress friends have assured assistance for the release of senior political prisoners including Com. Kobad and Com. Sai."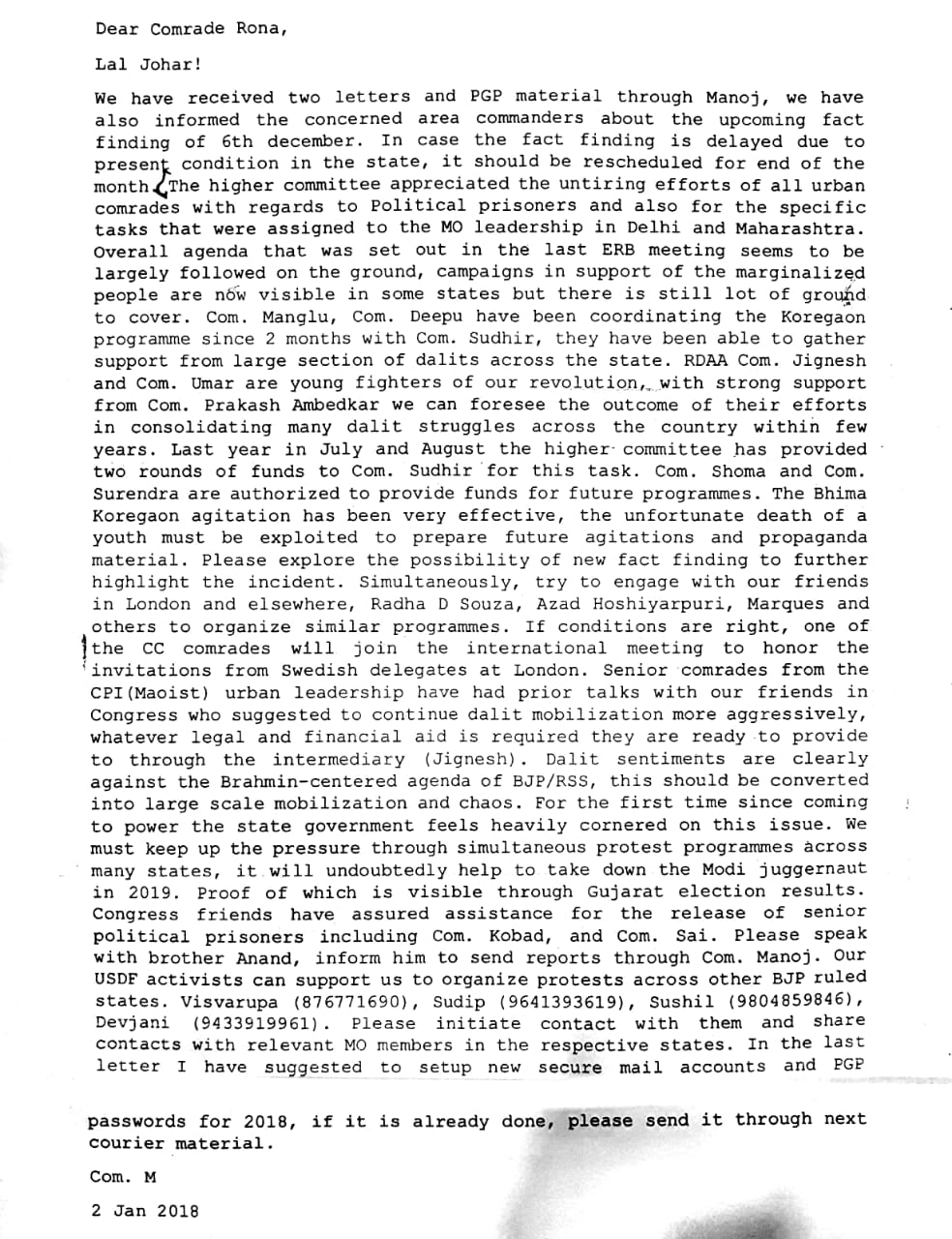 Com. Sai is none other than former Delhi University academician G.N. Saibaba who was convicted for anti-national activities and has been serving jail term since 2017.
So, now it is clear who is assisting these criminals who are inciting violence in the name of Dalits and backward. Rahul Gandhi, who blamed BJP/RSS just moments after the Bhima Koregaon violence broke out should now answer why did the letter mention that Congress was assisting Naxals?
If Congress was assisting the Maoists incite violence, then on whose orders was the green signal given…Rahul Gandhi or Sonia Gandhi?? Why did the Congress want an convicted Maoist supporter Sai Baba released from jail?
Rahul Gandhi should answer whether they are also part of assassination plot planned by Maoists to kill Prime Minister Modi? Was Congress funding terrorists and Naxals? Who is providing legal aide to these criminals?
This is a serious charge on Congress and Rahul Gandhi who pretends to be a saint should first make his stance clear before pointing at anyone.
---
Power Puunch