A statue of Mahatma Gandhi was vandalized by miscreants in Kerala's Kannur on Thursday despite a stern warning by Prime Minister Narendra Modi and Home Minister Rajnath Singh against such acts.
According to reports, the hooligans, who are yet to be identified, broke the spectacles on Gandhi's statue before getting away in Thaliperambu area of the city.
According to reports, the man crawled up the statue and destroyed a spectacle and a garland. He allegedly hurled a stone at the statue before leaving the scene. The video of the man has gone viral on social media.
The incident came close on the heels of the razing of the statues of Lenin in Tripura and the desecration of a bust of Periyar in Tamil Nadu's Vellore.
The bust of Jana Sangh founder Syama Prasad Mukherjee was damaged by activists of Left-leaning outfit 'Radical' in south Kolkata on Wednesday. A statue of B R Ambedkar was damaged by unidentified people in Uttar Pradesh's Mawana on Tuesday, triggering protests by Dalits.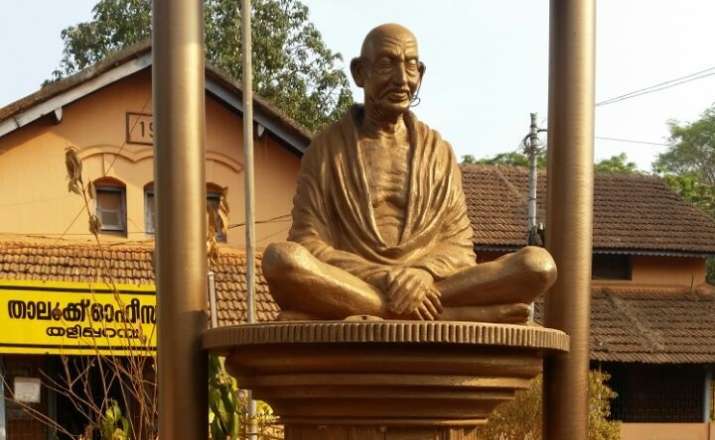 Taking a serious view of the desecration of statues in various parts of the country, the Home Ministry on Wednesday issued a second advisory; it's second in the day, holding district magistrates and superintendents of police "personally responsible" for such incidents of vandalism.
The fresh advisory came a few hours after the ministry, in its first advisory, told all states and union territories that incidents of toppling and damaging of statues must be checked immediately and stern action should be taken to prevent such incidents.
PM Modi has also expressed his strong disapproval of incidents of vandalism of statues and spoken to Union Home Minister Rajnath Singh on the matter. The home minister has appealed to political parties to ensure that those found desecrating statues are dealt with strictly.
Gandhi's statue is vandalized in Kannur, Kerala. Let's see Democracy comes in danger or not!
Gandhi's statue is vandalised in Kannur, Kerala. Let's see Democracy comes in danger or not!

— Prashant P. Umrao (@ippatel) March 8, 2018
Narendra Modi condemns incidents of statue vandalism, warns of action
Prime Minister Narendra Modi said stern action should be taken against people guilty of vandalizing statues, which have been reported in states including Tripura, West Bengal and Tamil Nadu.
In a strongly worded message, the prime minister condemned the incidents of statue vandalism. The home ministry has also told state governments that they "must take all necessary measures" to prevent such incidents.
"The prime minister spoke to home minister Rajnath Singh in this regard and expressed his strong disapproval of such incidents… Persons indulging in such acts must be sternly dealt with and booked under relevant provisions of law," the prime minister's office said in a statement on Wednesday.
A statue of Mahatma Gandhi vandalized by unknown persons in Thaliparamba area of Kerala's Kannur; spectacle of the statue damaged.
The incidents of statue vandalism began from Belonia in south Tripura on Monday when a statue of Vladimir Lenin was destroyed, allegedly by supporters of the Bharatiya Janata Party (BJP). The incident took place two days after the BJP swept the Tripura elections with a two-thirds majority, putting an end to 25 years of Left rule.
Analysts say that though vandalism by a mob in Tripura could be by overzealous people opposed to the Left ideology, the incidents in other parts of the country were thoughtfully planned and executed by supporters of different political ideologies as a reaction to the first incident.
The incident in Tripura has sparked a series of such vandalism of statues of different personalities including Shyama Prasad Mookerjee in Kolkata, B.R. Ambedkar in Meerut and Periyar E.V. Ramasamy in Vellore. "The recent issue on destroying of statues is extremely unfortunate. We as a party do not support the bringing down of anybody's statue," BJP president Amit Shah wrote on Twitter. "Any person associated with the BJP found to be involved with destroying any statue will face severe action from the party".
Source: manoramaonline.com
---
Kshitija