India has successfully test fired its supersonic surface-to-air "Akash missile" from a military base in the eastern state of Odisha.
The missile, with an indigenous radio frequency seeker, was launched from the Integrated Test Range at Chandipur in the state's Balasore district, the Defense Ministry said.
"The radars, telemetry and electro-optical systems along the coast (of Bay of Bengal) have tracked and monitored all the health parameters of the missile," it added.
Akash is being inducted as a short-range missile into the Indian Army. And this is the first that such a missile with an indigenous seeker has been test fired, the Ministry said.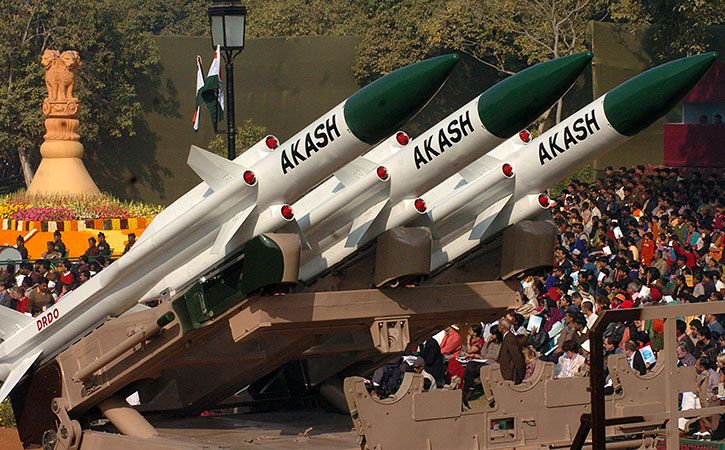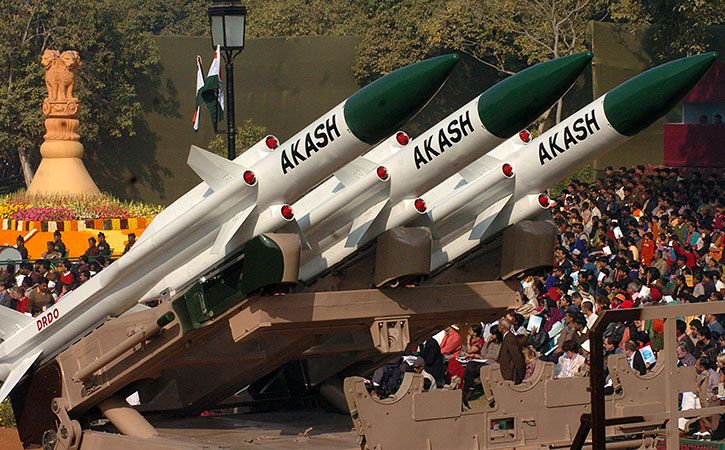 Developed by the state-owned Defense Research and Development Organization, the 70-kg missile has a range of 27 km and can carry a 60-kg warhead at speed of, up to Mach 2.5. The missile has the capability to target aircraft up to 30 km away and can neutralize aerial targets like fighter jets, cruise missiles and air-to-surface missiles.
The launch operations were witnessed by Director General (Missiles), DRDO and Scientific Adviser to Raksha Mantri (SA to RM) Dr. G Satheesh Reddy; Director DRDL, MSR Prasad; Program Director, G Chandra Mouli; Director ITR, Dr. BK Das and other top DRDO scientists.
More on the Missile-Akash:
"Akash" which basically means the "sky", is a medium-range mobile surface-to-air missile defence system developed by the Defence Research and Development Organization (DRDO) and produced by Bharat Dynamics Limited (BDL) for Missile Systems and Bharat Electronics (BEL) for other radars, control centers in India.
The missile system can target aircraft up to 30 km away, at altitudes up to 18,000 metres. It has the capability to "neutralize aerial targets like fighter jets, cruise missiles and air-to-surface missiles" as well as ballistic missiles. It is in operational service with the Indian Army and the Indian Air Force.
An Akash battery comprises a single Rajendra 3D passive electronically scanned array radar and four launchers with three missiles each, all of which are interlinked. Each battery can track up to 64 targets and attack up to 12 of them. The missile has a 60 kg (130 lb.) high-explosive, pre-fragmented warhead with a proximity fuse.
The Akash system is fully mobile and capable of protecting a moving convoy of vehicles. The launch platform has been integrated with both wheeled and tracked vehicles. While the Akash system has primarily been designed as an air defence SAM, it also has been tested in a missile defence role. The system provides air defence missile coverage for an area of 2,000 km². The Indian military's combined orders of the Akash, including radar systems (WLR and Surveillance), have a total worth of Rs 23,300 crores (US$4 billion)
 In June 2010, the Defence Acquisition Council (DAC) placed an order of the Akash missile system, valued at Rs 12,500 crore ($2.8 billion). Bharat Dynamics (BDL) will be the system integrator and nodal production agency for the Akash Army variant. The Army plans to induct two regiments of the missile.
 In March 2011, a report indicates that the Indian Army has ordered 2 Akash regiments – approximately 2,000 missiles – worth 14,000 crores ($3.1 billion). These will replace the Indian Army's 2 SA-6 Groups (25 systems with 1,500 missiles), which were inducted between 1977 and 1979.
 On 5 May 2015, Akash Missile was inducted into the Indian Army.
 On 11 April to 13 April 2015, Indian Army successfully conducted six rounds of user trials of the missile. The tests were conducted from complex 3 of the Integrated Test Range (ITR) at Chandipuri in Odisha. The missiles targeted pilotless target aircraft (PTA) Lakshya, unmanned air vehicle (UAV) 'Banshee' and a para barrel target, two times each.
 On 30 March 2016, Indian Army stated that Akash area defence missile systems did not meet its operational requirements for defending its strike corps against enemy air attacks in forward areas, and was not ordering any more regiments. The Army instead was opting for four Israeli quick reactions SAM regiments. The missile was inducted into the Indian Army on May 2015.
It was also reported that Malaysia, Thailand, Belarus and Vietnam had shown interest in purchasing the Akash missile system.
https://www.indiatimes.com/news/india/india-successfully-test-fires-surface-to-air-akash-missile-with-a-range-of-30-km-335089.html
https://en.wikipedia.org/wiki/Akash_(missile)
---
Advithi