Without waiting for preliminary investigation, without valid proof or documents the entire media, Bollywood and pseudo-liberals made a big hue cry spreading the fake news about Kathua Rape case. But most do not know that whatever media says is not fact or truth, as they work for TRP and not ideology or ethics. The media runs behind such news which will gather them money without even verifying facts and figures.
Now, Zee News has taken a bold step to expose the real truth behind the Kathua case which no other channel dared to touch. Zee News has proved with video proof as to how the fake news was peddled by most channels with a malicious intention to malign India and especially Hindus of Jammu.
What was the Case and Chargesheet??
The whole case was based on the story that a boy called Vishal Jangotra had raped an 8-year-old Muslim girl in the Devi temple premises in Kathua, Jammu, killed her and thrown her body there. The whole of media declared Vishal convict without even looking into facts. Vishal had given statement that he was not in Kathua the day the murder took place as he had come to Meerpur in Muzzafar Nagar to write exams. He also requested the police to verify the handwriting of the exam answer sheets and the sign he had made in the hall ticket.
But the police and the media never gave a damn to his statement and claimed that the signature was forged and the entire exam was written by his proxy.
But now this fake story has been busted with proof. A video which was released by the Zee news yesterday clearly showed that the boy Vishal was in Muzzafar Nagar in an ATM withdrawing cash. The time of this video is said to be at 3 PM, which is exactly the time the police said he was dumping the body of the 8-year-old girl near Temple. So, how can he be present in both places at same time??
Kashmir Crime Branch's chargesheet says accused Vishal Jangotra was dumping the dead body on 15th January at 4pm in Kathua.This CCTV shows him withdrawing money from ATM in Muzzafar Nagar on the same day at 3 pm. #KathuaKaSatya pic.twitter.com/7KcJwnqZ6n

— Sudhir Chaudhary (@sudhirchaudhary) April 30, 2018
From Muzzafar Nagr to Kathua, it is 537 Km, so how did Vishal reach Kathua in 1 hour??? LOGIC???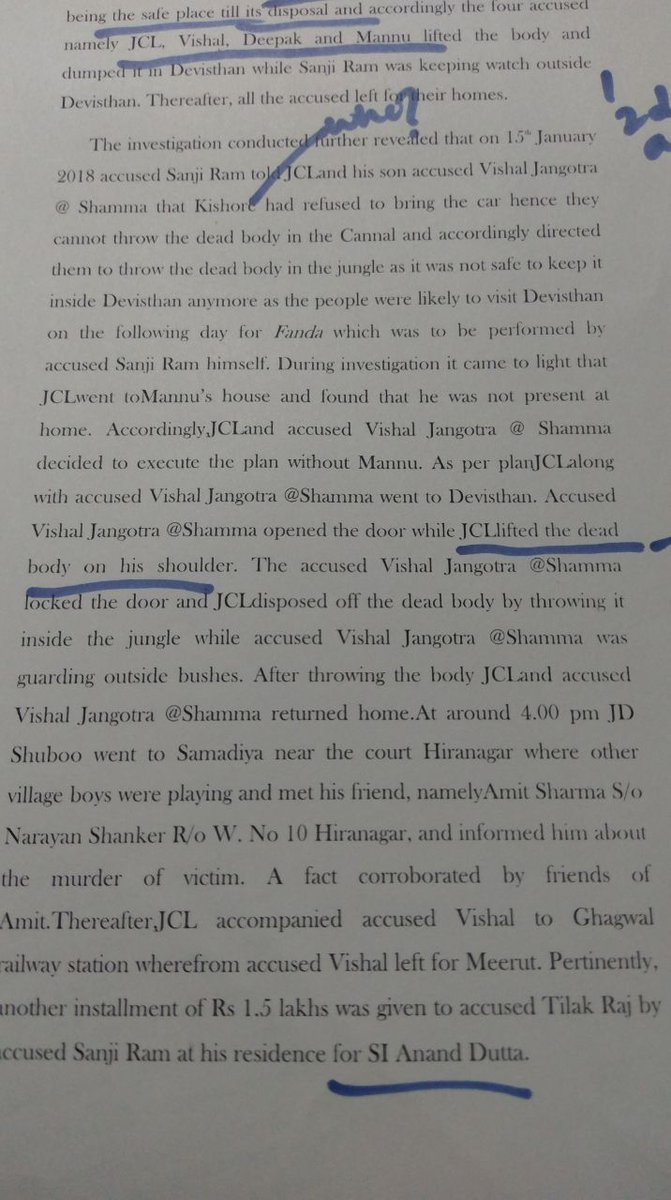 The bank statement obtained also clearly says that Vishal withdrew cash at 3 PM from an ATM in Meerpur. So, Vishal has arrived in Meerpur sometime in morning to appear for exams where he has signed the hall ticket and then probably went to an ATM at around 3 PM to draw cash.
So, why didn't the police first verify the CCTV footage which shows that Vishal was present in Muzzafar Nagar when they accused him of raping and killing the little girl? The police also claimed that Vishal never attended the exam and instead had sent a proxy to write for him. But the report on handwriting has now shown that Vishal's handwriting matched with the one on answer sheets. What does this indicate?
Did the police falsely implicate Vishal on orders of some politicians who wanted to defame Hindus of Jammu? If Vishal had not raped or murdered the girl, then there should be someone who killed the girl….Who is that?
Or was the girl killed deliberately to incite communal violence between Hindus and Muslims by some vested interest and then took the help of media to malign the country's name and Hindus?
Watch this to know full truth!
---
Power Punch