The former Prime Minister of of India and statesman Atal Bihari Vajpayee has been admitted to AIIMS today. The press release from the hospital said that the EX PM was undergoing supervision under DR Randeep Guleria.
The doctors or the party has not disclosed much information about his health condition and said that it was a routine check up. Mr Vajpayee is suffering from various ailments since many years and has been away from active politics since almost 9-10 years. It is said that he suffered a stroke during 2009 which left him speech impaired. It is said that his hands, legs and partial face were stroke affected and was unable to walk. Since then he is confined to wheel chair and quit all his political career.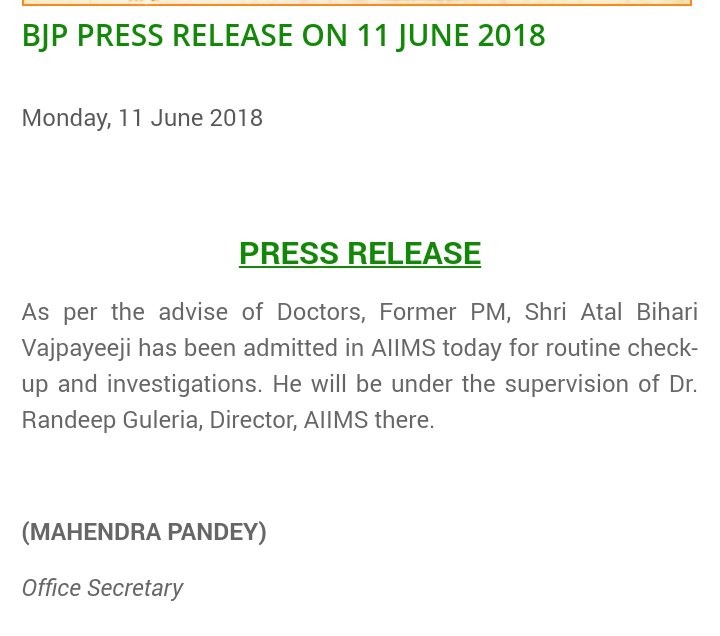 But many reports said that he was also suffering from Alzheimer's (News not confirmed) and was not able a recognize lot of people. However, every year Prime Minister Modi, party President Amit Shah and LK Adavni visit his house on his birthday to convey their regards. He was awarded the Bharat Ratna in the year 2015 after the Modi government came to power. This was the first time after many years he was seen in a photograph when Ex President Pranab Mukherjee was awarding him Bharat Ratna.
#PresidentMukherjee conferred Bharat Ratna on Shri Atal Bihari Vajpayee this evening pic.twitter.com/wNUObPxTXl

— President Mukherjee (@POI13) March 27, 2015
There is no much news about his health as his family and BJP has maintained confidentiality about his personal life. However, there has been many speculation that Mr Vajpayee has been undergoing treatment for dementia and other health issues.
Former PM Atal Bihari Vajpayee admitted to AIIMS Hospital | @MeghaSPrasad takes you through the press release pic.twitter.com/vqOZt6abC5

— TIMES NOW (@TimesNow) June 11, 2018
Vajepayee is very much respected leader across party lines and is called the statesman. He is well known for forming the first BJP government in the centre during which many path breaking developmental projects were taken up. He is also remembered for taking tough decisions during Kargil war and Pokhran Nuclear test which set new dimensions to the country. His team consisting of Ex President APJ Abdul Kalam, George Fernandis and Vajpayee is remembered for their brave act of taking forward the Nuclear tests despite huge pressure from America.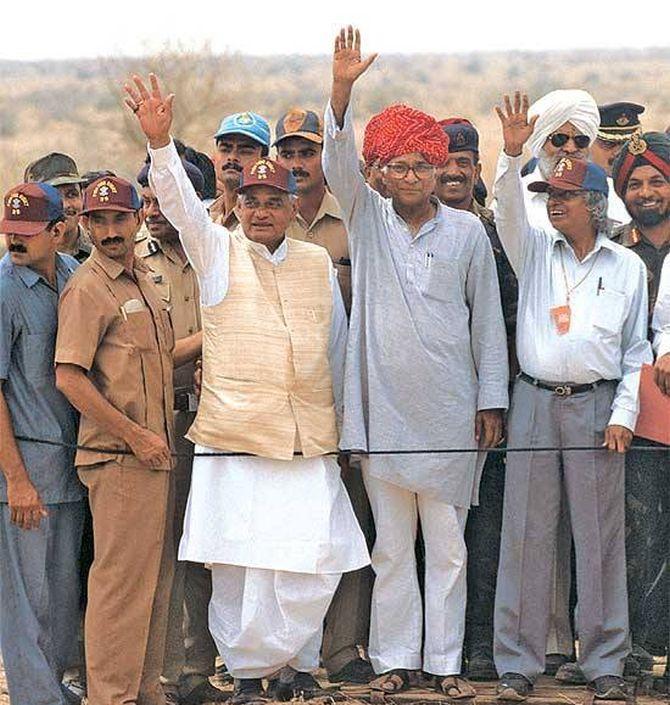 We wish the Former Prime Minister Atal Bihari Vajpayee a speedy recovery!
---
Power Punch