If there is something that Congress can never achieve, it is teaching Rahul Gandhi to be a politician. It has been over 17 years since he entered politics and has been in the most dynamic political family for over 47 years now, but he has never been able to prove himself.
He was a kid born with silver spoon in his mouth, he has seen every comfort a man can afford, enjoyed every bit of his life just by adding Gandhi Tag to his name. On the other hand, India is a place where many people even today have no food, shelter and proper clothes. So only a man who can understand the real problems of the country can bring in development and not the one who was lives in Italy or NewYork and treats India as a holiday destination.
This is exactly what is happening with Rahul Gandhi. This man even in his late forties cannot deliver a correct speech, he cannot understand the grass root problems, he has no idea India or what is the problems our people face. In the recent times, Rahul Gandhi has desperately tried to make a good impression by giving few speeches in Parliament, tried to rally for Congress in various states, but he has failed miserably in every aspect and lost his confidence more.
All these years, Digvijay Singh and few other top leaders from Congress were given the incharge of Rahul Gadhi's image make over. But their failure to teach him politics has made Sonia Gandhi choose a new teacher for her son. Looks like Shashi Tharoor is the new mentor for Rahul Gandhi, the man who can speak AMERICAN/BRITISH or which ever English he thinks it is and can use it for mesmerizing his lutyens supporters.
His Norway trip also seems to be a plan of image make over and project Rahul Gandhi as a responsible politician by Shashi Tharoor.
What is most surprising is that Rahul Gandhi is said to be delivering speech in the most prestigious institute, University of California, Berkeley. He will be giving a talk on "Contemporary India and the path forward", an event sponsored by the Berkeley Research on Contemporary India Program (Institute of International Studies) and Institute for South Asia Studies, as per their website.
Surprised???? Gandhi Tag is all that matters!

His new avatar and a switch over from western suit to India suit is most probably because people started making fun of him after he called Modi Sarkar….."Suit Boot Ki Sarkar" while his own family members including himself are more often seen in Suit Boot!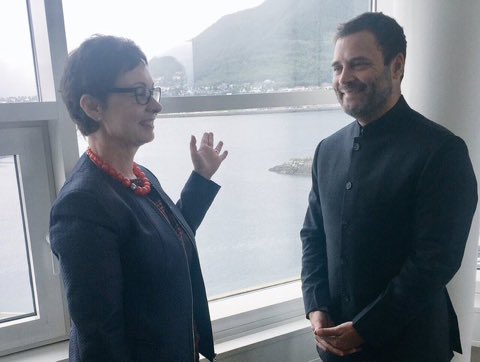 On the invitation of the Norwegian Ministry of Foreign Affairs, will be travelling to Oslo for a few days(1/2)

— Rahul Gandhi (@RahulGandhi) August 25, 2017
Rahul Gandhi had tweeted that he was visiting Norway on the invitation of Ministry of Foreign Affairs, Norway, but surprisingly he does not meet MFA minister and instead ends up meeting Oslo Mayor Raymond Johansen and some businessman.
It was great to interact with you Mayor @RaymondJohansen. I hope we can take our discussion on these pressing issues forward. https://t.co/mY2vddW5sL

— Rahul Gandhi (@RahulGandhi) August 30, 2017
Met Yngve Slyngstad,head of NBIM,world's largest sovereign wealth fund & custodian of Norway's oil wealth,a role model for growing economies pic.twitter.com/TikyFTU7Zh

— Rahul Gandhi (@RahulGandhi) August 30, 2017
Now, he wants to prove himself by wearing a Indian suit! While his party was in power, he did not dare to take one ministry but rather spent all his life enjoying in UK, US, Italy and what so ever country, but now while in opposition he wants to talk about India-Foreign relations and governance.
Good luck to people who attend his lecture in University of California, Berkeley!!!
---
Aishwarya S