You will find solution for every problem in this book and if you don't find it in this book, then you won't find it anywhere else. And this book is "Bhagavad Gita".
The name itself reflects the divinity. From centuries, this book has been guiding humanity and will continue to do so in the coming generations also. And now the holy book Bhagavad Gita has once again proved that it is being trusted and followed by people, irrespective of caste and religion.
Now one such incident has taken place where a Pakistani national Jalaluddin who was arrested from Varanasi's cantonment area with suspicious document is now released after 16 years. Thinking what's special in it? Well, when this Pakistani national Jalaluddin was released from the central jail after 16 years, he took home Bhagavad Gita with him.
Senior Superintendent of the Varanasi Central Jail,  Ambrish Gaud said "In 2001, Jalaluddin was arrested from the cantonment area. He was nabbed near the Air Force office by the police with a few suspicious documents".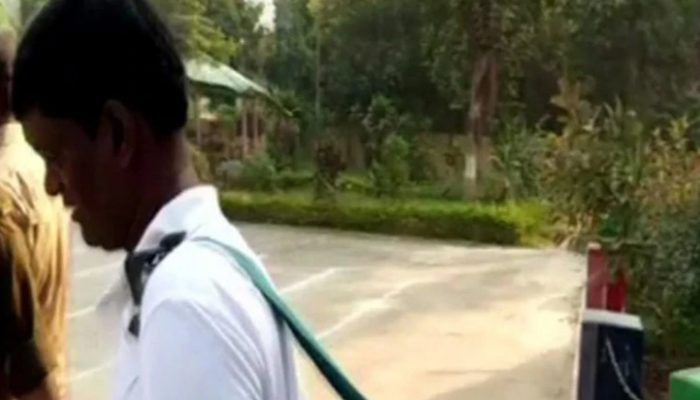 Not just maps of the cantonment area but even maps of several other locations was recovered from Jalaluddin. That's why the court awarded him a prison life for 16 years. "He was imprisoned under the Official Secrets Act and Foreigner's Act. He has been handed over to the local police. He has taken a copy of (Bhagavad) Gita with him" said Senior Superintendent Ambrish Gaud.
"When he was arrested, he had only graduated from high school. He completed his intermediate and did his MA from Indira Gandhi National Open University (IGNOU). He also undertook an electrician course as well in the jail. He had been an umpire in the jail cricket leagues for the last three years" added Ambrish Gaud.
Yes, a man who had come to India with malicious intents is now returning back to Pakistan as a messenger of peace. He even completed his masters degree from the jail itself, and this happened as he was following the words of Bhagavad Gita.
This proves that the message of Lord Krishna which was given thousands of years ago to Arjuna, still holds relevancy.
---
Hansika Raj