On 27th March, PM Modi announced to the Indians that India's Mission Shakti has shot down a low-orbit satellite using ASAT missile. While this path-breaking achievement brought waves of pride within the Indians, the stakeholders in the grand alliance started to pay politics.
Prime Ministerial aspirant Mamata Banerjee said "Is he going to space?" and added "What was the need for Modi during the time of election to violate the model code of conduct and take the credit? Does he work there?". She also stated that this will be brought to the notice of the Election Commission. What followed that was".
Later on, the Election Commission set up a committee to probe whether PM Modi's address to nation violated the model code of conduct and stated "The matter related to the address of the Prime Minister to the Nation on electronic media today afternoon has been brought to the notice of ECI. The Commission has directed a Committee of Officers to examine the matter immediately in the light of Model Code of Conduct".
Now the Election Commission has given clean chit to PM Modi on Mission Shakti broadcast. The Election Commission stated "The Committee members examined, in detail, the transcript of PM's message, inputs given by DG, DD and DG, AIR and all correspondence received from them. It is clear that Doordarshan has only used the feed provided by ANI. The All India Radio has taken audio output as broadcast by Doordarshan News for dissemination over All India Radio network".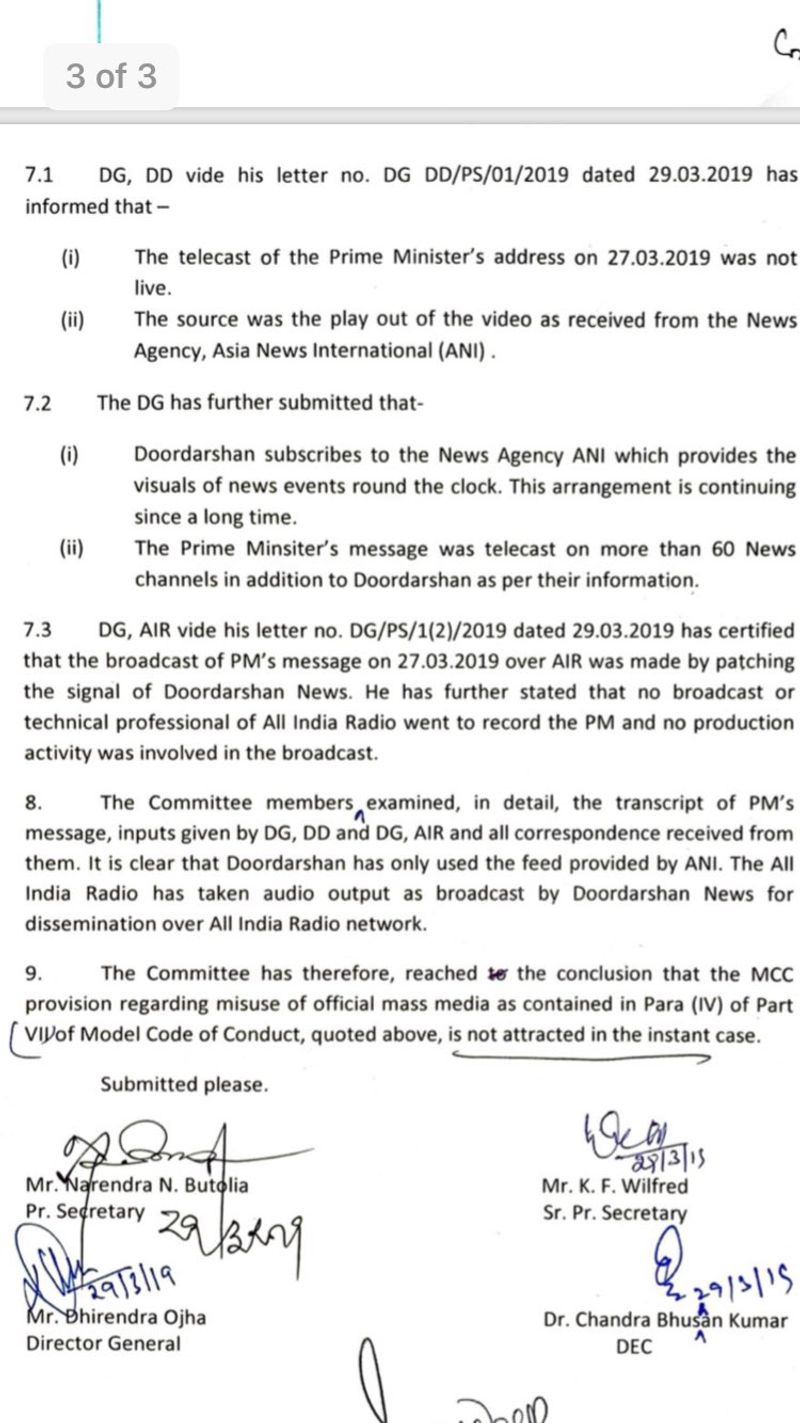 It added, "The Committee has therefore, reached to the conclusion that the MCC provision regarding misuse of official mass media as contained in Para (IV) of Part VII of Model Code of Conduct, quoted above, is not attracted in the instant case".
Every attempt of the opposition to smear the image of PM Modi has failed.
---
Hansika Raj