Madhur Bhandarkar has seen the true colors of his Film Fraternity in last few days! He, his cast and crew of the movie 'Indu Sarkar' are facing a massive wrath staged by Congress Party. After all, Congress and its Fake Dynasty are scared stiff about the movie stirring the memories of Emergency Era that they are utterly ashamed of! Madhur Bhandarkar had to cancel his Press Conference at Pune and Nagpur due to the ruckus created by Congress goons. And our so called advocates of Freedom of expression from Bollywood have gone into coma.
Mr Bhandarkar says in his tweet that he is not surprised. He quotes Lata Mangeshkar's song 'Kitne ajeeb rishte hai yahaa pein' from his movie 'Page 3'. But we Indians are once again surprised at the new low exhibited by these Bollywood elites! And not long back, we had seen all the Bollywood family coming together for another Film Director….Sanjay Leela Bhansali …. to raise their voice against the vandalizing of the set of the movie "Padmini'  by angry Rajputs of Karni Sena! They seemed quite like a family straight from the movie, 'Hum saath saath hain'! Hmmm, of course, they had just obeyed an order from their head of the family, Karan Johar! Well, if you wonder why Karan Johar is silent about the attack of Congress on Madhur Bhandarkar's FoE, let me tell you that Mr Karan Johar is busy in New Jersey at IIFA 2017 chanting 'Nepotism rocks'!
Emergency Era, the darkest spot in the Indian history post independence has always been guarded as a National secret by the powerful Congress.  No school has enlightened the children from last 40 years about the Emergecy enforced by Indira Gandhi for 21 months and the horror stories related to that gloom-ridden era. From 1975 to 1977, Indira Gandhi ruled like a dictator putting all opposition leaders, Press media, Social Activists, etc, behind bars to face torture! Numberless Politicians, Social Activists and Journalists went underground during those distressing days! Yes, since 4 decades we and our children have learnt about Russian Revolution, French Revolution but not what happened right here to our Indians in free India!
Movie is a powerful medium of conveying a message with utmost effectiveness. Through the movie, 'Indu Sarkar' the oblivious youngsters will explore the untold facts of the horrid Emergency Era. The myth of Indira Gandhi taught in schools as an Iron lady will evaporate. The deeply hidden skeletons of Dynasty will tumble out of the stinking closet of Congress Party. Of course, Congress is rattled!
Today, Congress goons are threatening Madhur Bhandarkar for releasing a movie in the most legal way. They are threatening to blacken his face. The paid mob is welcoming him at the press conferences with garlands of chappals. They are chanting the praises of Fake Gandhis from Indira to Rahul. Where is our Shehzada from Fake Gandhi Dynasty? Rahul Gandhi , who stood in support of Kanhaiyya of JNU Brigade for the FoE to chant the anti-national slogans 'Bharat tere tukde honge' and 'Bharat ki barbadi tak jung rahegi' , is now letting his goons loose on Mr Bhandarkar for using his FoE!
Madhur Bhandarkar has tagged Rahul Gandhi and stated how his goons are indulging in hooliganism. He appealed to Rahul Gandhi to let him exercise his FoE. Rahul has not tweeted back. Neither have his Cogress goons stepped back.
Congress Party workers barged into the Hotel Lobby and created ruckus by their deafening protests in Pune. Madhur Bhandarkar and his team were stranded in their hotel room like hostages! Same scene was repeated at Nagpur! Both the press conferences had to be cancelled.
Congress workers hv barged in the Hotel lobby & created ruckus,me & team are stranded like hostages in hotel room. #pune activity cancelled. pic.twitter.com/6GHX1VHGD8

— Madhur Bhandarkar (@imbhandarkar) July 15, 2017
Like Karan Johar, Anurag Kashyap, another Director/Producer from Bollywood has so much fire inside him that he puts forwards his opinions on all the issues unflinchingly. Should we expect a firebrand tweet from him supporting Mr Bhandarkar? We are waiting!
Can once the whole film industry come together and take a stand, and refuse to be a pony that all bullshit and bullshitters ride on??

— Anurag Kashyap (@anuragkashyap72) January 27, 2017
Where are Mr Bhandarkar's Liberal 'Heroines', Kareena Kapoor and Priyanka Chopra? Should we expect a supporting statement from them? Where are the Secular Stalwarts of Bollywood Javed Akhtar, Shabana Azmi and Mahesh Bhatt?
Why is Shashi Tharoor not fighting for the FoE of Mr Bhandarkar? Just two days back, he was supporting AIB's ugly joke on PM Modi by posting his photo with a Snapchat Filter with dog's ears and nose. Now, playing a faithful puppy to his Masters?
Aamir Khan, who tarnishes India globally by his 'Intolerence' blabber….the Motherland  that has given him name, fame and money ,  is now a mute spectator of the Intolerance shown towards Mr Bhandarkar by Congress. Once, he had apologized to Kamal Hassan for not standing in support with him over the Ban controversy of his movie,'Vishwaroopam'. Now is the time for Mr Aamir Khan. He can console the Congressmen not to watch the movie if they don't like it. Remember, how he had challenged us Indians, "If you don't like PK, don't watch it!" 
Already, Madhur Bhandarkar has faced enough Intolerance from CBFC (Censor Board) for having to delete many scenes and names prominently related to Emergency Atrocities. Please check the image below. The way CBFC has tried hard to protect Congress from the blemish of their past sins makes me believe that it's actually a 'Congress' Board of Film Certification!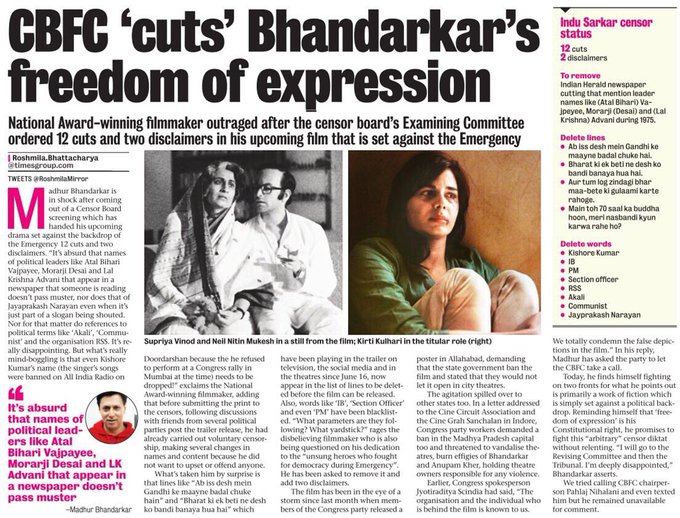 Well, as Mr Bhandarkar said, we shouldn't be surprised at the bigotry of Celebrities and Politicians. What Mr Bhandarkar needs is the support from Indian audience. And there is no need for Mr Bhandarkar to worry on that front. We should in fact thank Mr Bhandarkar for acquainting us with the horrid facts of Emergency Era through his movie! Last and not the least, the stupidity of the Congress Leadership in staging these protests is actually helping Mr Bhandarkar to get a positive publicity effortlessly!
---
Jyothi Suparna Chincholi