After the Nirav Modi fraud case broke out, the Congress has activated all its sleeper cells to attack Modi government and blame the BJP for the entire NPA scams. But what Congress forgot is that the NPA scams were started during the Congress rule since 2005, where Congress started to pressurize various banks to provide huge amount of loans to industrialists and businessmen.
The Congress indirectly helped these businessmen get loans without surety or guarantee. This NPA scam grew as a major issue in the past 10 years and the banks started facing severe money crunch. The NPA was one of the main reason for the fall in economy and downfall in the investment which lead to unprecedented decline in jobs, economic growth and foreign investments. But the issue remained almost hidden for over a decade while people thinking that only 2G, CWG, Coalgate were the biggest scams in the country.
However, after Modi government came to power, there has been a relentless effort being put to recapitalization of banks which is proving to be beneficial. The RBI has instructed all banks to regain the loan amount granted to many businessmen with a span of 90 days. The first indication of crackdown from the government came when Vijay Mallya escaped to UK. The information that ED and Income tax were planning for raids made him flew out of India fearing arrest. Now, as the action got more stringent, another scamster Nirav Modi has fled India.
After the fraud case came into picture, it has now been found that the Nirav Modi was under the scanner of Enforcement Directorate for a while. Again the fear of arrest and raids made him run away from India which has opened the Pandora box of massive bank loot these people were involved in. The ED after raids has now seized over 5,100 crore worth jewels and precious stones which will most likely be repaid to the banks.
At a time when the country needs to stand together and appreciate the efforts taken by Modi government to tame these corrupts, the Congress is ironically trying to play a political blame game. They have posted more than 3-4 polls to shift blame on Modi government for bank frauds that happened in 2011.
Take a look!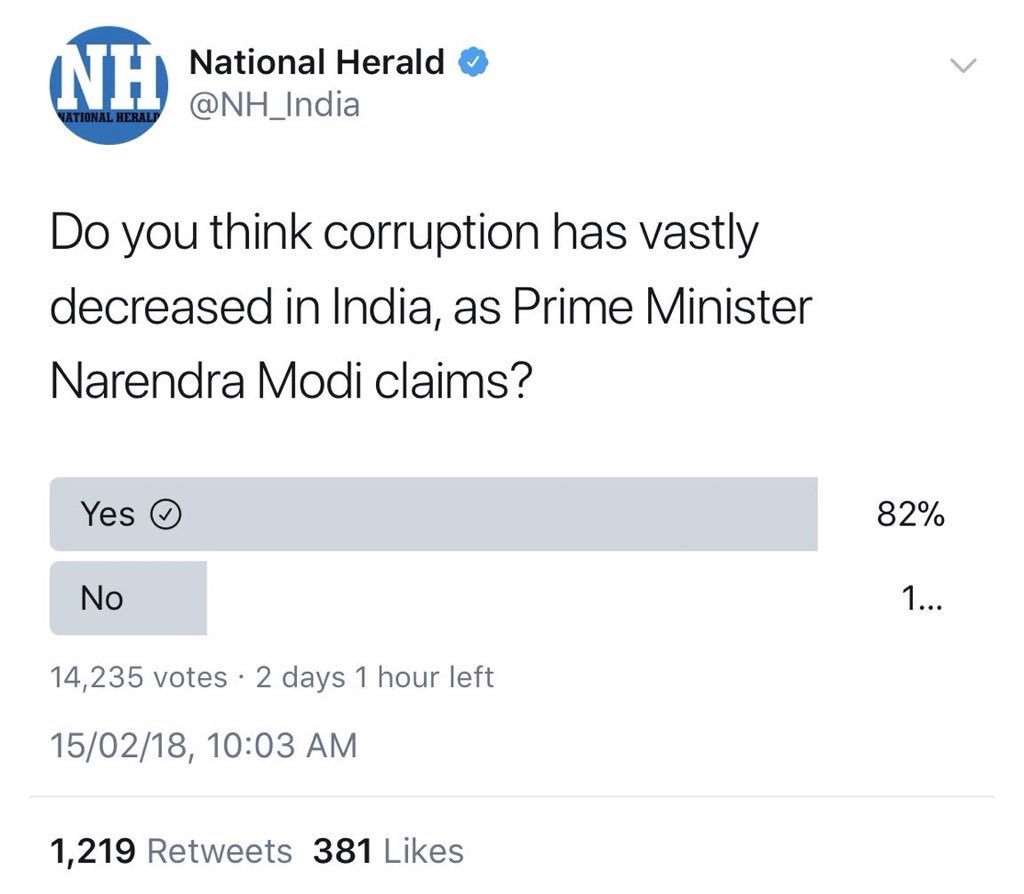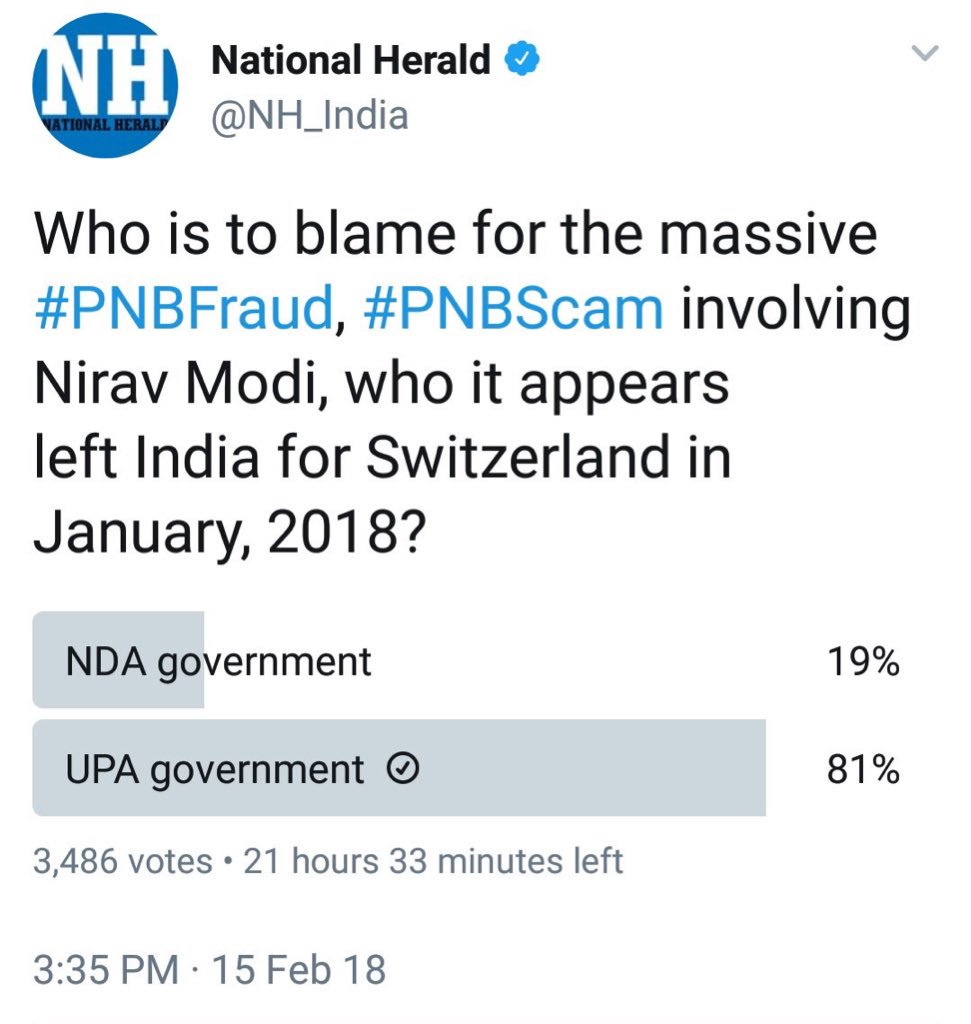 All these polls are being conducted by Congress and their mouthpiece National Herald with an intention to build fake perception that Modi government is helping corrupts and fraudsters. But the results have made the Congress DELETE the polls after they faced major embarrassment. The only agenda the Congress follows is to taint and malign the Modi government by hook or crook. But their efforts seem to have failed miserably which has been proved in the polls conducted by the Congress media cell.
Before Congress make such claims, they should first explain why had Rahul Gandhi attended Nirav Modi's cocktail party in 2013. This information has been revealed by their own party member and not BJP. So, what was Rahul Gandhi's connection with Nirav Modi???
#PNBScam Will Rahul Gandhi deny attending the 2013 cocktail party? Let him sue me if I am lying and make his SPG record public!Now let us all know which "hand" fed Nirav Modi support – how did he commit such a big fraud in 2011?Who were the beneficiaries? https://t.co/J5eBJQaLrK

— Shehzad Jai Hind (@Shehzad_Ind) February 16, 2018
I am still in Congress- if Rahul Gandhi wants to throw me out because I refuse to accept a selected prince as my leader or for blowing lid off his 2013 meet with Nirav Modi at Imperial Hotel he must state so in my expulsion order!I will accept it as a badge of honour #PNBScam https://t.co/H30rPSus5s

— Shehzad Jai Hind (@Shehzad_Ind) February 16, 2018
Congress should seriously stop such cheap tricks while the entire country knows who were mainly responsible for leading the country into scam Raj.
---
Aishwarya S