Today, the Jodhpur court convicted Asaram Bapu and two others in 2013 rape case on all the charges under the POCSO Act and Juvenile Justice Act. Self-styled godman Asaram was sentenced to life in prison – until death – by a special trial court, which earlier today found him guilty of raping a minor in 2013. But as expected, Congress tried to politicize the court verdict and ended up embarrassing itself.
It so happened that Congress party's twitter handle tweeted an old video of PM Modi with Asaram Bapu. This video was way back before the rape case was filed against Asaram Bapu. The video was with the caption "A man is known by the company he keeps" – Aesop's fables #AsaramVerdict".
"A man is known by the company he keeps" – Aesop's fables #AsaramVerdict pic.twitter.com/CTOQ8HKJ1O

— Congress (@INCIndia) April 25, 2018
This is where the Congress went wrong and it happened to be another self goal by the social media team of Congress. Because senior Congress leaders –including the then Chief Ministers– were found with the same godman several times in the past. Below is the list!
The below picture is of the senior Congress leader Digvijay Singh with Asara Bapu and it is making rounds in the internet. Not just that but a report has said that the then Congress government in Maharashtra led by Digvijay Singh allotted a piece of prime land to incarcerated self-styled godman Asaram Bapu's trust for his ashram in 1998.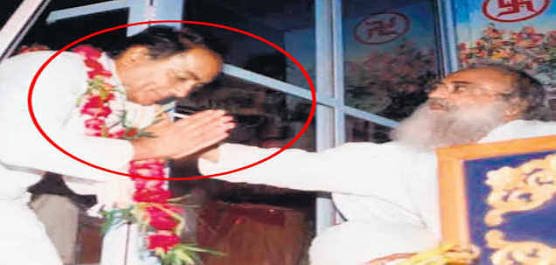 "A complaint was filed in a local court on Wednesday against Singh for allotting seven hectares of land to Asaram's trust allegedly by violating rules. The land was given on a nominal lease rent of Re 1 per annum by the then Congress Government", said the report.
Rs 5 crore worth land was given for just Rs 1 by the then Digvijay Singh government!
"Singh was a devotee of Asaram and therefore overlooked rules while allotting the land to the trust. The plot's market value at that time was Rs 5 crore but the Congress leader gave it as a "Gurudakshina" (gift to a teacher) on a nominal annual lease rent of just Re 1″.
"Because of this the state exchequer had suffered a loss of Rs 5 crore, while Asaram and his son illegally made as much profit from it" said the lawyer Manohar Dalal who was hired by a businessman, Digvijay Singh Bhandari who had filed a case against Digvijay Singh and others.
Below is another picture which shows various Congress leaders with Asaram Bapu!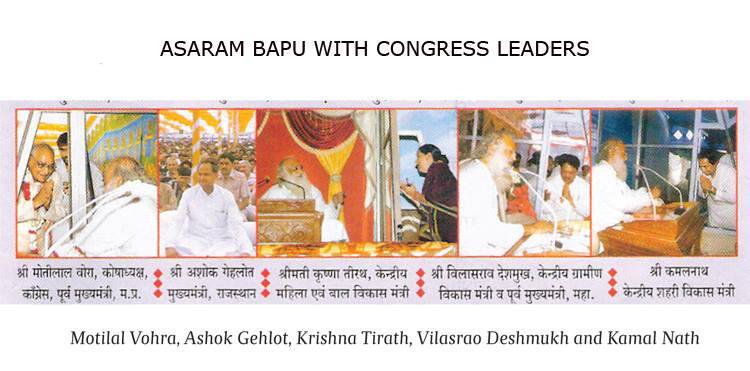 Few others even questioned why did Mr Digvijay Singh meet the terrorist sympathizer Zakir Naik?
The National Investigation Agency (NIA) had also said that the controversial NRI preacher and televangelist Zakir Naik's Islamic Research Foundation (IRF) had provided Rs 80,000 scholarship to an Islamic State (IS) sympathiser last year
The 51-year-old televangelist, who is currently abroad, is being probed under terror and money-laundering charges by the NIA. He fled from India on July 1, 2016, after terrorists in neighbouring Bangladesh claimed that they were inspired by his speeches. But many Congress leaders including Digvijay Singh have met him in the past. So the caption "A man is known by the company he keeps" – Aesop's fables given by Congress party is apt to its own leaders.
Even though its a century old party, Congress fails to show maturity over sensitive issues like violence against women, terrorist activities and even communal issues. So, even this time, Congress has scored a self-goal in a hurry to score a political point.
Source: Times Of India
---
Hansika Raj