They say, believing every faith is actually believing nothing in particular! We have one such politician in India who parades different religious attires like a 'Fancy Dress act'! We have seen his avtar as a skull-cap clad Muslim! Then we have been told that he is actually a Janeudhari Brahmin, Tilakdhari Shivbhakt Hindu! Well, we have been told wrong! Raul Vinci aka Rahul Gandhi is neither a Muslim nor a Hindu! He is a practicing Roman Catholic Christian! Both Bianca aka Priyanka Vadra and Rahul Gandhi have been raised in their mother Antonia Maino aka Sonia Gandhi's faith that is, Christianity.
The above article of 1998 in New York Times clearly mentions this fact …"Few doubted that "Rome Raj" was code for Mrs Gandhi's Roman Catholicism, a faith in which her son, Rahul, 27, and her daughter, Priyanka, 26, were also raised."
http://www.catholicdiocese-lucknow.com/images/thumb/rahul.jpg
Sonia Gandhi's love affair and her subsequent marriage with Rajiv Gandhi was not a romantic love story but a well -thought and well-implemented plot of Vatican, Pope, KGB and ISI.
(Source –http://journey2truth.blog.co.uk/2005/09/20/sonia_gandhi_is_a_plant_of_kgb_isi_and_p~192221/ )
History is the proof how Sonia survived to take place of the Dynasty Ruler after Indira, Sanjay and Rajiv Gandhi died unnatural deaths. Likewise, after Priyanka's marriage with Robert Vadra, her father-in-Law, Brother-in-Law and Sister-in-Law died unnatural deaths. Robert Vadra's mother has been spared because she is a fundamentalist Christian and plays an active role in Missionary.
https://postcard.news/wp-content/uploads/2016/11/vatican3.jpg
In 10 Janpath, the Residence of Sonia Gandhi where Rahul grew up, there is a Church. Rahul Gandhi has been taught to pray in the church since he was a child. BJP RS MP Dr Subramanian Swamy who was a close friend of Rajiv Gandhi revealed this information. The question is, what is the intention of Rahul behind hiding his true religion and why he has been passing himself off as a Hindu? Being a political figure, and the President of Congress Party, shouldn't he be open with Indians about his religion?
Recently, Rahul Gandhi's lie of being a 'Hindu Brahmin' was busted. At his visit to Somnath Temple during Gujarat Assembly Elections, Rahul Gandhi had signed up as a Non-Hindu in the register maintained for Non-Hindus. The question is why he is flaunting his janeu to the oblivious Indians if he is not even a Hindu? Isn't it like playing with the sentiments of Indians?
Nowadays, Congress is peddling their 'Soft Hindutva ' so much that even their advertisements are with the saffron background! Is this the same Party that had coined the word 'Saffron Terrorism' a decade back? This Pseudo-Shivbhakt is the same person who told in the United States that, not Lashkar-Taiba, not Islamist Terror outfits, but the radicalized Hindu groups were the bigger threat to India! How can Indians forgive the Congress Party to pitch the blame of 26/11 Mumbai Terror attack on RSS to save Hafiz Saeed?
BJP Ministers call Rahul Gandhi as an 'Election Hindu'! The poor guy is made to run from temple to temple wherever the elections are approaching! Funny how Rahul used to say earlier, that those who go to temple eve tease the girls! The guy whom we saw only with skull-cap earlier is now seen flaunting tilak on forehead and janeu above the kurta! Times have changed and how! Aren't these 'Achche Din' for Hindus!
Well, we Indian Hindus have a role to play in this plight of Rahul Gandhi. For the first time since independence, there seems a pattern of Hindu Unity in all the elections since 2014 Loksabha Elections. Hindus till date were not considered as a vote bank as they were successfully divided into castes and creeds. But this threatening trend of Hindu Unity is a menace for the Minority Appeasement Congress. Hence, Congress party is attempting at a make-over by trying to shed off its anti-Hindu image. The reason why their Roman Catholic Dynasty Ruler is made to hop from temple to temple!
In Karnataka, playing with the religious sentiments of Kannadigas, Rahul Gandhi, along with CM Siddaramaih did a balancing act of fooling AHINDA vote bank in his Election Campaign last week. AHINDA is a Kannada acronym Minorities, Dalits and Backward Classes who comprise of around 51 % of the total vote bank. Along with AHINDA, they are eying at Lingayat votes too, which are 10%. Hence they chose to visit the temples related to Lingayat faith- Gavi Siddheshwar Mutt in Koppal, Dalit and OBC faith – Huligamma near Koppal and Muslim Faith- Khwaja Bande Nawaz Dargah in Kalaburgi.
Every Kannadiga knows how CM Siddaramaiah has been attacking Hindus and appeasing Muslims. Be it his recent circular to control Hindu temples and Mutts, be it his restrictions on Hanuman Jayanti in Hunsur, be it breaking Shivbhakt Lingayats from Hindu religion or be it pitching Kurubas against Brahmins in Udupi. All the while, to attempt at luring Muslims, Siddaramaiah has set the tradition of celebrating the anniversaries of brutal Hindu killers like Tipu and Bahamani Sultanate!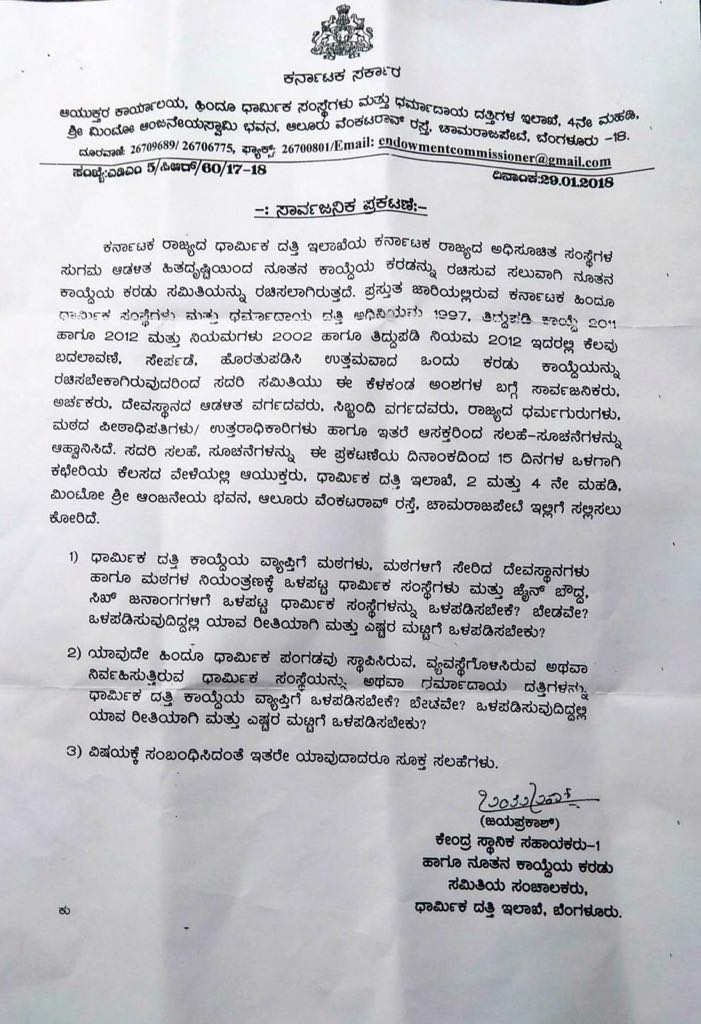 In the wake of Social Media, apps like Facebook have reached the remotest of villages. If the Congress Party thinks that their dim and dopey Dynast can lure Hindus by his Temple Run gimmick, it's their funeral. Indians know the truth that this Vatican Agent Family with fake Hindu names is neither for Muslims nor for Hindus! Their aim is to squeeze India dry and be in good books of Missionary Mafia!
---
Jyothi Suparna Chincholi