In a shocking incident, noted writer and journalist Gauri Lankesh was murdered in her residence last night. The miscreants took 7 shots of which 4 hit her and she collapsed on the spot. The neighbors informed the police after they saw her fallen on the ground.
Immediately after the news of her death spread, the social media sites were poured in with conspiracy theories by leftists supporters calling it a murder by Saffron wing. With no proof, no investigation done, most congress supporters and media agents tried to blame the murder on BJP-RSS.
Gauri Lankesh was the daughter of well known journalist Lankesh, who owned the new paper "Lankesh Patrike." He was known for his fearless writing style exposing most powerful politicians in Karnataka. His daughter however was not like his father but rather turned into a Hindu Hater and a pro naxal activist which lead to serious rifts in the family. She apparently supported the Communists party and called herself a secular although nothing about her behavior was remotely related to secularism. Her writing were not direct but mostly abusive and fake stories which she herself endorsed in her tweet before her death.
Calling Hindu culture fake, mocking Hindu Gods was her routine habit. She was widely criticized for her irresponsible and illogical acts. She was also convicted in 2 defamation cases and was sentenced to 6 months imprisonment. She was out on bail.
Gauri Lankesh had a very controversial background having links with naxals and Maoists. This was openly declared by her own brother Indrajit Lankesh who parted ways with her 5 years back quoting her connection with Naxals and Maosits was hurting the new paper. It was reported that Gauri Lankesh had filed case against her own brother of threatening her with a revolver.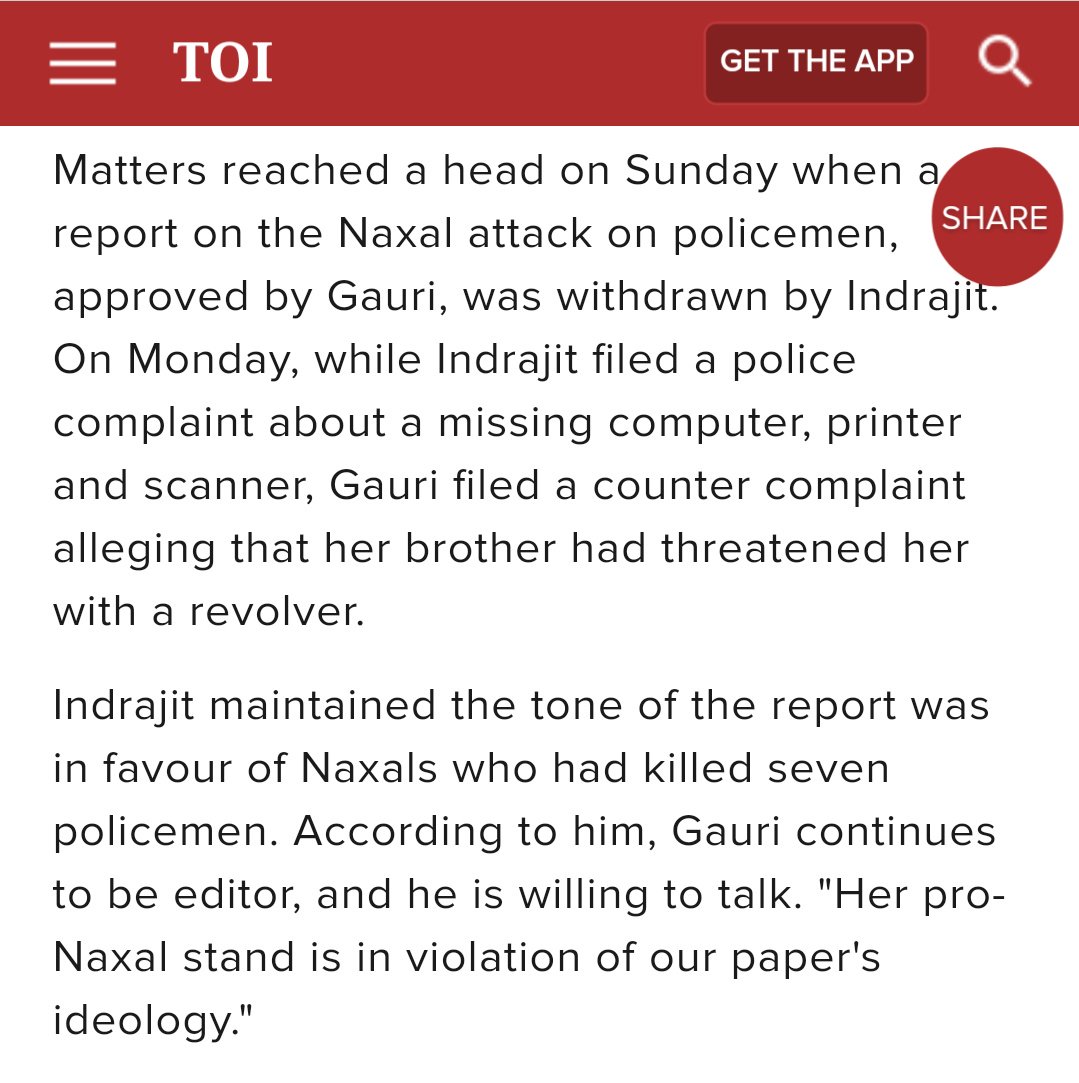 This incident lead to massive rift in the family and Gauri Lankesh completely detached from her family. She was married to Chidananad Rajhatta which ended in divorce after few years due to ideological differences. She was fighting for naxal rights and had supported naxal activity and strongly opposed the killing of Naxalite Saketh Rajan in 2005 who was accused of sponsoring many attacks in Karnataka. It is said that she also had some links with naxals Vikram Gowda, B.G. Krishnamurthy, Mandagadde Latha and Prabha.

Her tweets a day before her death showed that she was facing various internal rifts with her own communists cadre in which she was found to be telling not to expose their own people but rather focus on the enemy. She even endorsed that some of them had spread FAKE posts earlier. Not to forget people in connection with Naxals are always under threat.
Some internal reports suggested that she was also investigating corruption cases of the Siddaramaiah government which may have created rift within their people.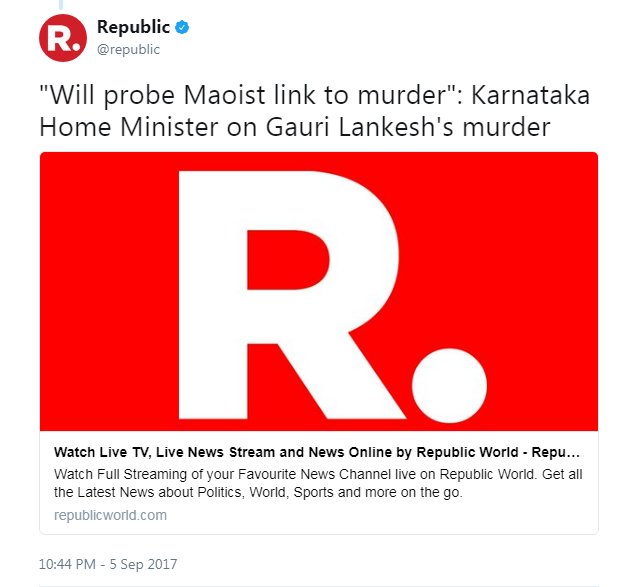 Surprisingly she even supported the BLUE WHALE CHALLENGE game which had taken life of many youngsters. This was proved to be a game which trapped the person psychologically and pushed into into suicide. One can imagine what mentality did she have!!!
These events only show she had major complications and confusions in her life with her fellow communists which may have taken ugly turns. People who pretend to support have no spine to ask for a CBI investigation which will only reveal themselves. The liberals just want to use this opportunity to blame her death on BJP-RSS to score political mileage and gain sympathy.
---
Aishwarya S