As we always say, while the entire people of the country follows one rule, there are special set of rules specifically designed for the Nehru-Gandhi family. They can get bail in 8 minutes in courts even with a allegation of looting Rs 5000 crore, while common man will have to wait for 18 years to get a verdict for accepting Rs 500 bribe.
The Gandhi's son in law can get a free pass and VIP treatment at airports, even though he holds no government position or served the country in any way. But the common man will have to stand in queues for hours.
Not just that, the Gandhi's can abuse, mock, troll and even insult the country's Prime Minister while a common man cannot question anything to them. This is the power the media and the powerful lobby has given them.
Yes, a media cannot question Gandhis, they cannot expose their lies, they cannot even speak a word of critique against them, if they do so, they are most likely to get threatened, maligned and even arrested. This is exactly the way the Gandhi's are using their power and position to silence those who question them. Those people who give big lectures about freedom of speech, democracy and tolerance are the ones who silently close the mouth of critiques.
Mahesh Vikram Hegde, the founder of Postcard News which became the voice of million  has made Congress run for cover, so they are trying desperatly to silence him. With its strong and fearless journalism, the Postcard news reached over 8 cores views created over 18 crore impression which had made the Congress go nervous. It was 15 days before the 2018 Karnataka elections, the then Chief Minister's media advisor filed a complaint against Mahesh Hegde and got him arrested just over a tweet.
Following that there were over 7 cases filed against him one after the other just to make sure he remains in jail and the Postcard News is shut down. He was forced and pressurized to close Postcard News. But Mahesh Hegde refused to do so and was granted bail by the High court.
But now, the same Congress government in Karnataka has again started their old techniques of threatening and intimidating Mahesh Hegde and have got another case filed against him. This is the 9th case being filed against him. The Cyber Crime Police filed an FIR against Mahesh Vikram Hegde on charges of posting insulting reports against AICC former president Sonia Gandhi and AICC president Rahul Gandhi in social media, in the city on Friday.
KPCC secretary AN Nataraj Gowda was the person who lodged complaint with City Police Commissioner T Sunil Kumar against Vikram Hegde alleging that the latter has been spreading false news and posting insulting news in order to tarnish the image of the Congress leaders. His petition was supported by KPCC Legal Cell general secretary Surya Mukundaraj.
http://english.varthabharati.in/karnataka/fir-against-postcard-news-founder-mahesh-vikram-hegde
For posting about RaGa & Sonia's DNA on FB
Congress complained against me with Commissioner

Bt dont v have a bold leader who can file case against ppl abusing PM Modi's parents?

Note: If I was a coward
long back I wud have sat at home

Not red
but SAFFRON blood is flowing in me pic.twitter.com/dzdVse4gOR

— Mahesh Vikram Hegde (@mvmeet) November 28, 2018
Now it is being said that the Congress which is rattled by the presence of Nationalists on Social media is trying all their best to curb their voices. A report on TV9 Kannada said that the Congress was preparing a team to attack all Nationalist voices with cases and FIRs.
Take a look!
Dear Sir @CPBlr

This news is not published by me

Secifically mentioning because if I just write the text, any congress chela may file complaint n you would joyfully accept it as if it's your right to protect politics

Whas it correct when you took FIR agnst Mahesh @mvmeet ? pic.twitter.com/8Qbrv4LVNa

— Shakuntala Iyer (@shakkuiyer) December 2, 2018
This is not the first time Congress is using all their power to intimidate critiques. Few months back, they had threatened Rohit Chakrathirtha a popular writer in Karnataka who is well known for his explosive articles exposing the corrupts and pseudo seculars.
It is said the writer received death threats for writing against Congress. Their plot was exposed by none other than the close aide of Dinesh Amin Mattu called B.R.Bhaskar Prasad. Bhaskar Prasad was once said to be a close confidant of Amin Mattu and apparently knew all his inside dealings. They both had a spat recently during which Bhaskar Prasad has revealed the dark side of Amin Mattu on his Facebook profile.
Bhaskar Prasad says that "The bhakts will have to first listen to what I say and then they can continue targeting me. Dinesh Amin Mattu wanted to kill Rohit Chakrathirtha who was constantly targeting Amin Mattu through his articles, so he had given his name, address to some people and had made sure there wouldn't be any police case in the matter. So the bhakts should directly ask Amin Mattu to whom had he given the address of Rohit."
Next the Congress turned their guns against Santosh Thammaiah, who is another popular writer. He was exposing the genocide committed by Tipu Sultan just when the Karnataka government was celebrating the Tipu Jayanti. His articles presenting with facts went viral and people started to realise the hard secrets of Tipu.
But the Congress government which felt shaken, filed case against him and got him arrested.
Another popular write Chiranjeevi Bhat was also targeted recently for writing an article about a transfer of an SI named Bheemanna Nayak.
The Congress tried to file case against Chiranjeevi Bhat in Siddapura town in Uttarakhand Kannada. But fortunately the police did not accept the complaint and asked them to approach the court.
Now the question is, can a person be arrested just for questioning Sonia Gandhi and Rahul Gandhi? Are they above Indian Laws or constitution that they can never be questioned?
Does the Indian constitution any chance give exclusive rights to Gandhi family to abuse anyone and anywhere they want? be it an ordinary person to the Prime Minister of India?
Take a look at the abuses, trolls and low level language the Congress used against PM Mod, but are they in jail for it?
LIST OF ABUSES BY CONGRESS ON NARENDRA MODI
 Sonia Gandhi – Modi is "maut ka saudagar"
Modi does 'zaher ki kheti' (cultivating poison)
Rahul Gandhi – Modi is "jawano ke khoon ka dalal" (broker of  soldiers blood)
Mani Shankar Iyer – Neech Vyakti (Low class person)
Lohi Purush (blood man)
Modi Lahu purush, paani purush, Ravan, Asatya ka saudagar:Manishankar Aiyar in Gujarat (Nov 2012)
Imran Masood, a Congress candidate for Saharanpur, in March 2014 had stirred up a major controversy by threatening to "chop Narendra Modi into pieces" during a rally speech.
Union Minister Salman Khurshid on 26 February 2014 called Narendra Modi 'impotent.'
Rashid Alvi – Narendra Modi is stupid PM, he is Yamraj.
Digvijaya Singh tweeted derogatory meme on PM Narendra Modi (Sep 2017)
Singh had tweeted a meme of Prime Minister Narendra Modi that said: "My two achievements – Made ch**iyas of bhakts, made bhakts out of ch**iyas" in Hindi.
Pramod Tiwari – PM Modi come after (Libyan dictator) Gaddafi, Mussolini and Hitler
Union Cabinet Minister and Congress leader Beni Prasad Verma on 11 January 2014 in Uttar Pradesh called Narendra Modi a man eater (aadamkhor) and a Mad dog
Former Jammu and Kashmir Chief Minister Omar Abdulla – Modi is Gangu Teli
Renuka Chaudhary – PM Modi is virus, which causes Namonia
Manish Tewari – PM Modi is Dawood Ibrahim
Congress leader Manish Tewari had posted a tweet using abusive language against Prime Minister Narendra Modi (September 2017)
In his post, Tewari wrote "Is Se Khate Hain Ch**iyon Ko Bhakt Bana Na or Bhakton Ko Permanent Ch**iya Bana Na -Jai Ho. Even Mahatma cannot teach MODI Deshbhakti.".
Congress leader Anand Sharma's remarks against Modi (June 2015)
"I do not think Narendra Modi's state of mind is healthy. It is a cause of concern for India,"
Arjun Modhwadia – Failed husband (Nov 2012)
Gujarat Congress President Arjun Modhwadia in his election campaign speech in November 2012 started speaking about Modi's personal life in election rallies.
On 29 March 2014, Gujarat Congress president Arjun Modhwadia compared Narendra Modi with cruel Islamic ruler of Mughal period Aurangzeb.
Badtamiz, Nalayak, who is his father? Mother? (2009)
In 2009 Lok Sabha campaign rally, Congress leader Rizwan Usmani described Modi as Badtamiz, Nalayak and asked who is Modi's father? Who is his mother?
Monkey, victim of rabies (Oct 2012)
Gujarat Congress President Arjun Modhwadia compared Narendra Modi with monkey in his election rally speech in October 2012.
Congress MP from Surendranagar, Soma Ganda Patel called Modi a Ghanchi.
Congress Rajya Sabha MP from Goa Shantaram Naik on 7 June, 2013 compared Narendra Modi with Pol Pot and Hitler.
On 13 June, 2013 Union cabinet minister and senior Congress leader Jairam Ramesh said Modi is Bhasmasur.
Congress partner National Conference leader Farooq Abdullah called Narendra Modi a dictator on 25 March 2014.
Veteran Kerala CPI(M) leader VS Achuthanandan on 25 March 2014 called Narendra Modi a "slaughterer" on 25 March 2014.
Congress partner Bahujan Samaj Party candidate from Muradabad Haji Yakum Qureshi called Narendra Modi a 'darindaa' or barbarian.
Congress partner Samajwadi Party leader Azam Khan on 2 April 2014 called Narendra Modi 'puppy's elder brother'.
Congress leader Shashi Tharoor called Narendra Modi 'Bleeder' on 21 April 2014
Apart from these, take a look at the abuses and language used by Congress IT cell head Ramya/Divya Spandana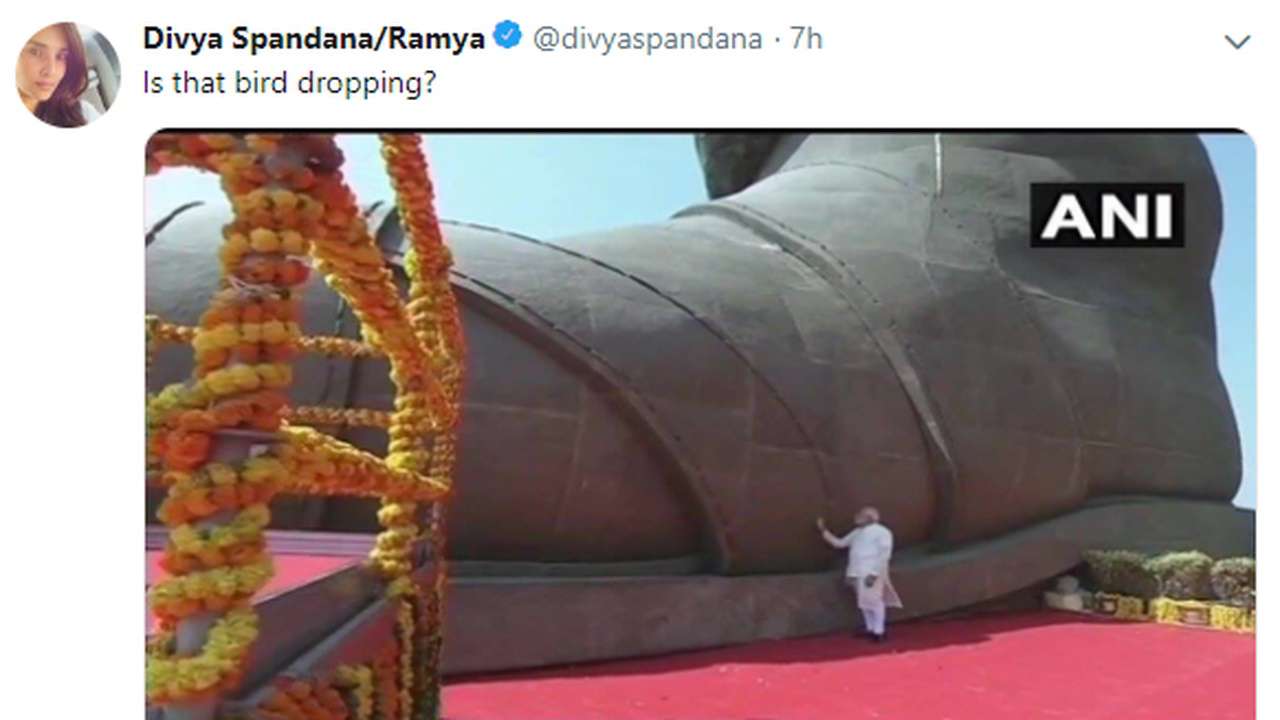 #ChorPMChupHai pic.twitter.com/Bahu5gmHbn

— Divya Spandana/Ramya (@divyaspandana) September 24, 2018
So now, let people decide who are real abusers, intolerant and curbing the freedom of speech of media and writers! Let us see if the police who accepted complaint against Mahesh Hegde, Santosh Thammaiah have the same spine to register complaint against all those Congress leaders who have abused PM Modi.
---
Power Punch