The heights of arrogance the politicians display is something that is worst in India. Probably no other country would have such rude and shameless politicians who think people are their slaves and they are the masters.
Many times before we have seen politicians treating civil servants as slaves and using them for their personal work. We have seen instances where government workers and especially police officers and security personals made to carry their shoes, polishing it, cleaning their clothes and even getting slapped in public. The Ex CM of Karnataka Siddaramaiah was himself caught in this controversy when he had made his security official tie his shoe.
Now, in another incident, Congress minister of food and civil supplies minister Zameer Ahmad has sparked a controversy after he made many police constables to eat the leftovers from his plate. Zameer Ahmad who inaugurated the Food Festival in Mysore on the occasion of Mysore Dasara had a meal in the food festival grounds. Once he was done, the Congress minister called the police constables one by one and made them eat from the leftovers from his plate reported a Kannada News Paper.
The constables who did not have a voice to protest this disgusting act simply ate what the minister gave and wiped their mouth with a sad face said the people.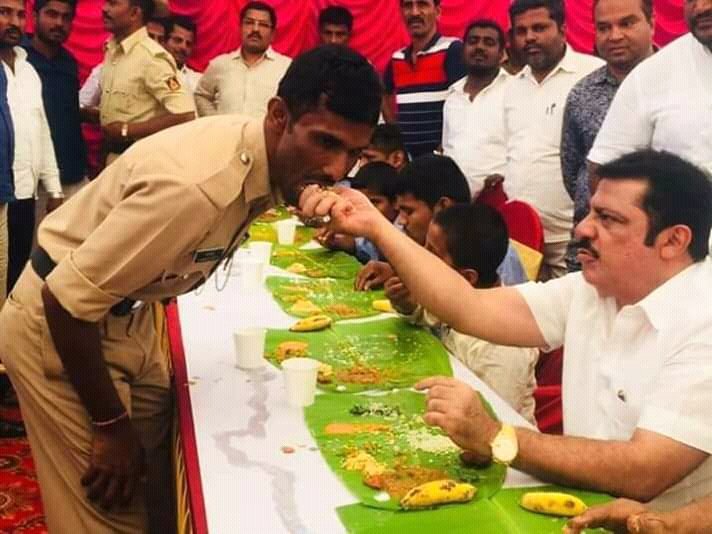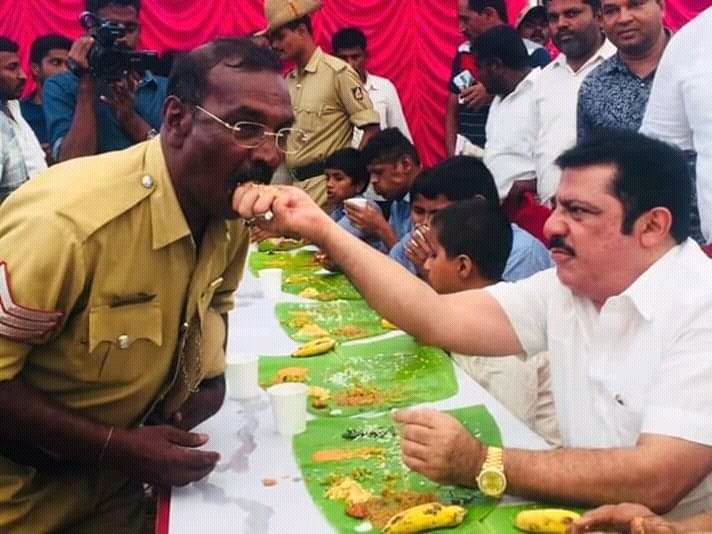 His disgusting act has sparked row and displayed the indecent and rude behaviour of the so called politicians.When questioned about his act, the minister said defending his act saying that he washed his hands and fed them. Which means that he truly made the poor constables eat the leftover from his plate.
The mindset of politicians to treat every common man at their disposal is something which is a curse in our country. The trend which was developed by the Gandhi-Nehru dynasty of treating politicians like Gods must end and people should realise that they are elected and in power because of people.
These people who humiliate or misbehave with any civil servant should be barred from contesting elections and made to pay heavy fine for their disgraceful acts.
---
Power Punch