When the Congress party was trying to recover from the "Bhrashtachari No. 1" barb against Rajiv Gandhi, PM Modi disclosed another sensational hidden historical fact by saying that "INS Viraat was insulted by using it as a personal taxi. This happened when Rajiv Gandhi and his family was out for a 10-day vacation. INS Viraat was deployed for securing our maritime boundary. But it was diverted to take the Gandhi family, which was out for a vacation".
While PM Modi revealed how the Indian Naval Ships meant for defence of the maritime boundaries were misused by Rajiv Gandhi, many journalists and leaders claimed that PM Modi is spreading misinformation. Many others claimed that other than official visit, then PM Rajiv Gandhi never stepped into the ship along with his family for a vacation.
So what is the truth? Did PM Modi lie? What the historical documents reveal? Let us make an effort to dig the historical facts to draw a conclusion.
PM Modi was referring to the incident that took place somewhere around New Year's Day in 1988 when the then PM Rajiv Gandhi visited Lakshadweep. There's no problem even if the Prime Minister of India goes for a vacation but there's a problem when he/she uses properties that belong to the nation for his personal use.
Three decades ago, Indian Express had reported "At least eight foreigners joined the Prime Minister and his family during their New Year holiday. In all, the group consisted of 24 men, women and children. Looking after their needs were 70 persons from various departments, cooks and valets and naval personnel. Nearly 1,200 policemen drawn from Lakshadweep Police and Madhya Pradesh Armed Special Police, based at neighbouring Agatti island, were on patrol on the periphery of Bangaram".
One thing is clear that even the foreigners had joined Rajiv Gandhi's private vacation and thousands of employees from various government departments were used to serve their needs. This is enough to prove that PM Modi did not lie.
Another newspaper clipping from the Indian Express proves that 30 years ago the Bharatiya Janata Party had slammed Rajiv Gandhi for misusing the government authorities for his private needs. BJP had also demanded Rajiv Gandhi to reveal the name of the guests who were on the tour to Island.
Rajiv Gandhi had planned very well for this vacation. This claim is proved by another news report titled "Islands booked for PM" that claims "The movement of people to and from the mainland to Lakshadweep has virtually been sealed for the Prime Minister's holiday in one of the uninhabited islands of the archipelago". It added "Anybody who wants to go to the Dweep now has to wait till the Prime Minister's holiday".
Here comes the main part. The news report mentions about the presence of INS Viraat in the holiday trip of Rajiv Gandhi. The report says "Security was naturally tight reinforced by a 24-hour watch by a naval fleet. According to reliable sources, among the Indian Navy vessels performing various duties in connection with the holiday were aircraft carrier INS Viraat, the frigates INS Vindhyagiri and INS Taragiri, and the landing craft carrier 39 INS Magar".
Report added "Innumerable boats of the local administration, including 40 hp high-speed boats, and the Navy's yachting boats were pressed into service. The Navy also provided a wind surfer for the holiday". Isn't this enough to nail the lies of Congress party which is defending Rajiv Gandhi?
India Today had carried out a detailed reportage of the luxurious trip of Rajiv Gandhi and it claimed that not just INS Viraat, but even a submarine was deployed for the service of the Gandhi dynasty. India Today had stated "Questionable actions were, however, in evidence. India's premier warship, INS Viraat, was used to transport the Gandhis and moved in the Arabian Sea for 10 days. Its daily expenditure at sea is astronomical as the Viraat travels with an entire retinue of escort ships. A submarine was also reported to be in attendance and some defence experts questioned the justification of depriving the navy of its most effective fighting component merely to suit Rajiv's holiday plans. Considerable expense was also incurred in setting up a special satellite link up at Agatti for the duration of the holiday".
Rajiv Gandhi's vacation had angered popular cartoonist RK Laxman: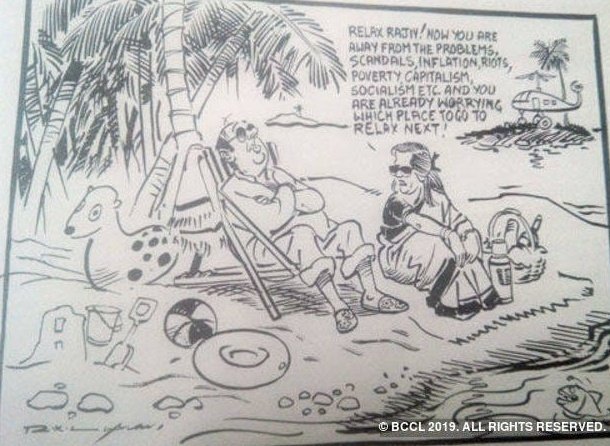 In the cartoon, Rajiv Gandhi can be seen relaxing in the Island and cartoon of a lady (probably Sonia Gandhi) is saying "Relax Rajiv! Now you are away from the problems, scandals, inflation, riots, poverty, capitalism, socialism etc and you are already worrying which place to go to relax next!".
RK Laxman was popular for mocking the politicians through his cartoons, to expose their corruption or wrong doings.
The Indian Navy officers who were present in INS Viraat also claimed that PM Modi spoke the truth:
Former Navy Commander VK Jaitly (retired) stated "Rajiv and Sonia Gandhi used INS Viraat for travel to celebrate their holidays at Bangaram island. Indian Navy resources were used extensively. I am a witness. I was posted on INS Viraat that time".
Former Navy officer, Lieutenant Commander Harinder Sikka stated "We were helpless because we could not speak or raise objections. They would have booked us for mutiny. Prime Minister in INS Viraat is acceptable but his wife was a foreign national and sensitive information was at stake. No one, even Navy officers, was not allowed inside but here they were holidaying. I raised the issue before the Commanding Officer and I was asked to shut up. He is the Prime Minister. Even if you use a pin from a Navy ship, it has to be docketed".
Who were present in the trip to Island?
Along with a bunch of foreigners and the Gandhis, several other popular Indian celebrities had accompanied Rajiv Gandhi  in his visit to Lakshadweep. From the Gandhi Parivaar, four friends of Rahul and Priyanka, Sonia Gandhi's sister, brother-in-law and their daughter, her widowed mother, R. Maino, her brother and a maternal uncle had attended.
Bollywood celebrity Amitabh Bachchan, his wife Jaya, their three children and daughter of Amitabh's brother Ajitabh had also accompanied the Gandhis. Even the wife and daughter of Bijendra Singh, brother of former Union minister Arun Singh were present.
India Today stated that all of them didn't reach the location on one particular day. In a span of 4-5 days, all had reached the location.
Below are few of the pictures from Rajiv Gandhi's holidays that were clicked by India Today:
Conclusion:
Looking at the evidence present, one can draw a conclusion that former PM Rajiv Gandhi had insulted INS Viraat, as claimed by PM Modi, by using it for his Lakshadweep holiday trip.