A remote village in the easternmost Arunachal Pradesh has become a village of crorepatis all overnight after the residents of Bomja in the hills were compensated for the land acquired by the Indian Army. No one got less than "a crore rupees".
Chief Minister Pema Khandu yesterday distributed compensation of nearly "Rs 41 crore to the landowners from Bomja". Distributing land compensation cheques to the 31 landowners at a meeting at Lhou village in his home constituency Mukto, the Chief Minister said 200.056 acres of lands were acquired for housing Key Location Plan Units of Tawang Garrison of the Indian Army.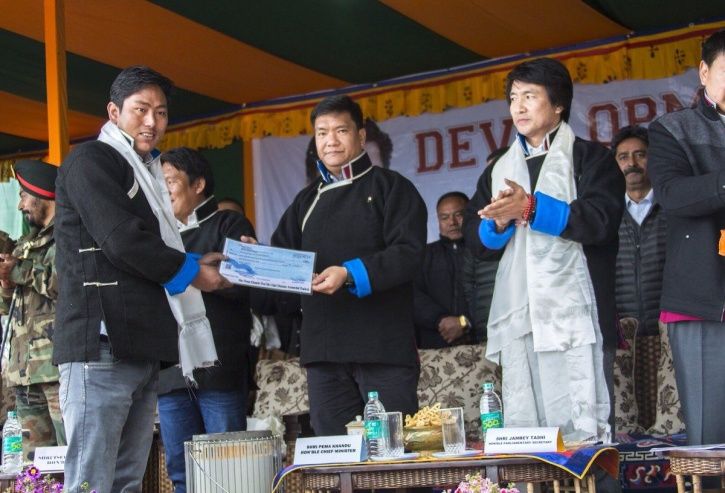 While the congress is still wasting its energy alleging and blaming at PM Modi's central government, people in Arunachal village are celebrating over their joy after receiving crores of rupees overnight. All thanks to the land compensation they received from the Central government! The 200.056 acres of land belonging to 31 households in the village was acquired by the Indian Army about five years ago to set up "key location plan units" of its Tawang Garrison.
The highest compensation was of "Rs 6, 73, 29,925" (6.73) followed by "Rs 2, 44, 97,886" (2.45). Other 29 beneficiaries were each handed cheques of Rs 1, 09, 03,813.
Khandu said more such pending compensation for lands acquired for defence purposes were being worked out with the centre. Commander of 190 Mt Brigade Brigadier MP Singh represented the Armed Forces at the event.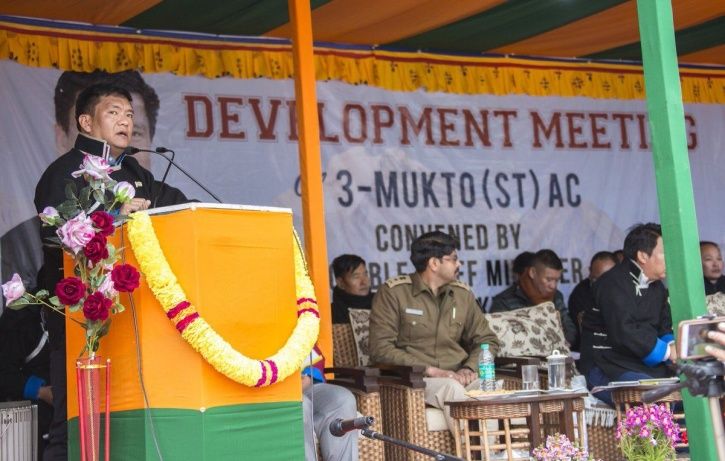 The chief minister said Arunachal Pradesh was witnessing rapid development with great focus on connectivity – rail, air, digital and road – in the strategically important state after the Narendra Modi government accelerated infrastructure-building in farthest corners of the state, over-ruling objections from a neighbouring country.
Tawang will soon be connected with rail and informed that the Union Budget this year had made allocations for construction of tunnel under Sela pass, which will cut down travel time by an hour. With their new found fortune, a local Facebook page called Tawang Times claimed it is the richest village in India.
However according to other reports two villages in Gujarat – Baladia and Madhapar are believed to be the richest in the country.
Modi government is a total failure: said Congress
Congress had previously alleged that the BJP-led NDA government's claim of achievements was a "lie" and it "has not fulfilled any of the promises in the last four years".
"Be it in jobs creation, growth in agriculture sector, GDP growth, containing food inflation and GDP growth, Modi government is a total failure. The achievements that the government talked about is a lie and it has not fulfilled any of the promises in the last two years rule," senior Congress leader Anil K Shashtri alleged earlier.
He had told "the most laughable promise of Modi was with regard to bringing back black money and depositing Rs 15 lakh each in the bank accounts of every citizen". What has Shashtri got to reply now? Someone needs to urgently ask him for a comment on this. Well, I wouldn't be shocked if he says that 1 crore is no big deal!
Congress has gathered countless amounts of property and assets through its scams. 1 crore would obviously seem a tiny price for them. Wouldn't it?
Source: https://www.indiatimes.com/news/india/while-you-re-still-waiting-for-rs-15-lakh-everyone-in-this-arunachal-village-has-got-rs-1-crore-339318.html
---
Advithi