Sanjay Leela Bansali has a peculiar skill of distorting Indian history with an intention to suppress our royal heritage. His recent contribution to this is the film 'Padmavati' which has hurt the Rajput community. Amidst the usual protests, Dr Subramanian Swamy had given a new trajectory by saying that the film received funds from Dubai. "Dubai residents want Muslim kings to be presented as heroes in our movies and Hindu women eager to enter into relationships with them", he said.
But now, former NDTV journalist has sparked another controversy by saying "The attack on Deepika Padukone and the threats to maim her are beyond repulsive. But the media must reflect on the space its given to the very Fringe its condemning today. Lawless Hoodlums & their threats don't deserve the legitimacy of prime time".
The attack on @deepikapadukone and the threats to maim her are beyond repulsive. But the media must reflect on the space its given to the very Fringe its condemning today. Lawless Hoodlums & their threats dont deserve the legitimacy of prime time.

— barkha dutt (@BDUTT) November 16, 2017
According to her, terrorist sympathizers can share space in media but people cannot condemn against a film which has all chances to create damages to Indian heritage.
Threat to Deepika is not at all serious when compared to defaming history!!!
A young lady named Aditi Sharma exposed the double standards of Barkha Dutt. She reminded Barkha Dutt that twisting history is far more worse than issuing threats to Deepika Padukone.
https://twitter.com/Real_Aditi/status/931272847376318464
Where was Barkha Dutt when Bollywood promoted real-life villains as the real stars of India?
Who is deciding whether Bwood is fringe or Karni sena? Bwood has been glorifying Jihaids..Rapists..Murderers..Dons.. if neone who is FRINGE in this cntry..its Bwood n esp Deepika who called this Nation regressive..

— Freelance neech desi (@teetar_) November 16, 2017
A valid point!!! Years back, Da Vinci Code was banned as it hurt Christians' sentiments. Many other books were banned in India as it had hurt minority community's sentiments. But when Hindu sentiments are hurt, why can't these movies be banned?
Simple. When davinci code can be banned why not Padmavati.

— RM (@mahadevanrajesh) November 17, 2017
Did Barkha Dutt speak on 'fatwa on yoga' so fiercely?
Why sudnt we debate when someone issue fatwa on teaching yoga, threats on objecting loud speakers, threats to kill all Hindus in 15 mins and so on…..? And why only debate ? Why don't arrest and punish them?

— Sachin Rajput?? (@Sachingla) November 17, 2017
Hey Barkha Dutt, you have interviewed an anti-national named Kanhaiyya Kumar, forgot?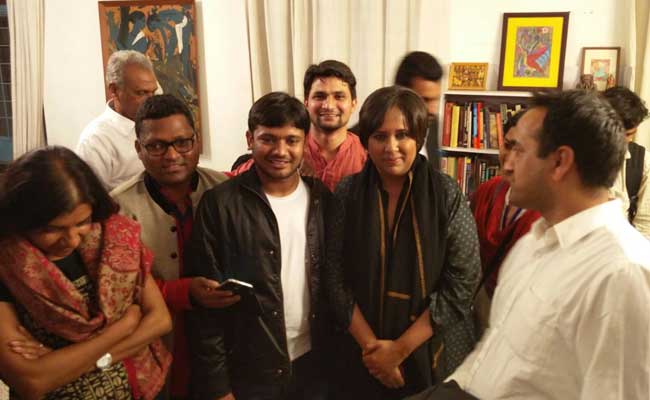 "The first thing I noticed was his smile – a boyish, toothy grin that traveled all the way up to his eyes that still glimmered with hope and optimism, despite having spent the last 23 days in prison", this was how Barkha Dutt had described Kanhaiyya Kumar.
Didn't Barkha Dutt have an iota of common sense that she shouldn't give prominence to an anti-nationalist like him?
But why this wisdom – media reflect by time given to fringe – not there when some of U glorifying JNU anti national gang

— pradeep_bhagat (@pradeep_bhagat) November 16, 2017
Why only Hinduism?
If Bhanshali is so forthright n hv freedom of expression as main reason 4dream sequence dare hm2make a film on Jesus-lady Macdalane n Mohammad-Aisha ?

— ईशवर सिंह रोड़ (@IMehla) November 17, 2017
Sonu Nigam was against Islam. So he should be attacked and trolled. Isn't it Barkha Dutt?
U were deep asleep when fatwa was issued on Sonu Nigam….

— Vikas Hajela (@HajelaVikas) November 17, 2017
Fringe groups supporting Hindu culture should be shamed but fringe groups that petrify people in Kashmir should be awarded, according to Barkha Dutt.
Yeah! It's not ok unless the fringe is from kashmir and sons of headmasters who use social media…

— బడుగు తెలుగువాడిని (@tvssarma) November 17, 2017
Hello Barkha Dutt, 'Padmavati' actress Deepika Padukone called Indians as regressive. What is your take on it?
This actress and it's Bollywood earn millions money from India and call Indians a regressed society. They are regressed, that's why you are earning and abusing at the same time.

— Ashwin Nagar (@ashwinnagar) November 17, 2017
Bang on!!! Using creative liberty, one cannot twist and turn historical events.
"There is nothing big thing in this matter, film makers should respect Indian culture and Great History, no one have rights to show his fantasy about any respected History person to the World, no one dare to make film on Allah n Mohamad bcz they will not oppose they simply chop". This tweet speaks a lot!!!
There is nothing big thing in this matter, film makers should respect Indian culture and Great History, no one have rights to show his fantasy about any respected History person to the World, no one dare to make film on Allah n Mohamad bcz they will not oppose they simply chopped

— Gopal Gadhiya (@gopalgadhiya) November 17, 2017
---
Hansika Raj