He is called the ring leader of the lutyens media and fake news for the amount of hate and misinformation he spreads against the country. From exploiting religion and caste angle in Cricket to toilet to movie, Shekhar Gupta is now all set to literally divide India into North and South.
Yesterday, one of his tweet on South India created a huge controversy with people lambasting Shekhar Gupta for creating rift within between people. Mr Gupta who has been on a mission to divide North and South to benefit some of his political masters in Delhi seems to be working in full fledge to create rift. His website is making articles on North-South claiming that for South, North India has turned into a burden. Recently he also spread fake news that it was only South India which was paying maximum taxes in the country while rest of India enjoys freebies.
Take a look!
For rich South India, the rest of the country is a tax burden@mihirssharma writes: https://t.co/fbtEiXWxWf

— Shekhar Gupta (@ShekharGupta) August 19, 2018
But this was not the end, this man went to the extent to give a call saying he wanted all South Indian states to unite and form a separate federation and distance themselves from North India. His statements were directly aimed at dividing the country which would ultimately lead to civil war with people fighting with each other. Not surprisingly, his tweets and message was picked by Pakistan media and supported his stand on dividing India.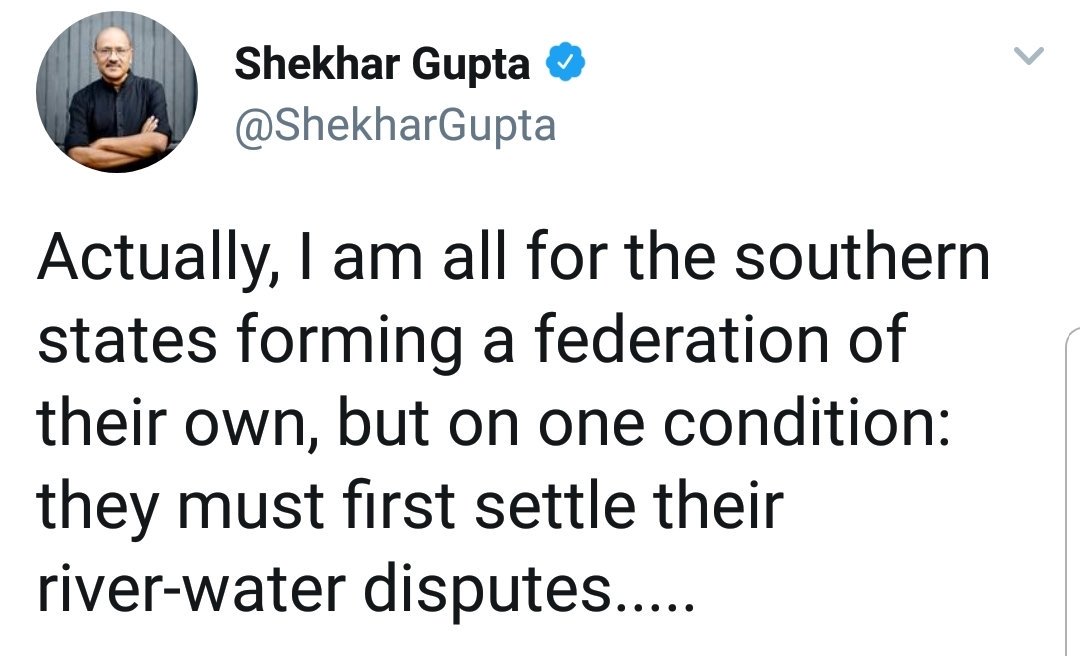 This one tweet of Pakistan confirms that they are working in tandem with each other and this is a part of a bigger conspiracy by the break India forces and the Tukde Tukde gang. Shekhar Gupta was slammed badly on Social media for his dubious role and criminal mindset.
If Shekhar Gupta says North India is burden on Rich South India then he is Liberal But If I say poor Peaceful are burden on Taxpayer Hindus then I'm Hate Monger. This mentality has to be changed.

— Prashant Patel (@ippatel) August 21, 2018
In 2 days:

1) MK Venu of The Wire shared a 2016 article: 'United States of South India'.

2) Shekhar Gupta of The Print shared old article: 'For rich South India, rest of Nation is tax burden'.

They've chosen to do divisive politics on Kerala Floods. This is Liberalism for you

— Anshul Saxena (@AskAnshul) August 20, 2018
Maharashtra & Delhi together pay more than 50% taxes. Should they leave India? Disgusting!

For peaceful India, @ShekharGupta is a burden! pic.twitter.com/NHVRlqDk2P

— गीतिका (@ggiittiikkaa) August 19, 2018
Now we know how these Delhi lutyens media are playing significant role in destroying the country to help their pet political parties.
---
Power Punch