9th November 2019,
The Supreme Court of India delivered a historic judgement. The disputed land was finally handed over in favour of Ram Lalla. Now Advocate Rajeev Dhawan who represented the Muslim parties in the Ayodhya land dispute case on Tuesday said that he has been sacked from the case.
"I have just been sacked from Babri case by advocate-on-record EjazMaqbool who was representing Jamiat. I have sent a formal letter accepting the 'sacking' without demur. I have been informed that MrMadani has indicated that I was removed from the case because I was unwell. This is total nonsense," Dhawan said in a Facebook post.
Rajeev Dhavan had vehemently argued the case for the Muslim side in the Supreme Court. The decision to sack Dhawan came within weeks of Supreme Court's judgment in the Ayodhya land dispute case
"I have been informed that I was removed from the case because I was unwell. This is total nonsense," he said in an interview.
Rajeev Dhawan has referred Madani's reason to Sack him as "total nonsense". Acc to Rajeev DhawanMadani has a right to instruct his lawyer Maqbool to sack him, which he did on instructions. But the reason being floated for the same is malicious and untrue.
Dhavan wrote this in the second post on the social media platform.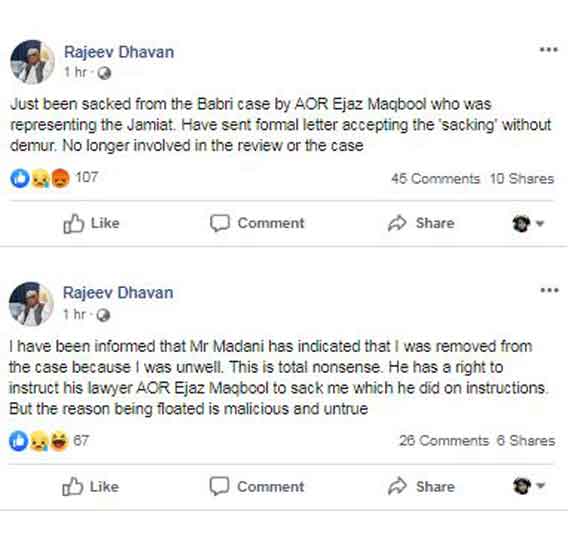 Shortly after Dhawan's Facebook post, advocate-on-record EjazMaqbool said that it is wrong to suggest that Dhawan was sacked because of his ill health.
Maqbool reacted to the posts by Rajeev Dhawan and said that his client JamiatUlema-e-Hind wanted to file the review petition yesterday. And the case was to be settled by Mr Rajeev Dhawan. Maqbool could not give his name in the petition because Rajeev Dhawan was not available.
Acc to Maqbool it is nit a very big issue. But for a Senior Advocate who fought the case in their favour with such an aggressiveness to be sacked because of a simple reason of not being available is really silly and something which can not be believed on.
Senior advocate Rajeev Dhavan's brilliant performance as the counsel for the Muslim side drew praise in legal circles for its depth and breadth.
But equally noteworthy were his temper tantrums and his general scorn for the lawyers of the opposite side — being represented, among others, by the venerable K Parasaran.
Even the Bench was not spared of his courtroom misbehaviour when he, rather foolishly, let his anger get the better of him.
In the process, he allowed his 40 days performance to be defined not by the brilliance of his arguments but by his anger management issues.
Thus, it was that on the last day of hearing in Ayodhya-Babri Masjid land dispute he produced what looked like a scene straight from a Bollywood courtroom drama.
Dhavan dramatically tore up a document submitted by one of the Hindu parties in the presence of Chief Justice of India RanjanGogoi and other four judges of the Bench. As part of a submission of evidence, the document was a property of the court and destroying it bordered on, if not contempt of the court, contempt for the court.
However, it was not for the first time that Dhavan — who had been passionately arguing for the Muslim side — has displayed his unruly behavior and theatrics. On 1 October, during the hearing, while the Hindu parties were making their submission, Dhavan and MeenakshiAroram, representing the Muslim side, reportedly made several interruptions which led the bench to reprimand them.
While the reprimand by the bench forced Dhavan to apologise, he nevertheless continued with his tactics to create a problem for Parasaran and Vaidyanathan.
Now after fighting battle with such fiercebess., Rajeev Dhawan is being humiliated. What happened to the 'Tolerant' people who asking the majoritarians to accept the verdict no matter on whose side it turns out?! A senior leader has been sacked giving a silly reason post his failure to win a case for their side. Is this not intolerance!!!!!
---
Dr. Sindhu Prashanth