Justice Sharad Arvind Bobde, aged 63, succeeded Justice RanjanGogoi as the 47th CJI on November 18. As soon as he took oath, he took blessings from his 90 years old ailing mother who had been brought in a stretcher to witness the ceremony.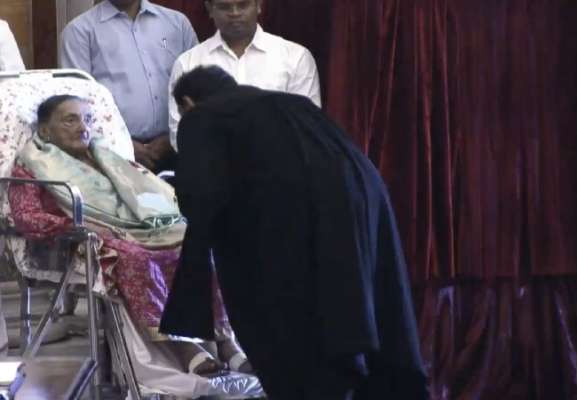 Justice Bobde will have a tenure of over 17 months and is due to retire on April 23, 2021. He has decided several key cases and was also part of the Ayodhya verdict.
Senior Nagpur lawyer ArunPatil who has worked with Justice Bobde for a long time says that the example of how big a family can contribute to the legal field is the Bobde family of Nagpur.
Ramachandra Pant Bobde, great-grandfather of Justice Bobde, was a noted lawyer in Chandrapur (erstwhile Chanda) between 1880 and 1900. Later his family moved to Nagpur. In the later generation, MR Anekya Bhaiyasaheb Bobde and Srinivasa Bobde were also famous lawyers.
In 1934 MR Bobde also became the Advocate General of the Central Province. He was also the first President of the Council of the then Central India Province.
Sharad Bobde's father Arvind alias Bhausaheb Bobde was also a famous lawyer. He also held the post of Advocate General of Maharashtra. His uncle Vinod Bobde was a famous lawyer in the Supreme Court. Justice SharadBobde is carrying forward the tradition of all these people.
Justice Sharad Arvind Bobde was born on 24 April 1956 in Nagpur. He received his BA and LLB degree from Nagpur University in 1978. After this, he enrolled as a lawyer from 13 September 1978 and started practicing in the Bombay High Court.
In 1998, he was given the title of Senior Advocate. He became the judge of the Bombay High Court on 29 March 2000. In this sequence, Justice Bobde became the Chief Justice of Madhya Pradesh High Court on 16 October 2012 and on 12 April 2013, he became the Judge of the Supreme Court.
In April 2019, he headed the committee that looked into allegations of sexual harassment against CJI RanjanGogoi.
Landmark judgments:
Justice Bobde was part of a 5-member Supreme Court Bench that handled the Ayodhya land-dispute case.
In March 2019, a Bench headed by Justice Bobderefused a blanket ban on firecrackers.
In August 2017, he was part of a Bench that ruled that the right to privacy is "intrinsic to life and liberty".
In January 2017, a Bench of Justices, including Justice Bobde, allowed a Mumbai woman for abortion in the 24th week of pregnancy, as the foetus did not have a skull.
In March 2015, a 3-member Bench, including Mr. Bobde, directed that "no person should suffer for not getting the Aadhaar card".
He upheld the ban on the book by Mathe Mahadevi, and opined that it instigates communal tension.
However, apart from delivering and authoring several key judgments, a little known and much-needed role Bobde played was of a peacekeeper in the time of one of the worst crisis that hit the top judiciary.
Justice Bobde was the one brokering peace between former chief justice of India Dipak Misra and the other members of collegium at the time — Justices J Chelameswar, Ranjan Gogoi, Madan B Lokur and Kurian Joseph — when they decided to go public about a persistent rift within the judiciary over allocation of cases.
Bobde was reportedly among the first people to call upon Justice Chelameswar after the press conference, and he was also reportedly in touch with Misra.
It was Justice Bobde, who offered to devise a path of reconciliation and envisaged a new method of distribution of cases across the benches in the Supreme Court, which became a key to an amicable solution.
He was also reportedly the one who suggested that speaking at public forum any further may precipitate the issues, which was one point that most voices from within the judiciary seemed to agree upon, and later this restraint became the bedrock of a compromise.
In an interview,
He was responding to a question whether the authority of the judiciary is under "attack" from social media and online articles; and whether they have exceeded the reasonable limits of free speech.
"It is not just the judiciary… What is happening in society? There is challenge to the authority of parents, schools, Parliament. This is the age of challenging authority," he said. "Questioning by itself is healthy, but it should not be malafide and vicious. Personal attacks on judges are uncalled for and destructive," he said.
With such long list of achievements to his name, Justice Bobde has a lesser known side of a bike lover. He is usually soft spoken but decisive and works to get things done fast.
He loves his Royal Enfield Bullet and has a history of injuring his ankle while test driving a Harley Davidson.
Appointment of Justice Bobde has stirred some emotions in the left brigade of our country who are right now saving any comments in this regard.
Those who have watched his interview with Rajdeep Sardesai will have an idea as to how he tackles questions with calm and composed manner.
Rajdeep Sardesai appeared to suggest that the Ayodhya Case is political in nature and insinuated that the day-to-day hearings in the matter were a consequence of the Judiciary succumbing to pressure from the NDA government at the centre. He also questioned whether the Bench of the Supreme Court could keep away from the politics of the matter in a case that 'pits Hindus against Muslims' and 'the ruling BJP against the opposition'. Justice SA Bobde, for his part, refuted these suggestions strongly and said it wasn't a political issue. 'We are deciding on an issue raised by litigants, that's all,' he said.
Justice Bobde was part of the two judge bench who dismissed review petition aganist acquittal of Amit Shah in Sohrabuddin encounter case.
Justice Bobde is called as Einstein of law among his close aides. His fast paced work and knowledge of law is definitely going to change the structure of Supreme Court in coming days.
---
Dr. Sindhu Prashanth