PM Modi is known for connecting directly with the people with intentions to understand their pulse. It seemed like PM Modi had reserved his Sunday (July 22) just to answer the queries fired by his fans on twitter. After the fearful speech by PM Modi against the no-confidence motion, the fan base of PM Modi has clearly increased.
On Twitter, PM Modi had stated, "The NDA has the support of more than 2/3rd members of the Lok Sabha. Yesterday the nation saw yet again how the Congress is only interested in creating instability. Congress leaders did the same in 1999 and before that too!".
As a response for this, a woman named Shilpi Agarwal tweeted "Only one thing Modiji, u should smile more often!! Baaki sab mast hai".
Only one thing Modiji, u should smile more often!!? Baaki sab mast hai☺

— Shilpi Agarwal (@_svagarwal) July 21, 2018
Perhaps the woman hadn't even imagined in her dream that she will get a reply from PM Modi. Yes, she got a reply from PM Modi that said "Point Taken".
Point taken. 🙂 https://t.co/xtFMxxO8M6

— Narendra Modi (@narendramodi) July 22, 2018
If Rahul Gandhi repeats his Himalayan blunder time and again, then there is no doubt to see PM Modi laughing. During the no-confidence motion, PM Modi had laughed several times on Rahul Gandhi's speech that lacked maturity.
Another lucky person who got a reply from PM Modi was a man named Ganesh Shankar from Tamil Nadu who tweeted saying "Oh..I saw our PM Narendra Modi in parliament on Marathon discussion which went on till late night yesterday. Today, I switched on TV being weekend very late at around 12 Noon..could see him addressing farmers in Shajahanpur, Uttar Pradesh. Tireless even at 60-70s..Whav!!".
PM Modi responded to him saying "The blessings of 125 crore Indians give me great strength. All my time is for the nation".
Few find a guru in PM Modi whereas few find source of their inspiration in PM Modi. But here a young man told PM Modi how his grandfather was a fan of him, who died recently. The young man said,
"Narendra Modi ji, your yesterday's speech in Parliament reminds me the time when my Grandfather and me used to watch your speeches together..He passed away on 16th July…He genuinely adored you and your wittiness".
To his surprise, PM Modi replied to him and offered condolences. PM said "Very sad to hear about your grandfather. My condolences in this sad hour".
This is what the nation expects from its Prime Minister. A man who cares for each and every citizen, and not a dynast who is ready to demolish the future of crores of Indians, just to fill his or her swizz bank.
On July 21th, a man named Anantha Subramanyam tweeted an essay written by his daughter that was published in her school magazine. The essay was based on the Swacch Bharat Mission.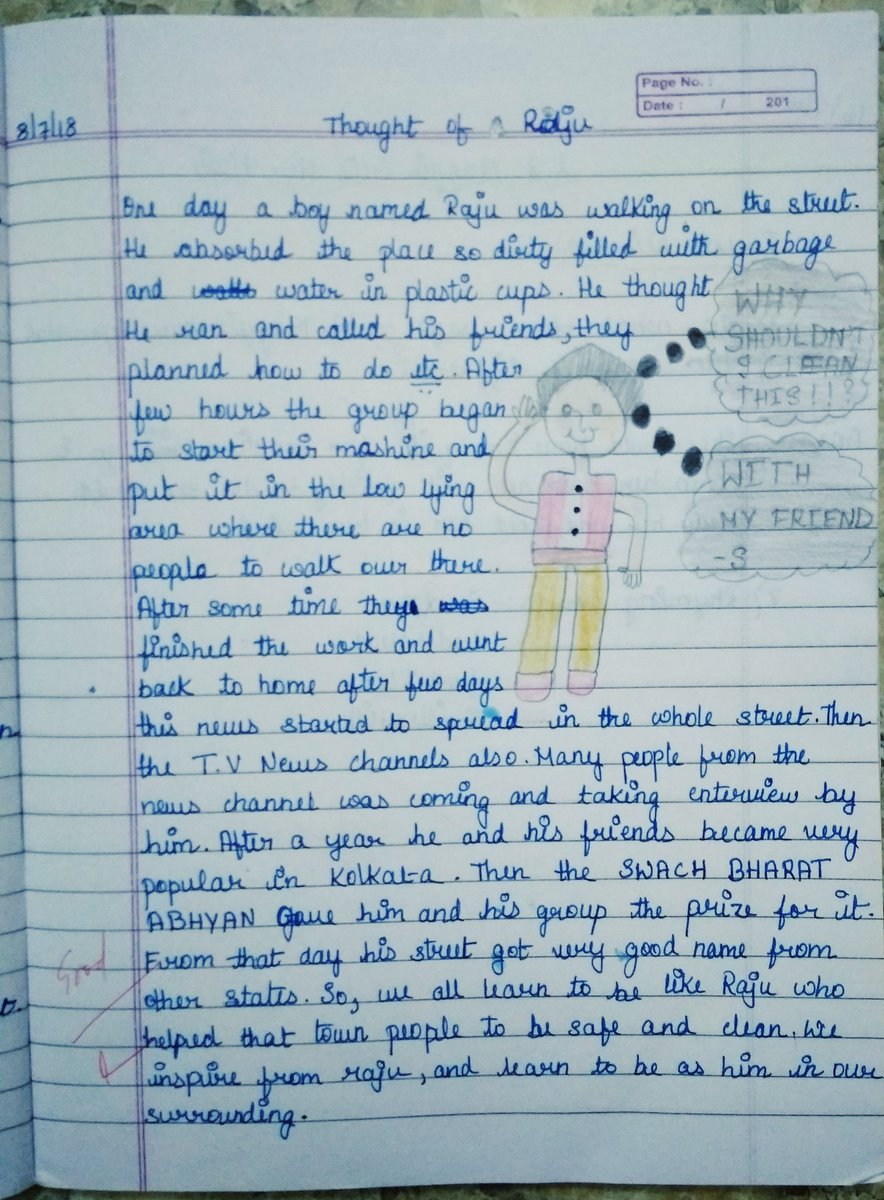 PM Modi read the letter written by the young kid and said "Happy to read this. Please congratulate her on my behalf. Amazing to see such high levels of awareness and passion among our youngsters for Swachhata".
These tweets have proved that the youngsters of India consider Prime Minister Modi as their role model and not an alleged youth who is 48 years old.
---
Hansika Raj