Yes, you heard it right. The janeu dhari Brahmin who eats chicken and fish like any other non-vegetarian has been advised not to visit the temple without having a bath. This precious advice was given to Rahul Gandhi by none other than his own party members.
As the election in Karnataka is approaching, the janeu dhari Brahman has begun his "temple run" just like he did in Gujarat. Today, he landed in Mangalore airport and immediately began his voyage to Udupi. In Udupi, he feasted on various coastal food that included fish curry.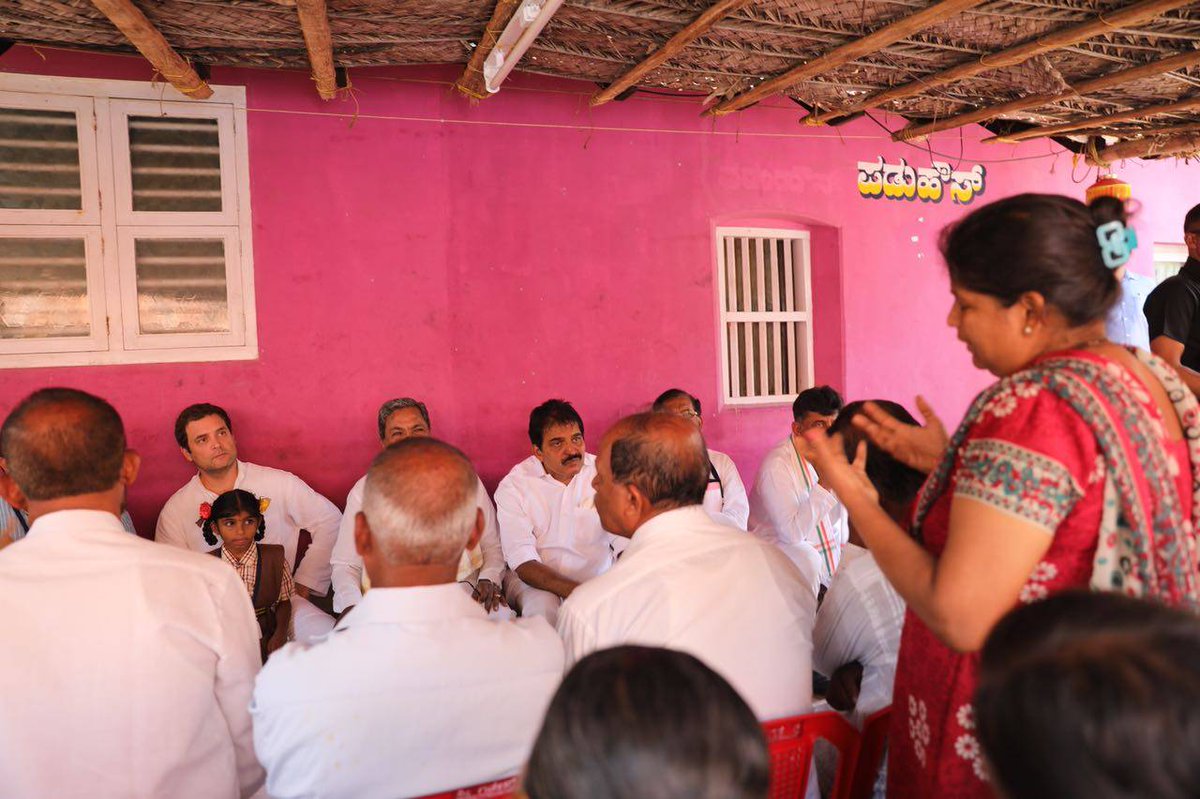 The schedule said that Rahul Gandhi's next visit will be to Kudroli Gokarnanatha Temple in Mangalore. But the Congress party members advised Rahul Gandhi to have a bath first and then visit the temple. This indicates that Rahul Gandhi has a tendency of disrespecting Hindu culture andd that's why the Congress workers advised him to respect the Hindu practises.
This news made quite a buzz in Kannada news channels and web portals. After separating Lingayats and Veerashaivas from Hinduism, Rahul Gandhi is attending a temple in Mangalore just because of vote bank politics. Yes, the Kudroli Gokarnanatha temple belongs to Billava community and this community plays a major role in 6 assembly constituencies out of the 8 in Dakshina Kannada.
So, this non-vegetarian Brahmin didn't visit the Udupi Krishna Mutt even though he visited Udupi district. If Rahul Gandhi had so much love towards Hindus, then why didn't he visit Udupi Krishna Mutt?
Attending temple after consuming fish has become a signature style of Congress leaders!
Earlier, Karnataka Chief Minister Siddaramaiah visited Sri Manjunatheshwara Temple in Dharmasthala after consuming fish during lunch. In the month of February 2018, Rahul Gandhi had also repeated the same mistake. Karnataka BJP chief B S Yeddyurappa revealed that the Congress President Rahul Gandhi visited Narasimha swamy temple after eating "Javari chicken" during his tour of northern parts of the poll-bound state.
"Why is Congress repeatedly hurting Hindu sentiments? Looking at everyone equally is Samajawad (socialism), your's is majawad (enjoyment)", questioned Mr Yeddyurappa.
But Rahul Gandhi had defended his act by saying, "I like going to temples, wherever I get a religious place I go there. I feel good and feel happy, and I will continue (to go)".
Congress leaders in coastal Karnataka didn't want Rahul Gandhi's visit!
Yes, the Congress leaders of Dakshina Kannada and Udupi district didn't want Rahul Gandhi to campaign for Congress. Wherever Rahul Gandhi campaigned, the Congress party had lost miserably. Due to this fear of losing, the local Congress leaders didn't want the head of their party to visit and campaign. Hilariously true, but what can be expected from a party that believes in dynasty? The party workers' opinion is not considered in Congress.
In the year 2013, the Congress party had won 7 of the 8 constituencies in the Karnataka elections. But this time, the trend will reverse. It is not just because the Congress has not implemented any development but also instilled fear in the minds of the people due to the poor and pathetic "law and order" situation.
---
Hansika Raj