Yesterday there was big news about a student called Suraj being heckled by few members in the IIT campus. The media reported that Suraj was manhandled and attacked after he arranged beef party by right wing activists.
Well this is the story which was shown in all media houses. Media is only known to show nonsense, fake news which will trigger one community against another. They are nothing but vultures who would want to feast on riots!
How did it all start?
The centre passed the Prevention Of Cruelty To Animals (Regulation Of Livestock Markets) law recently. But the morons of the Congress, left and all SIKULAR parties without even reading it for once considered this as a BAN of COW SLAUGHTER! But there is NOT ONE WORD MENTIONED about cow slaughter in the bill.
This bill was a regulation on cattle trade which will all end illegal trade and illegal slaughter houses which were mainly involved in stealing and selling sick cattle to the slaughter houses.
I challenge you to read the below document of the Government and find one word on cow slaughter BAN!
Entire document
http://pib.nic.in/newsite/PrintRelease.aspx?relid=162195
So, the protests against cow slaughter and brutal murder of innocent cow in Kerala by Congress was nothing but a GIMMICK to provoke Hindus!
Now, lets come to IIT Madras issue!
According to media,a PhD student Suraj was brutally attacked by right wing activists. Who is this Suraj? He is a member of Ambedkar Periyar Student Circle (APSC), the same group which supported terrorist Yakub Memon few days before the death of Rohit Vemula. These are the same people who created violence during the Jallikattu ban and held posters of LTTE Chief Prabhakaran.
The student Legislative council of IIT Madras has complained to the administration several times about the violence and goondaism created by this student group. They are well known to be involved in physical violence.
Ambedkar Periyar Study Circle has the history of violence inside IIT Madras which is even condemned by officially elected Student Council. pic.twitter.com/3JTHT5dUS2

— SG Suryah (@SuryahSG) May 30, 2017
Yesterday, this man Suraj along with his other friend Abhinav Surya organised a beef festival in the IIT Madras campus and invited people from outside to join the party. The local students reported that many people who did not belong to IIT were seen in the campus during beef festival.
Abhinav Surya is the same person who had opposed the Indian Army in Kashmir and supported PAKISTAN. He had also spoken against the Gen G D Bakshi saying Indian army was filled with hatred and wanted to split Pakistan.
Suraj after the beef festival entered the Jain Canteen where they serve Jain food and started to mock many students of Jain community. Manish Kumar Singh (the boy who is accused of hitting Suraj) was in the same canteen when Suraj started to abuse people eating vegetarian food. Manish Kumar immediately questioned his behavior and asked him to leave the Jain canteen.
But Suraj started to abuse Manish and said "I will eat beef, I will make you eat JAIN beef and cut you into pieces and eat you."
This provoked Manish and a verbal spat broke out between the two. The verbal spat turned bitter and both attacked each other.
Since Suraj belonged to APSC group, many of his friends gathered in the Jain canteen and attacked Manish and fractured his hand. In the fight Suraj was hit below the eye.
But the media jumped all the facts and only projected that thug Suraj was hit by Manish. Since Manish belonged to NO GROUP, he did not receive any help. But the media without proof claimed that Manish was a right wing activist and he attacked Suraj along with his group. The fact is, not one person came to help Manish when he was being attacked by Ambedkar Periyar Students Circle.
Today Manish is in the hospital, he underwent surgery and a steel rod has been inserted in his hand.
Media said that right wing activists attacked Suraj while he organised beef party….Now take a look at this pic, do you see any attack? They are all eating and enjoying!
Which media dared to report this truth? Firstly, they organized a beef party opposing BAN on cow slaughter which the CENTRAL government never passed, this itself shows it was a master plan to create violence. This was purely a political gimmick by left and Congress to incite violence through out the country in the name of beef ban.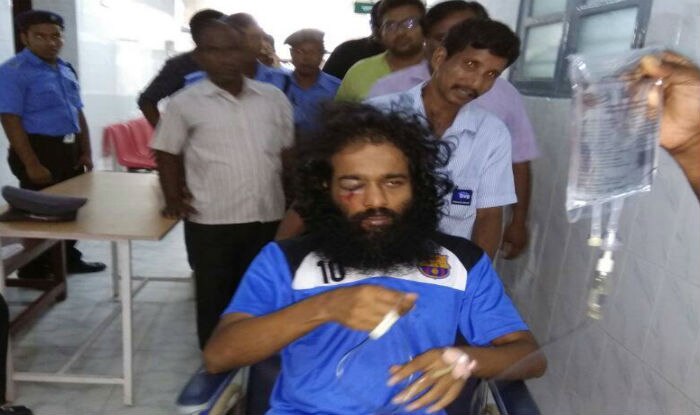 He is Suraj, who organised beef party, forced Jains to eat beef and attacked Manish!
Check what the Kerala High Court said today on Beef Ban!
Now you know the protests in the name of BEEF BAN is complete FARCE  to incite violence!
Source: As informed by SG Suryah!
@SuryahSG
---
Aishwarya S