In what is called as an unbelievable act of bravery in the heartland of the stone pelters, the cops have nabbed a stone pelter by acting like a fellow stone pelter.
It is a known fact that stone pelting is high on Friday and this was anticipated by the Jammu and Kashmir cops on 7th September 2018. So to nab the stone pelters gathered at the historic Jama Masjid downtown, the cops planted few of its men at the location but not in uniform.
As expected the mob started to pelt stones to inflict damage at the police and CRPF personnel. But something different happened this time. The armed forces didn't retaliate with teargas shell or baton. The stone pelters didn't have even a single clue of what was awaiting ahead.
This was how two of the deadly stone pelters were nabbed:
But as minutes passed, the stones pelters increased in numbers and it reached upto 100. That's when the two notorious stone pelters started to lead the "so called misguided youths" to cause harm to the public property. At this juncture the cops hurled the first tear gas at the mob.
As soon as the tear gas was hurled, the cops who were in disguise of stone pelters caught hold of the notorious stone pelters and took them to the police station in the police vehicle before the mob could realise what was actually going on.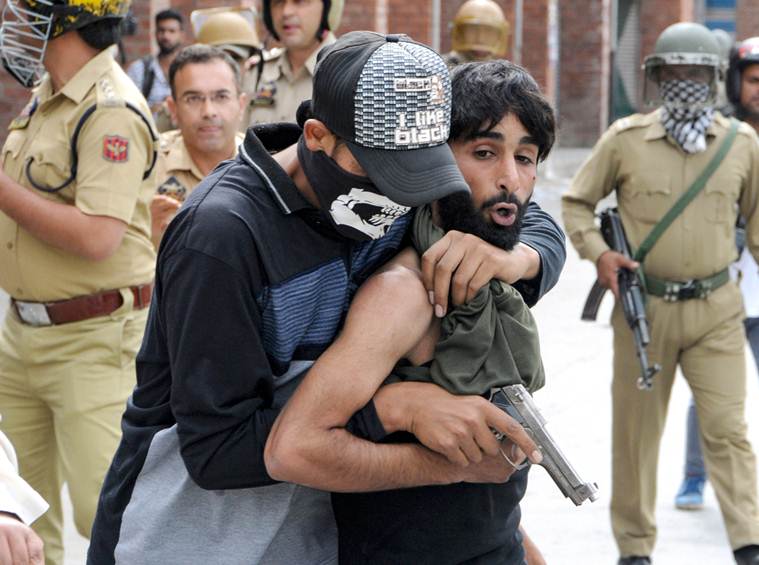 The police who acted like stone pelters even brandished toy guns so that to scare the others who or else would have attacked the cops to free their fellow stone pelters. As a result of this, the stone pelters stopped their violent act immediately and disbursed. What a sad day to the misguided youths.
This strategy was not used for the first time:
Yes, even in the year 2010, the cops had deployed similar strategy to checkmate the stone pelters. This sort of plans must be used regularly so to inflicted a fear in the minds of the people.
After the death of a terrorist and Hizb commander Burhan Wani, the stone pelters had inflicted severe hindrance to the operation of the armed forces as they had helped the terrorists to flee when the Armed forces had almost trapped them.
Last year a source had said "Since last year, over 25 terrorists have fled encounter sites with the help of stone-pelters, who are aided by separatist elements. Unlike some countries, the Indian Army does not use heavy weapons in counter-insurgency operations so as to avoid collateral damage".
Even Israel had adopted similar strategy in the year 2015 to nab the Palestine protesters:
Source: Times Of India
Daily Mail
---
Hansika Raj