India is all set to make their defence system after a decade long lethargic phase. After India cleared the most awaited Rafale deal which was most important for the Indian Air Force, the country is all set to sigh a multi billion dollar deal with Russia for S-400 Missile systems.
S-400 surface-to-air missile system are the most advanced air defence system made in the recent times. It has multifunction radar, autonomous detection and targeting systems, anti-aircraft missile systems, launchers, and command and control centre. It is capable of firing three types of missiles to create a layered defence.The S-400 was described by The Economist in 2017 as "one of the best air-defence systems currently made." S-400 Triumf and Pantsir missile system can be integrated into a two-layer defense system. The key features of this missile is that it can track 300 targets and shoot down around three dozen targets simultaneously over a range of 400 kilometres. They are able to detect even stealth aircraft which present a very small radar cross-section and are often impossible for other systems to track.
The system can engage all types of aerial targets including aircraft, unmanned aerial vehicles (UAV), and ballistic and cruise missiles within the range of 400km, at an altitude of up to 30km. The system can simultaneously engage 36 targets.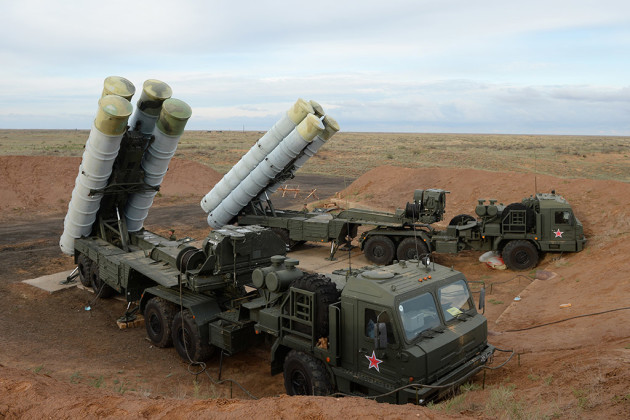 The Russia President Vladimir Putin who is visiting India in October or the annual India-Russia summit will be signing this deal with India, which will again be marked as a historic event.
According to the news agency AFP, The key feature of this visit will be the signing of the agreement to deliver S-400 air defence systems," Vladimir Putin's top foreign policy aide Yury Ushakov said. He added that "The value of the contract will be more than $5 billion."
After the news about the defence deal was out, the American have felt intimated with the close relation of India and Russia. The USA had expressed displeasure and last month warned against the deal, saying it would be considered as a "significant transaction" and has a potential for imposing tough US sanctions.
US President Donald Trump had last month signed an executive order, paving the way for slapping crippling sanctions on countries and foreign entities and individuals violating the Countering America's Adversaries Through Sanctions Act (CAATSA). After signing of the order, the US imposed sanctions on China, an Equipment Development Department under China's Ministry of Defence and its director Li Shangfu for its recent purchase of Russian Sukhoi Su-35 fighter jets and S-400 surface-to-air missile.
India had firmly sent a message to US, that it would continue with the Russian defence despite pressure from the US and the negotiations were going on since several months. The deal is now finalized and it will be signed by both the heads of India and Russia this week with Putin visits India
---
Power Punch