In a big blow for Pakistan, Indian Army warned the neighbouring country of more surgical strikes if it doesn't end it terror harbouring activities on the border. LoC is not a line that cannot be breached and India won't shy away from conducting another surgical strike if required. Surgical strike was a point we wanted to drive home across that LoC is not a line that cannot be breached, that's what Pakistan needs to remember.
Blasting Pakistan for giving political legitimacy to terror mastermind Hafiz Saeed, home minister Rajnath Singh on Saturday said security forces can cross over the Line of Control, if needed, to protect country's territorial integrity.
Making it clear that Jammu and Kashmir will remain an integral part of India, Singh said the Narendra Modi government wants a permanent solution to the Kashmir issue and the interlocutor appointed by it was ready to talk to anyone who is willing to have a dialogue.
"We will not only secure India internally but can also cross-border, if needed, to protect the country," he said at an event in New Delhi.
The home minister said India wants to maintain friendly relations with Pakistan but that country was not keen on it, rather giving "political legitimacy" to LeT founder and 26/11 Mumbai terror attack mastermind Hafiz Saeed.
"Pakistan is now providing political legitimacy to a UN-designated terrorist. Hafiz Saeed is now allowed to form a political party, he will contest elections and go to Parliament. Haqqani Network, which is responsible for killings of scores of people are being abeted and given protection. It is shocking," he said.
Singh, however, said Prime Minister Narendra Modi has achieved huge success in taking the fight against terrorism on an international forum. Earlier nobody talked against Pakistan's terrorism, now the US has also condemned Pakistan, he said.
Referring to the appointment of the interlocutor, former Intelligence Bureau Chief Dineshwar Sharma, on the Kashmir issue, the home minister said the interlocutor would talk to everyone who was keen for dialogue. He said despite Pakistan's best efforts, Kashmir would never be separated from India. "Kashmir was with India, Kashmir is with India and Kashmir will remain with India forever," he said.
Singh said Kashmir's children were like his own and he would not allow anyone to radicalise them. "I want to tell those who are trying to teach jihad to innocent Kashmiri youths that they should first learn the real concept of jihad in Islam," he said.
The minister said he had personally asked Jammu and Kashmir Chief Minister Mehbooba Mufti to ignore cases filed against the first-time stone-pelters. Following Singh's request, the Jammu and Kashmir government had withdrawn cases registered against 9,730 people involved in stone-pelting incidents, including first-time offenders. "We have forgiven first-time stone-pelters. They might have been influenced by others. They are young. We need to give them a second chance," he said.
Singh also highlighted the government's efforts in dealing with Maoists and the insurgents in the northeast. He said the battle against Maoists can't be won through bullets and hence several developmental initiatives were taken in this direction.
"We are trying to reach those areas which have remained unreachable since independence. Naxalism was a huge problem for India but in the last four years we have achieved major success in that space," he said. Singh said violence in the northeast has come down by 75 per cent in the last few years.
Earlier Army chief General Bipin Rawat had also spoken about the surgical strikes on terror launch pads across the LoC could be repeated, if necessary, seeking to send a stern message to Pakistan.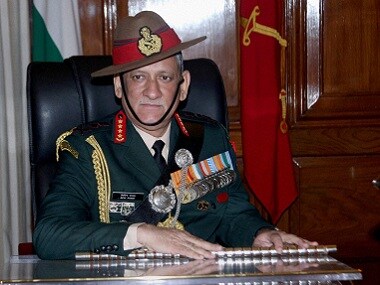 He said cross-border infiltration will continue because camps across the Line of Control, from where terrorists are launched, are still operational, and warned that the Indian Army is ready to "receive" them and keep dispatching them to their graves.
"The strike was a message we wanted to communicate to them and they have understood what we mean…that things could follow up, if required," Rawat had previously said.
He said that India is now a "stronger nation, capable of taking a decision when time comes, keeping our national security in mind". The armed forces are prepared for any contingency at any time.
Major impact of these kinds of attacks is deterrence. People on the other side must feel there is no safe place. They must know it can happen anywhere, anytime… we have had no major incident after that (surgical strikes).
The surgical strikes on terror launch pads across the LoC were conducted on the intervening night of 28-29 September, 2016, following a militant attack on an army camp that killed 19 soldiers in Jammu and Kashmir. The strikes were carried out by the Special Forces of the army who had crossed the LoC. An unspecified number of terrorists waiting to sneak into India were killed in action by the Indian Army.
Source: Indiatimes.com
---
Kshitija