Indians need to turn on their hyper active mode until the Gujarat elections are done. Yes, if you are not alert for the next few months then you may end up electing a candidate who is supported by elements that seek joy in creating clashes among the castes and religion. A biggest conspiracy is been set up to decimate PM Modi's dominance in Gujarat.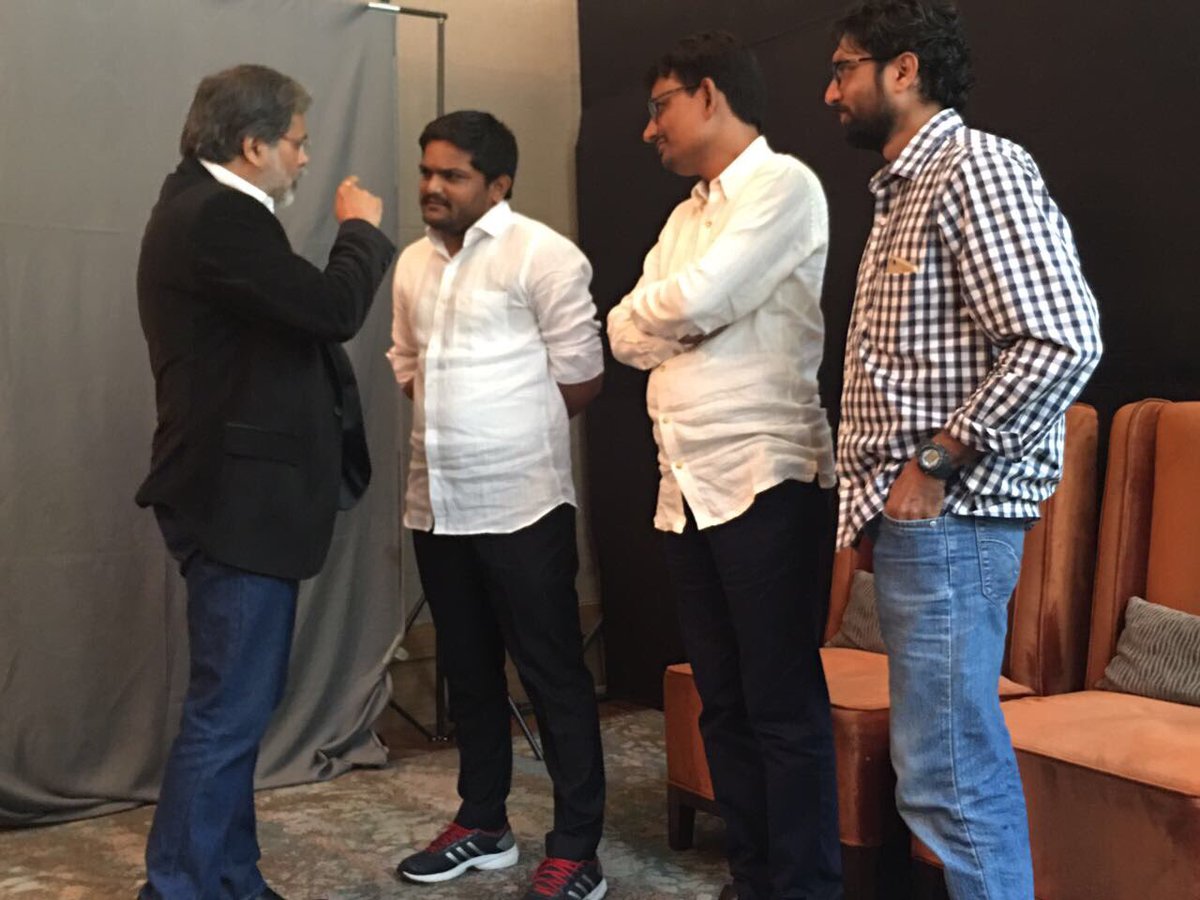 Now have a look at the above picture. Do you feel something is fishy? Do you feel something is stinking?
Yes, these four men are none other than hard core Modi haters. At times these hate everything that is being loved by PM Modi. Punya Prasun Bajpayee (biased journalist), Hardik Patel (from Patidar community), Alpesh Thakur (so called leader of Thakurs) and Jignesh Mewani ( a Dalit leader and an adopted son of late Gauri Lankesh) are the four iconic men in the above picture who have every potential to spill more venom then the King Cobra.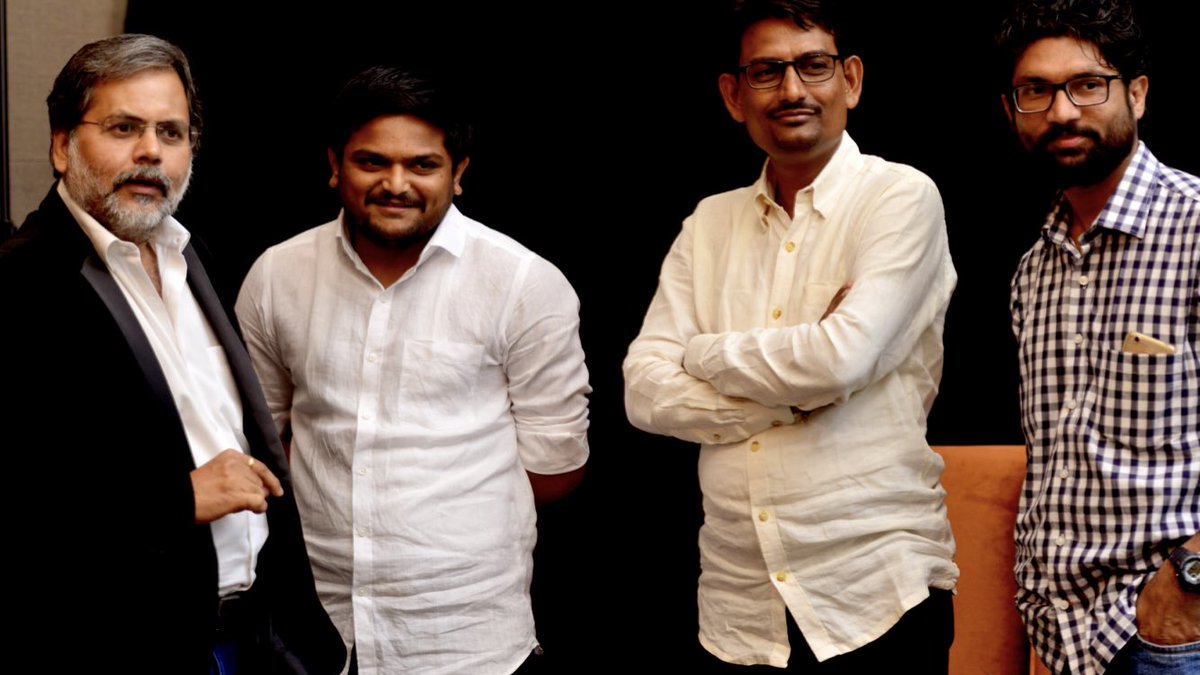 Punya Prasun Bajpai is a news anchor and Executive editor at Aaj Tak who is infamous for his biased news. What is his motive to meet these three men from various castes? Hardik Patel is leading his life by instigating against others. So how can he be so calm with a leader who is from Thakur community?
Jignesh Mewani was a man who shot to fame among the seculars and liberals after he abused PM Modi and dragged PM's mother in a totally irrelevant issue. He had said that "Let us go to Delhi and sit on Modi's chest and ask him why Gauri Lankesh was killed". He further said "Let us go to Modi's mother and ask her why she gave birth to such a useless son?". This man claims to be a lawyer and it is extremely shameful to hear such kind of statements against Prime Minister of India and his mother.
"Patidars don't want reservations. They are just trying to show their dominance and play a role in the abolition of reservations", these were the words of Alpesh Thakur. So how this man is so calmly standing next to Hardik Patel, who is from patidar community?
Hardik Patel, a man who is accused of insulting the Tricolour nearly two years ago. He was also booked by Gujarat Police under sedition charges for his alleged comments instigating his community youth to kill policemen instead of committing suicide.
Why these four controversial and (in) famous men are together?
'Not for good', this is how the above picture can be stated in a single sentence. It is next to impossible for the Congress to win the Gujarat election as the popularity of PM Modi and Amit Shah is at the pinnacle. The trust level on these leaders is also immense across the state. Shankersinh Vaghela's exit too was a biggest blow to the Congress party.
When this is the situation, Congress can gain votes only by creating rifts among the castes and religions in Gujarat. That's why it seems like Congress has hooked on these four men.
It is apparent that Hardik in an unofficial agent of Congress. He used his community as bait for the sake of gaining population across the nation.
Now that the election is closer, these will try to provoke Patidars, Dalits and OBC community so that the situation in the state will be messed up. At this time, Congress will enter and promise to uplift these communities. Chances are high that people may forget the injustice was done by Congress for the past 70 years.
Gujaratis are known for their business acumen. So they have the ability of taking the right decision at the right time. So the nation can trust that they won't give these four men a chance to execute their dirty tricks against PM Modi in the upcoming elections.
Truth will always prevail!!!
---
Hansika Raj