PM Modi has once again won over hearts of millions and stood with a tremendous victory. He has beaten the leaders of other nations with a net score of +8!! New research from Gallup International Association (GIA) and CVoter International collaborative survey has revealed that there has been a significant increase in favorability towards Indian Prime Minister Narendra Modi and Russian president Vladimir Putin.
PM Modi has stood 3rd in the list of making India proud. German Chancellor Angela Merkel has topped the chart, followed by French president Emmanuel Macron in second place. Meanwhile, US president Donald Trump is now at the rock bottom of global public opinion. Two years back, his predecessor Barrack Obama was rated number one in this global poll. The survey was taken on the basis of favorability and unfavourability during the period of October-December 2017 in 55 countries around the world. The sample size of the survey consisted a total of 53,769 respondents.
It is indeed a proud moment for India. It is all the result of hard work and dedication from our honorable Prime Minister. He has managed to make space in the hearts of millions in the foreign countries and not just in India alone. The whole world has set its eye on India now due to able leadership led by PM Modi. He is an unbeatable legend himself.
Modi climbed up on the global rating and is now ranked third- "the highest ever rank any Indian prime minister has got so far in the GIA Global polls". Meanwhile, Putin has gone from one in three (33 percent) viewing him favourably to 43 percent, a significant increase over two years. Two years back, in the 2015 survey, PM Modi had ranked fifth with a Net score (negative rating subtracted from positive rating) of four. This time around, he has doubled his score with eight.
Talking about what the world thinks of PM Modi, let's have a look at those countries being in his favour. The top three Modi-loving countries are Vietnam, Fiji and Afghanistan respectively. Interestingly, Vietnam registered a massive shift in PM Modi's popularity with the Net score seeing a jump of a staggering 62.
Interestingly, despite the global trends, Trump ranked as the top-rated global leader in India, where his New Year tweet on Pakistan has perhaps helped him climb the popularity charts.
Putin is seen as the second most effective leader by Indians followed by Merkel. Chinese president Xi Jinping ranks ninth in the list with a score of -7.Meanwhile, Modi's favorability among his countrymen is exceeding positively, with an overall score of 71.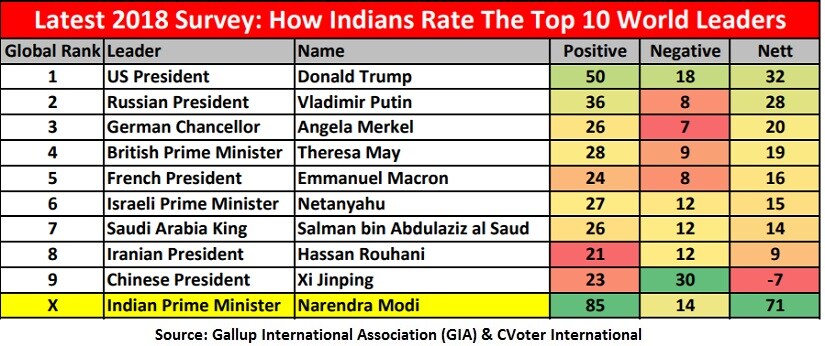 People all over India have congratulated PM Modi for this honour. They took on to social media and expressed their joy and respect towards his efforts. Secularists and opposition may call this a possible promotional stunt for the upcoming elections but what's true that's indeed true. It cannot be denied by any of the Modi haters. In fact they might have their tummy's burning now… that sadly no congressmen managed to be in the list!! Well it's all a matter of dedication and PM Modi has left no turn unturned for the welfare of his country and its countrymen.
PM Modi had surprisingly bagged the 2nd spot in twitter earlier:
Prime Minister Narendra Modi had made a stunning entry into the top 10 list of Twitter users with a vast following, rocketing to the "2nd spot" earlier in the year 2015.
The Digital Policy Council, which had analyzed the global tweeting realm and stated in its report that 82% of world leaders use Twitter, sending missives to a combined audience of 116 million followers.
In 2014, a total of 136 world leaders out of 167 countries had accounts on Twitter set up in their personal name or through an official government office. There are only 10 democracies in the world whose leaders are not tweeting to their citizenry, the report had stated.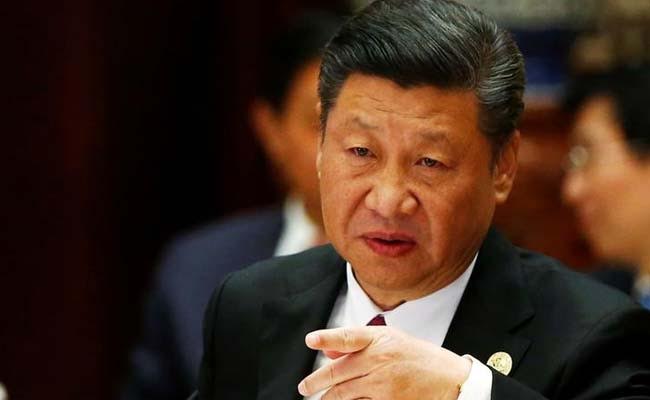 Source: http://www.republicworld.com/s/18856/pm-modi-ko-mila-bada-pamana-para-vasavika-samarathana-sarava-ma-global-leader-banakara-ubhara
---
Advithi