After the results of the 2004 Lok Sabha elections were out, the nation was stunned to know how could the Atal Bihari Vajapayee led NDA government fail even after getting the Indian economy back on path, ripping apart Pakistan in the Kargil war, executing the Pokhran nuclear explosion without the knowledge on the American spies, that too in just 5 years.
Sonia Gandhi's Congress had got 145 seats whereas the BJP had won 138 seats. But the liberal and secular media-which hands over moral victory to Rahul Gandhi nowadays- announced that Sonia Gandhi's party displayed spectacular performance even though they didn't have numbers.
Few even claimed that it was due to the fear of facing the similar fate like that of her husband and mother-in-law that she denied the post of India's Prime Minister. Whereas few others claim that she couldn't become the PM due to her nationality. Few Congress party loyalists even claim that she sacrificed her PM post.
But whatever may be the theories but one thing was clear that Manmohan Singh's cabinet lacked men who could lead the nation with regular reforms like that of Atal Bihari Vajapayee's cabinet did. Even if the Manmohan Singh's cabinet had continued the schemes that were initiated by the Atal ji government then India would have been a superpower by now.
But what the UPA government did was they systematically choked the schemes of Vajayapee government, which in turn stopped the growth of the nation. Below we have mentioned 6 reforms of former Prime Minister Atal Bihari Vajapayee that changed the nation forever. Read it carefully, there's a message for Indians and the Modi government.
#1 From relying on the Mauryan age roads to building our own!
During the reign of Chandragupta Maurya, Grand Trunk road existed in India that connected India with other Asian countries. These Grand Trunk Roads played a key in linking South Asia with Central Asia for more than 2000 years.
This was renovated and extended by Sher Shah Suri in the 16th century and today these roads are known as National Highway roads. Between 1833 and 1860, these roads saw a slight upgradation from the British. But there was not even an iota of effort to renovate or upgrade these roads so that it would meet the required standards of the 20th century.
Since Independence to the rest of the 20th century, Indians had to adjust with those century old roadways. During the time of Sher Shah Suri there was no cars, buses or trucks except bullockarts. But in the 20th century, the usage of vehicles had caught up speed yet the Congress government didn't feel like focusing on Indian roadways.
After the Independence, India was ruled by Jawaharlal Nehru for 16 years and later by Indira Gandhi for 15 years yet they didn't find the need improving the roadways. A common man doesn't demand for a price-cut in flight charges or cruise ships. What he demands is a roadways which is pothole free.
For this purpose, Atal Bihari Vajayapee had to come who laid special emphasis on improving the roadways and did what the other Indian Prime Minister's couldn't do from 1947 to 1998.
Prior to his arrival in Delhi, there were no major road projects. Devastating thing was that India had less than 200 kilometers of 4-lane highways. This was the style of governance of the Gandhi family.
#2 Series of nuclear bomb test explosions that jolted India's enemies
We all know what kind of foreign policies India was gifted with by the then Congress governments in the 20th century. This was so fabulous that most of the nations embraced Pakistan more than India. All kind of efforts were made yo further suppress the India and to answer to this undeclared war, the only solution was by becoming a nuclear power.
In May 1998, after a series of five nuclear bomb test explosions, India announced their arrival into the field of nuclear weapons. While Operation Shakti (Pokhran-II) stunned the global superpowers, the then Congress party president Sonia Gandhi took 10 days to react on this spectacular achievement of India only to say "Real strength lies in restraint, not in the display of shakti". Her statement gave a feeling that she wasn't happy with this nuclear test explosions.
Whatever might be the then opposition parties' bizarre statements, but we need to know that India took over 50 years since Independence to prove that we are a nuclear equipped nation. However the world knows that India wouldn't use it at any other nation with intentions of showing-off its strengths.
#3 Even when global superpowers were with Pakistan, India won the Kargil war
Till the very last moment, almost everyone had assumed that Pakistan is going to win the Kargil war. It was not just because Pakistan had an advantage of the geography but also a bunch of powerful nations were backing Pakistan.
India had launched "Operation Vijay" to clear that Kargil sector and at the end of the war, 527 India soldiers were martyred and over 1000 injured. Whereas Pakistan had lost about 4000 soldiers, said a report.
#4 Golden Quadrilateral: The ₹600 billion project
Another evergreen project of Atal Bihari Vajapayee was the Golden Quadrilateral. This project got its name as it formed a quadrilateral connecting Chennai, Kolkata, Delhi and Mumbai.  Ahmedabad, Bengaluru, Bhubaneswar, Cuttack, Jaipur, Kanpur, Pune, Surat, Vijayawada, Ajmer, and Vizag were the other cities that were connected  by this network. Let me remind you, this was not a normal project as it was the largest highway project in India and the fifth longest in the world with the length of 5,846 km and the cost of construction was ₹600 billion (US$8.7 billion).
But the project started to slowdown after the Atal Bihari Vajapayee  government failed to win the 2004 elections.
#5 Interlinking of rivers, a boon to Indian agriculture
Another brain child of the then Prime Minister Atal Bihari Vajapayee was linking of rivers and the estimated price of this was 5 lakh crore. Though this idea was propagated by the BJP-led NDA government of Atal Bihari Vajpayee in 1999, it started to face a slow death during the UPA era.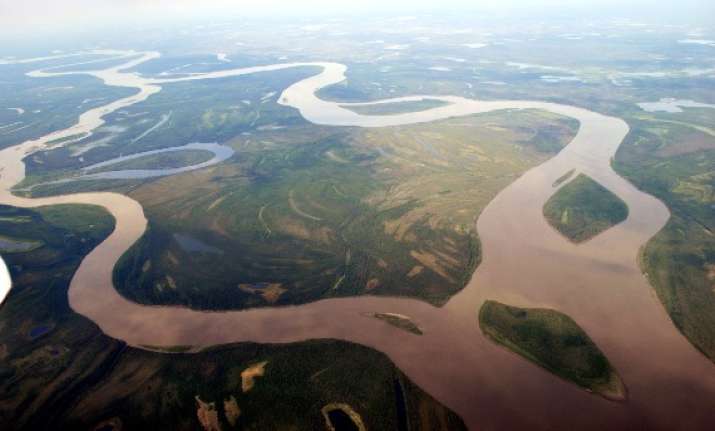 But to river the project, Prime Minister Modi had to arrive. The project was taken up in high priority and it will prove as a boon to the drought hit and flood inflicted villages.
#6 Sarva Shiksha Abhiyan, a landmark scheme to educate the kids between the ages of 6 to 14
What the Congress party couldn't do in 50 years was done in Vajapayee government in just 4 years. Sarva Shiksha Abhiyan or the "Education for All Movement" which was pioneered by former Indian Prime Minister Atal Bihari Vajpayee targeted to provide free and compulsory education to children between the ages of 6 to 14. In the 2001 census it was estimated around 205 million children fell in this age group.
Along with the main objective of providing useful and elementary education for all children in the 6-14 age group, the Sarva Shiksha Abhiyan also aimed at bridging social, regional and gender gaps with the active participation of community in the management of schools.
If the UPA government that ruled India for 10 years had showed interest in the schemes implemented by the Vajapayee government, then India's position would have been better by now. By this one need to understand that if India fails to give clear majority to the Modi government in 2019, then all the brainchild schemes of PM Modi will face the same fate like that of Atal Bihaari Vajapaayee government.
Source: Nationalistviews.com
---
Hansika Raj