Not many would know this lady Arfa Khanum Sherwani. This is the reason why people do not know what she speaks about India and our National Anthem.
Last year this lady had tweeted something to insult our national Anthem, but many people missed it. It was a month after India conducted surgical strikes in Pakistan and the whole country was appreciating the action against the terror country. But there were few people in the media who were very worried about Pakistan and terrorist. They kept posting articles blaming the Indian government for going offensive against Pakistan, they pressurized India to hold talks with Pakistan and some politicians and journalists even went to the extent of demanding proof of surgical strike on behalf of Pakistan.
Probably this lady also belong to that category as she mocked the Indian National Anthem. Take a look what she had tweeted!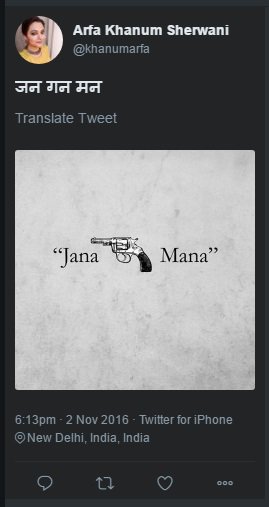 She mocked the Supreme Court of India when order was passed t play National Anthem in theaters!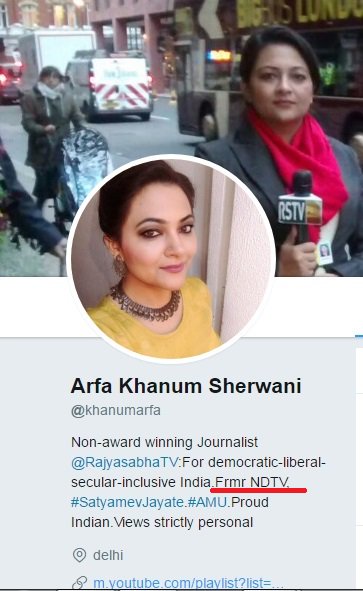 He profile says she believes in liberalism, secularism and wants inclusive India, shockingly she is an anchor in the Rajya Sabha TV. But what is not shocking is she was a former NDTV journalist and an AMU (Aligarh Muslim Univeristy) alumini! That explains the reason for her hate towards India!
These days the words secular and liberal have become a synonym for anti Nationals and India haters! In the name of free speech, in the name of seculars and liberals, these people are only spewing venom against the country. They take all benefits from government, live on Indian soil but want to speak against the country.
This is not the first or last time this lady has spoken against India and Hindus, but she still continues to do so! take a look at her cheap tweets!
Bhakts do not qualify even for appeasement ? ? https://t.co/x5wyG6kJCu

— Arfa Khanum Sherwani (@khanumarfa) June 22, 2017
She equalizes India with Pakistan!
Two poor countries India and Pakistan playing cricket match as proxy war wanting to settle Kashmir issue- Salil Shetty, Amnesty #dw_gmf pic.twitter.com/mU2f3DNTWm

— Arfa Khanum Sherwani (@khanumarfa) June 20, 2017
Congratulations Pakistan ! You deserved this.
Team India, Dil chhota na karo. You are always a winner. You have our hearts.

— Arfa Khanum Sherwani (@khanumarfa) June 18, 2017
Humanism will always be more appealing than mindless nationalism. Well done, Dhoni ! https://t.co/lAbLwNLjmZ

— Arfa Khanum Sherwani (@khanumarfa) June 17, 2017
She also went against Republic TV and Arnab Goswami for exposing anti Nationals!
Sadly the Rajya Sabha TV has most people hired by previous Congress government who are well known for their hate towards India. Wonder if these people have the permission of the Vice President Hamid Ansari to speak such nonsense since he is the head of the chairman of the Rajya Sabha.
---
Aishwarya S