When we say some journalists from Delhi and the lutyens liberal lobby have forgotten journalism and have turned into PR agents of Congress this is what we mean.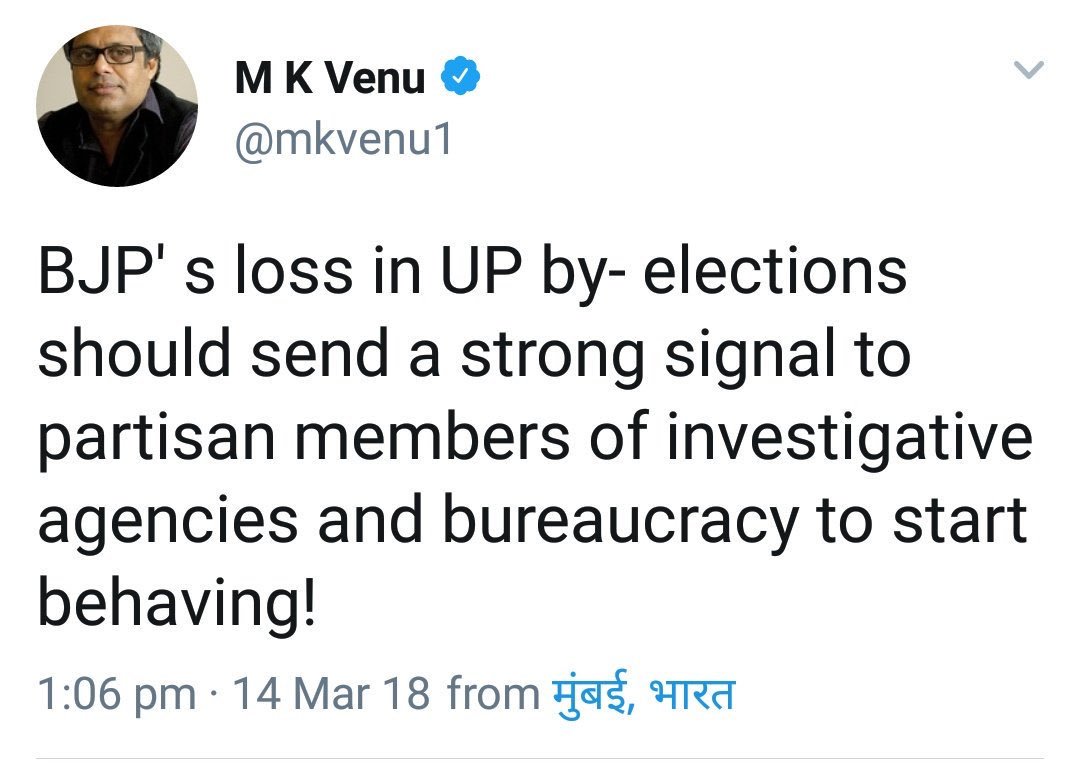 M K Venu who is the founding editor of the online news portal The Wire made a disgraceful tweet today threatening the investigative agencies and bureaucracy indirectly to refrain themselves from taking action against the corrupt Congress leaders. The threat came after the SP + BSP alliance won 2 seats in the UP bypolls of Gorakhpur and Phulpur districts which were vacated by Yogi Aditynath and Keshav Prasad Maurya.
Since many days, the CBI, ED and Income Tax department have gone full swing in nabbing the corrupts and raiding tax defaulters who were given free hand during the Congress government. This development had annoyed many Congress supporters in Delhi media who were often found tweeting against the ED and CBI supporting corrupts and crooks. But the arrest of Karti Chidambaram, the son of former finance minister in the INX media case was something which the Congress and their followers could not withstand. They started calling it vendetta, tried to shift blame on Peter and Indrani Mukherjee who are witness in the case and made best efforts to save Karti Chidambaram. But nothing worked and the court took the case very seriously based on facts and evidence submitted by CBI and sent Karti Chidambaram to judicial custody.
Now the name of P Chidamabaram is also being heard and the CBI and ED are mostly likely to question Chidambaram. If he doesn't co-operate with the CBI, then there are chances that the CBI may take permission to arrest P Chidambaram which will collapse the entire ecosystem of the lutyens Delhi. P Chidamabaram who is considered to have hold on many institutions including finance ministry is facing most difficult times as strong evidence are pointing towards him in the INX media  and Aircel Maxis scams.This is something which is bothering the Congress PR agents in the media. They very well know if their master is arrested, they will be next in line to be questioned for the Radia scam in which they had active role.
Not long ago we had seen James Roy Akka Prannoy Roy, the owner of NDTV had written a desperate letter to the Prime Minister of India requesting, threatening and warning him of dire consequences if the CBI and IT takes action against him in the Money laundering case in which Prannoy Roy was found to have looted crores of money through benami accounts violating the FCRA norms.
It was same in the case of Karti Chidambaram who threatened the CBI officers saying "You watch me out when I am back in Power." This showed how arrogant and power drunk these people are and believe that they can never be touched by anyone. The 10 years of power has made them believe that they own the country and its their right to loot the country how they want and still can escape law.
Now M K Venu has chosen the same path of threatening the CBI and ED of dire consequences if they take action against corrupts and crooks. Imagine if Narendra Modi 10 years back had said the same thing when he was accused of masterminding the Ishrat Jahan encounter case, imagine the consequence if Amit Shah had warned CBI when he was arrested in the fake case propped by the Congress government…would the media have remained silent?!
This heights of arrogance and heights of criminal mind is the result of being in power for long time. M K Venu who himself was caught in Niira Radia tapes controversy lobbying for journalists and introducing them to politicians and businessmen to bag government projects and deals is now threatening the CBI and other investigative agencies of consequences if they come back to power.  M K Venu was also accused of looting crores of money in Rajya Sabha TV in the name of pity debates and almost making the channel bankrupt.
He indirectly meant that Congress will be back to power in 2019 and that is the time all CBI, IT and ED officers will be taken to task by the Congress government. Never before had journalists stooped so low and indulged in threatening the highest institutions of India. One can imagine the level of arrogance these Congress supporters have and what would happen to the independent institutions like CB if they come back to power.
His words is just a sample to show how the Congress functioned during those 10 years rule. It is also a warning to the people of India as to what will happen if the Congress come s back to power in 2019. Surely they will destroy every institution in the country, will make the lives of honest officers miserable for doing their job. Many sincere officers will have to face what people like Col Purohit faced for exposing the dark truth of Congress link with terrorists.
It is up to the people to decide whether they want to give firm answer to these arrogant corrupt criminals or remain mute spectators and go back to the scam India era of 2011 and witness another 2G, CWG, coal scam, NPAs or even worst scams.
---
Aishwarya S