It is well known fact that Congress is one party which can go to any extent to misuse power. Once at the helm of power they do not mind disrespecting any person irrespective of the position he/she holds. Sonia Gandhi was a typical example, who treated former PM Manmohan Singh nothing less than her assistant.
Looks like the same culture has been passed on to every member of Congress leader. These shameless leaders who  cannot think beyond dynasty and slavery do not respect constitution or democracy. For these people Maa-Beta is their sole God who feeds them regularly with money biscuits.
The Karnataka elections witnessed one of the most disgraceful event as to how Congress and JDS went against the mandate of people to form government. But just minutes after Yeddyurappa submitted his resignation, Congress leader Sanjay Nirupam made abusive and derogatory statement against the Governor of Karnataka. He compared the Governor of Karnataka to a DOG and said now all families in Karnataka will name their dog Vajubhai Vala.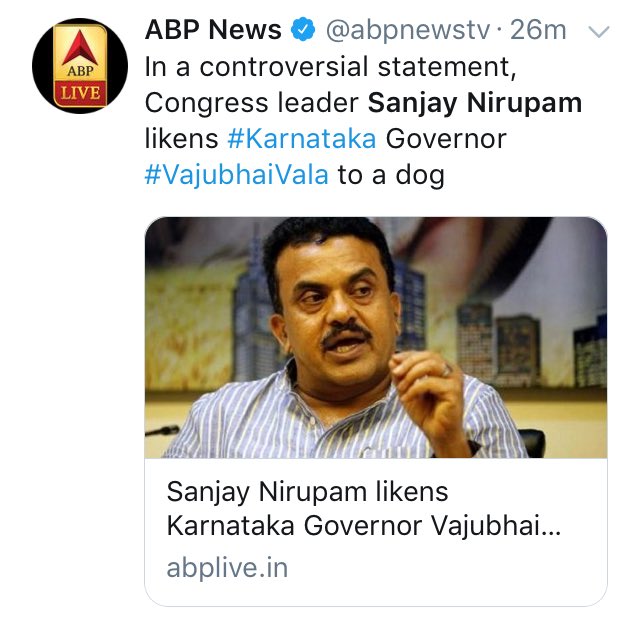 Lowest form of discourse in Indian politics. Congress leader Sanjay Nirupam compares Karnataka Governor Vajubhai Vala with a dog. Is this the kind of political discourse Congress President Rahul Gandhi stands for? Sad.

— Aditya Raj Kaul (@AdityaRajKaul) May 19, 2018
Rahul Gandhi who claims to be a flag bearer of democracy and mocks BJP about disrespecting institutions should first answer why people like Sanjay Nirupam, Mani Shankar Aiyar and many shameless people are given positions in Congress despite of their uncultured behavior. Rahul Gandhi should answer does he endorse his leaders using derogatory language against the Honorable Governor of a State.
This is what we call the Congress culture. Here the Gandhis are the Supreme power who consider themselves above constitution, who consider themselves above Law and believe no one has the right to question them. They want every institution to work as their slaves including Supreme Court and if not they go to an extent of impeaching the judge himself. And this is what they have been doing for the past 70 years.
This sort of audacious behavior of Congress just moments after Yeddyurappa's resignation shows what exactly they want. This is not the first time this shameless leader of Congress has spoken nonsense. He had even made disgraceful comment against Smriti Irani saying "Aap to TV pe thumke lagati thi,aaj chunavi visleshak ban gayi!!!" (You used to charge money to perform dance shows on TV, and now you have become a psephologist). So, this man is a habitual offender and Congress encourages such people and enjoys their statements.
Sanjay Nirupam and Congress faced massive backlash from social media after his statements against Governor.
Take a Look!
"People Should Name Their Dogs As Vajubhai Vala (#Karnataka Governor) As No One Is More Loyal Than Him" – Congress Leader Sanjay Nirupam

RT If You'll Name Your Dog As Sanjay Nirupam. #FloorTest #KarnatakaFloorTest #SanjayNirupamhttps://t.co/uBW7mINOmL

— Sir Ravindra Jadeja (@SirJadejaaaa) May 19, 2018
This is is Congress's real face, this is what they think.
Sanjay Nirupam Says all Dogs should be named after d Governor.
One of the most filthiest abuse ever heard in Politics

This is actually reflection of the Congress's mindset of Sense of Entitlement #KarnatakaFloorTest pic.twitter.com/ROXzrXsp9P

— Naina ?? (@NaIna0806) May 19, 2018
Thanks – do tune into @TimesNow at 6pm – I am live with @navikakumar – shocking comment by Sanjay Nirupam- calls Governor " kutta" – is this how Rahul Gandhi is saving & protecting institutions? Does he approve of this? Will he sack Sanjay Nirupam?? https://t.co/uEMYNBqUlo

— Shehzad Jai Hind (@Shehzad_Ind) May 19, 2018
Just an hour ago, @RahulGandhi was giving long lectures on respecting institutions and then @sanjaynirupam exposes the real Congress culture with his utterly disgraceful comment for the honourable governer, Vajubhai Vala. You will get a befitting reply in 2019, @sanjaynirupam!! pic.twitter.com/H4GunzxUPE

— Priti Gandhi (@MrsGandhi) May 19, 2018
Please don't compare Sanjay Nirupam to a dog. Dogs have some standards too. They are loyal animals but not wilful slaves.

— Ram (@ramprasad_c) May 19, 2018
Sycophants like Sanjay Nirupam say things that Sonia & Rahul feel like saying but can't say in public. His comments on Smriti Irani were far worse. RaGa who whines about BJP not respecting women keeps people like Nirupam close. https://t.co/pxqZ5Wvobr

— Ram (@ramprasad_c) May 19, 2018
Sanjay Nirupam calls Vajubhai Vala a dog, one example as to how @INCIndia respects constitutional offices! This arrogance will duly be paid off.

— Ethirajan Srinivasan (@Ethirajans) May 19, 2018