When we say that Congress is slipping into an existential crisis, then its not about just losing elections. The biggest threat for Congress is the diminishing trust and the vote banks they considered to be their saviors turning away from them.
Yes, for nearly 70 years Congress won elections on two things, one is the Caste based politics, other is Nehru-Gandhi tag. The entire machinery of Congress worked on these two aspects dividing the country in the name of caste, religion just for their political aspirations. Their appeasement politics towards minorities and misuse of government helped the emergence of parties like Lok Satta led by Jayaprakash Narayan, Samajwadi Party, Bahujan Samajwadi Party to counter the dirty politics of Congress which ignored the most weaker sections of the society. But unfortunately, many of these parties though started with good intention got deviated from their main agenda and became B team of Congress with appeasement politics and caste divide.
Ultimately it was again Congress which over took the political mileage in India leaving all the parties behind. The only party which gave a tough fight to the Congress's ideology was Bharatiya Janata Party whose ideology is Nationalism. Especially since the time PM Modi and Amit Shah took over as Prime Minister and Party President, they have been successful in denting the Congress machinery like never before.
The biggest strategy, Modi-Shah used was to unite people of all caste who were divided by Congress for nearly 70 years. Modi-Shah took the massive task of uniting people of all caste and called them Hindus. Equal opportunity for all people irrespective of their caste was something that struck the minds of people. To back his claims, he used all development schemes which benefited the lowest of lowest sections and made them believe that he wanted everyone to progress. The Ujjawala Yojana, rural electrification, Jan Dhan, Mudra touched the lives of people who were deprived of all facilities which was the biggest jolt to Congress.
Congress desperate attempts to show BJP as an upper-class party and anti-Dalit completely failed and for the first time in 70 years, the SC/ST and OBC started moving towards BJP en masse. This was the first indication that Congress was losing its core voters. In a span of 4 years, a trend was seen in every election where the lower class people had started voting for BJP. The propaganda set by Congress and media was completely ignored by Dalits and backward classes which showed that there was a paradigm shift in the Indian political system.
Karnataka voters pattern is a classic example to show how Congress's foundation itself has began to shake. A survey conducted by Today's Chanakya has shown how every section of Hindus are today moving towards BJP.
Credit: Today's Chanakya
The Congress fought Karnataka elections with all divisive tactics. The worst decision they took was to separate Lingayats from Hindu community calling them non-Hindus. This strategy boomeranged in such a way that Congress lost the existing support of other castes as well. The Lingayats went totally against Congress in most of the areas in North Karnataka which was a clear indication that people understood the divisive politics.
Source: Hindustan Times
But it was not just in the case of Lingayats, take a look at the voting percentage of SC/ST and OBC. All have supported BJP rather than Congress. The only people who have voted in favour of Congress are the Muslims who are the traditional vote banks of Congress. The Kurubas have voted for Congress as their CM candidate Siddaramaiah himself was from the same community.  According to political experts, the same pattern was observed during the Uttar Pradesh elections where a large percentage of Dalits and OBC had shifted their trust towards BJP.
This was a major issue for Congress which is unable to counter. This is exactly why Congress orchestrated many Dalit agitations throughout India using people like Jignesh Mevani, Umar Khalid. The Una Dalit clash was made just months before Gujarat elections, the recent Bhima Koregaon violence was orchestrated to malign the BJP government. Now, just before Karnataka elections, we saw how Lingayat issue was racked up to divide Hindus.
Congress leaders like Veerappa Moily and R V Deshpande have themselves conceded that Congress should not have divided Lingayats. The same opinion was put forth 4 years back when Congress lost General elections for minority appeasement. Their own leaders had blamed the party high command which had depicted itself as Anti Hindu and Pro minority party which had dented the image of the Congress big time. This is why Rahul Gandhi kept visiting temples just before elections everywhere. But nothing worked for Congress.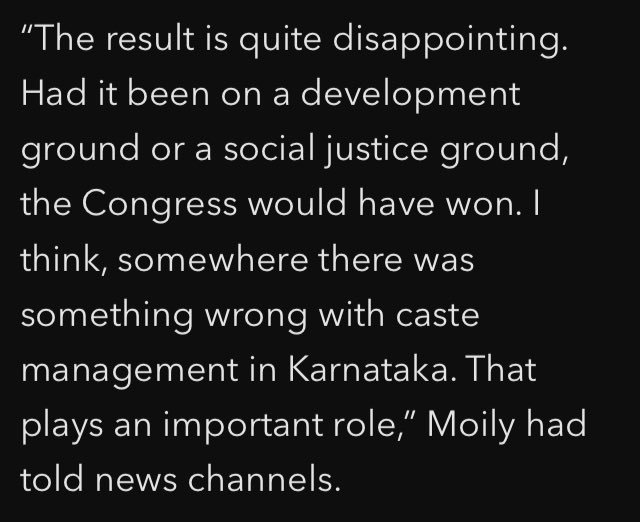 So, now Congress is more so seen as a minority party and not a secular party. The message that Congress is anti-Hindu has been spread very efficiently which the Congress may find it difficult to overcome. If the trend continues, Congress will surely be out of power for next 15-20 years.
---
Power Punch