Standing in front of the fort of Kumbhalgarh, one cannot resist the awe this glorious fort manifests in it. Sometimes it is difficult to imagine how structures like such were conceived, perceived or built during those days. At a height of 1,100 metres above sea level, this magnanimous structure is a saga of glory, gallant and grandeur. Built by "Maharana Kumbha", this fort of Kumbhalgarh remained uncaptured till the end; and is a literal depiction of the Rana himself.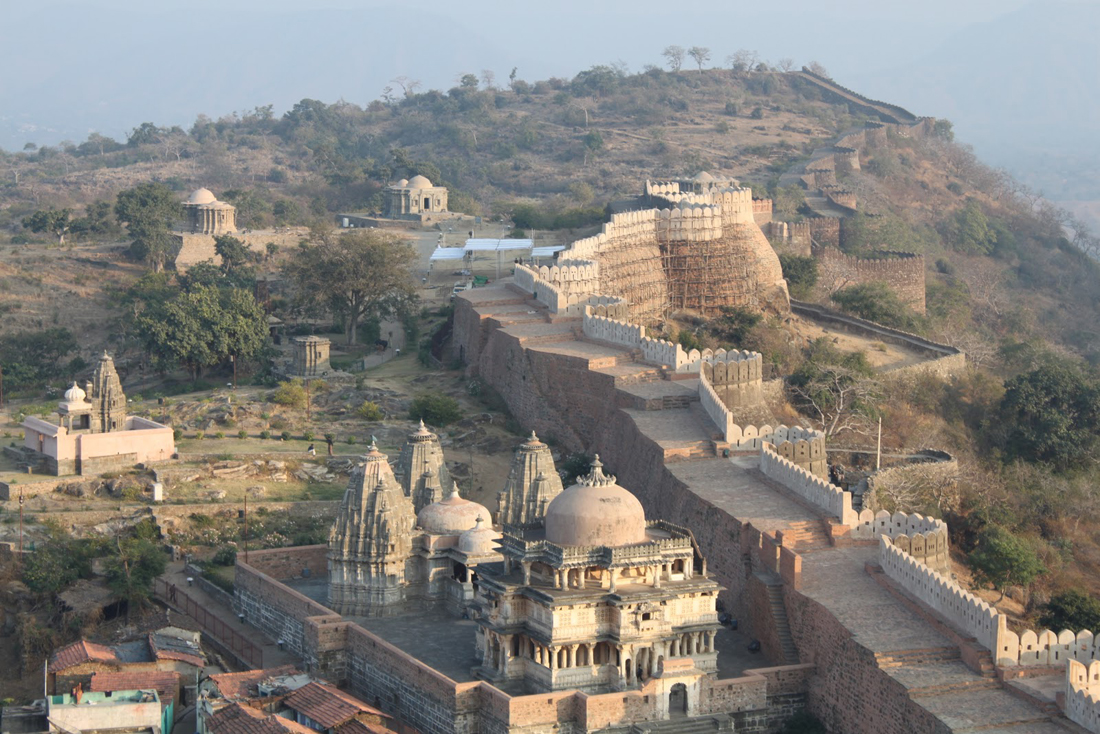 Maharana Kumbha or Kumbhakarna Singh was the eldest son of Maharana Mokal of Mewar and his wife Sobhagya Devi. Rana Kumbha had two sons, Udai Singh I and Raimal. He ruled as the emperor from the period 1433-1468. He ascended the throne after his father was assassinated. He ruled Mewar for 35 years- the historians often called the era "the golden period of Mewar". Maharana Kumbha is known to be unique compared to the Rajputs, who merely fought for their Independence.
Sultan of Malwa had successfully captured Machhindargarh, Pangarh and Chaumuha. Fierce battles between the two powerful rulers followed and Rana Kumbha successfully defeated him, even taking Khilji a prisoner for a few months. He went on to vastly expand his territories and ably defended Mewar from his enemies.
The battles of Mandalgarh and Banas were fought between Rana Kumbha and Mahmud Khilji. Kumbha defeated Khilji, both at the battle of Mandalgarh and the battle of Banas. Humiliated by these repeated defeats, Khilji did not dare to launch any other attack on Kumbha for several years.
The Battle of Nagaur was another major battle Rana Kumbha fought. It took place between the Rajputs of Mewar and the Nagaur Sultanate and was won by Kumbha who successfully annexed Nagaur.
This heroic ruler of Mewar is remembered and idolized by people for varied reasons. While history remembers him as the powerful man who never lost any battle. Whereas the Rajputs consider him as "the only Hindu king" of the time when the rest of India was under Muslim dynasties.
Mewar was the only Hindu-ruled major state allocating its supremacy to Lord Shiva. The powerful Muslim principalities united and aimed to defeat Rana Kumbha but their efforts were in vain every time by the Rana, single handed. He captured the Muslim capital of Rajasthan- Nagaur and established himself as "The undefeated".
The Art lovers remember the ruler as a great poet and musician. He was a great scholar and patron of music and wrote extensively on music. He devoted himself to learning and uplifting Indian classical music to preserve the ancient traditions of classical music.
And lastly, the remaining recall him as one of the greatest builders of Mewar, who built across Mewar, nearly thirty two fortresses including the fort of Kumbhalgarh, renowned temple of Ranakpur and the famous Victory Tower or "the Vijay Stambha" in Chittoor to commemorate his victory over the combined armies of Malwa and Gujarat.
There goes a saying that the man who is unbeatable and fearless of anyone force in the world, he is at times defeated by his own blood. Somewhat of similar situation was faced by Maharana Kumbha who was killed by his own son Udai- who was an over ambitious and ruthless man. Maharana was killed by his son, while he was offering prayers to Lord Shiva. The emperor who never lost to any of the rulers ultimately lost to his own blood. Udai remained to be a dark spot on the glory of his father and the pages of Indian history.
Source: https://www.patrika.com/jaipur-news/story-of-vijay-stambha-made-by-rana-kumbha-1768215/
---
Advithi