Throughout his political career, Lalu Prasad Yadav has lived up to his reputation of "high drama". After getting 2 decades of imprisonment in the fodder scam, Lalu is trying out all kind of tactics to get freed from the jail by toppling the Modi government.
Lalu Yadav was brought to the AIIMS hospital on March 29 to undergo treatment for kidney and heart related ailments. Now, the sources have said that Lalu Yadav will be discharged from the hospital. This is when Lalu Yadav tried to enact his drama by writing a letter to the hospital authorities.
The letter was written to the AIIMS director urging not to discharge him from the hospital until he is totally alright. The letter said that Lalu Yadav was suffering from multiple ailments including heart disease, kidney infection and sugar. Lalu even said that he is suffering from lower-back pain besides feeling dizziness and even the blood pressure had made his life worse.
Lalu didn't want to go out of the AIIMS hospital as there is no adequate medical facilities in the Ranchi hospital for his "alleged" ailments. But this plan of Lalu Yadav to stay in AIIMS hospital was decimated after the statement made by AIIMS.
And the drama fails!!!
"Lalu Prasad Yadav was referred to AIIMS for management of his acute medical condition. He has improved significantly and is being referred back to Ranchi Medical College for management of his chronic issues" said All India Institutes of Medical Sciences(AIIMS) statement. This exposed Lalu Yadav's high drama.
After what the hospital authorities said, Lalu Yadav's claims fell flat because the AIIMS authority were ready to file a case against Lalu's supporters for creating ruckus in the hospital during their visit to see Lalu. Suhel Seth condemned this act of RJD goons as he said "It is reprehensible that the RJD goons have seemingly attacked the AIIMS Director. A classic case of a convict out on bail encouraging his lumpen colleagues to attack doctors. Why is no one taking any action?".
At around 3 PM, Lalu Prasad Yadav was discharged from the hospital but he expressed his dissent over this. He also tried to point his fingers at the Modi government by saying that a conspiracy is being formulated to eliminate him.
But what was even more questionable was the meet between Lalu Yadav and Congress president Rahul Gandhi!
Yes, earlier in the day there was a meet between Lalu Yadav and Congress president; during this meet Lalu Yadav was totally alright. This meet of Rahul Gandhi is now getting slammed by every sensible Indian.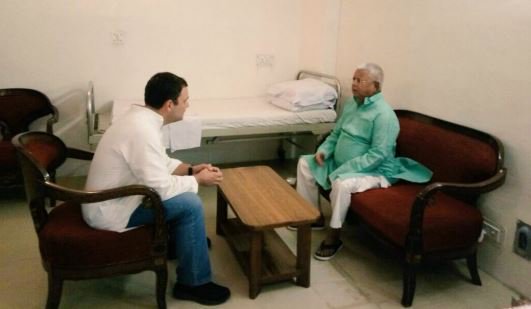 Let me make the point clear. Lalu Yadav is not an accused but a convict and it has been proved in the court of law. So, how can Rahul Gandhi join hands with a person who is serving a jail term of 20 years, just to win the 2019 elections?
Treat Lalu Yadav like a convict and not as a VIP!
"Dear AIIMS, this man is a corrupt jailed for many years by the court of law. If he needs any treatment, treat him like a "qaidi" and not a VVIP. Nobody should be allowed do meetings with him, dress either of qaidi or hospital patients. No special rooms, no sofa", said a Twitterati and expressed his anger against Lalu's luxury life in the jail.
Dear @aiims_newdelhi, this man is a corrupt jailed for many years by the court of law. If he needs any treatment, treat him like a qaidi and not a VVIP

Nobody should be allowed do meetings with him, dress either of qaidi or hospital patients. No special rooms, no sofa. pic.twitter.com/8uCWfV1Tvs

— Ankur Singh (@iAnkurSingh) April 30, 2018
---
Hansika Raj