An Indian Railway Catering and Tourism Corporation (IRCTC) staff is fighting for his life at a private hospital in the city after being assaulted by two passengers of the Sealdah Rajdhani Express near Gaya on 15th of January 2018. He has been attacked by two of the passengers, from Park Circus in Kolkata, were arrested by the Government Railway Police (GRP) and they are charged with attempt to murder under IPC section 307.
According to a complaint filed by the train manager, Sushanta Behera – a workman-3 grade employee was on duty on the B-9 AC III-tier coach. After serving food to the passengers he went back to the pantry to get a tub of ice cream to be served as dessert. While moving from one coach to the other, the tub got rubbed to the accused. And he started trashing Sushanta leading to this silly reason.
The victim "Sushanta Behera", a staff in the railways was beaten by two passengers in the crowded train over a minor issue. Behera, while walking through the train with a carton, had reportedly brushed against one of the accused.
The tempered passenger, identified as Mohammad Zaid (28), thrashed him till he lost consciousness. When the onboard security staff arrived at the spot of the incident, Zaid and his uncle M Quraishi (58), tried to pass off the incident as a minor one, said the train manager.
While Behera was rushed to the railway hospital in Gaya in an unconscious state, the accused were handed over to the Government Railway Police (GRP). They have been charged with attempt to murder under IPC section 307.
The condition of Behera is said to be serious as he has suffered severe injuries to his brain and spine. doctor has reported a severe brain injury and his left side is said to be paralyzed.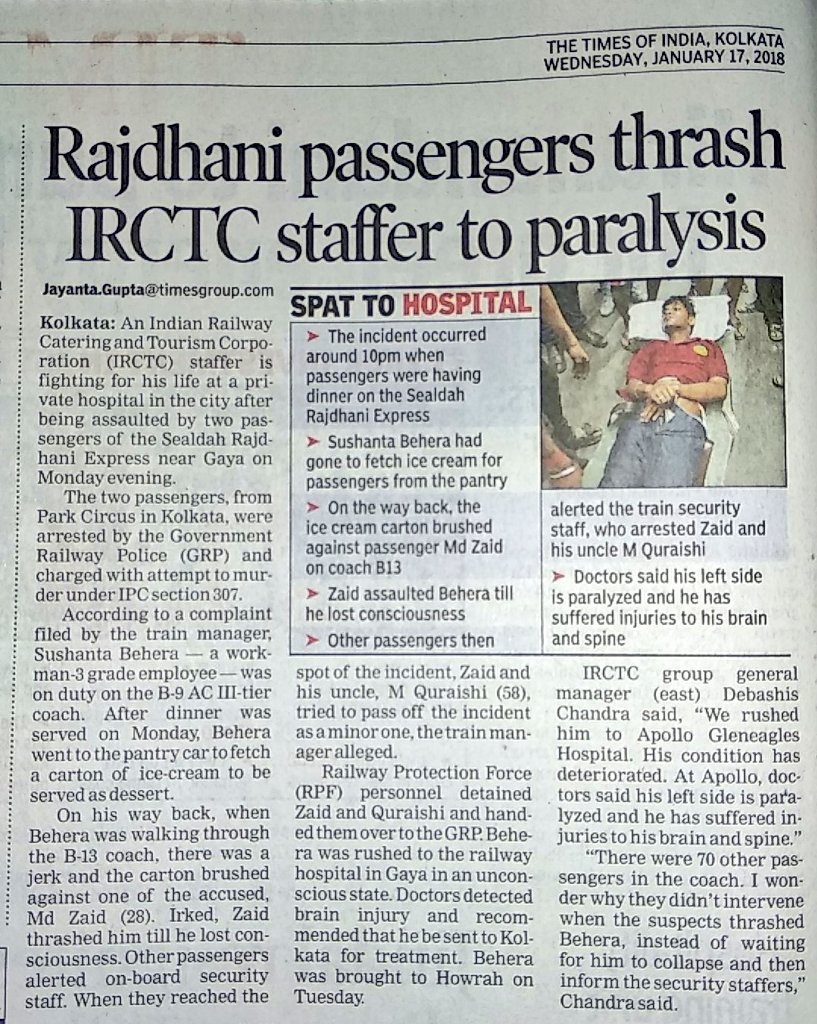 IRCTC group general manager (east) Debashis Chandra said, "We rushed him to Apollo Gleneagles Hospital. His condition has deteriorated. At Apollo, doctors said his left side is paralyzed and he has suffered injuries to his brain and spine."
This poor Indian Railways staffer, Sushanta Behera is currently fighting for his life.

He was thrashed to unconsciousness & paralysis by Mohammed Zaid & M Quraishi when he accidently touched them while fetching an ice cream carton to be served after dinner in the crowded train. pic.twitter.com/DciCbP88tQ

— Sonam Mahajan (@AsYouNotWish) January 17, 2018
A similar incident took place last year and the victim to be killed was Junaid Khan. He was killed in train over a fight for the seat. Media took this issue to target the Hindus and added twists and turns of beef eating. There was also a protest led "Not in my name rally". Now the same has taken place with Sushanta Behera.
Where the Rajdhani passengers, Zaid and Quraishi have thrashed him brutally for a silly issue which has led him to paralysis and brain injury. Now he's fighting for his life but none of them have protested against this. It has been ignored like any other matter that keeps occurring in the country.
Last year, Junaid Khan was killed in train over fight for seat. Media added beef & lynching, then "Not In My Name Rally" & linked Hindutva. Today, In train, Passengers Zaid and Quraishi thrash Sushanta, a IRCTC staffer to paralysis, Now, He's fighting for his life but No such hue

— Anshul Saxena (@AskAnshul) January 17, 2018
Comparing Junaid's incident with Sushanta, Junaid was not completely innocent as portrayed by the media. Junaid and his brother were equal culprits for the unfortunate incident. Junaid called his cousin and came back to attack, as per the accused man reported. Junaid and his cousin attacked him and what happened was a pure act of self-defence. Whereas, Sushanta was purely innocent. Nothing was intentional done by him, a little of conjustedness is normal in within the crowded train.
"There were 70 other passengers in the coach. I wonder why they didn't intervene when the suspects thrashed Behera, instead of waiting for him to collapse and then inform the security staffers," Chandra added.
Have the people become ignorant to such issues now? Will people start killing each other for these minor issues now? Don't the railway employees deserve a little sense of respect from the passengers?
https://twitter.com/AsYouNotWish/status/953638301184897024
https://timesofindia.indiatimes.com/city/kolkata/rajdhani-passengers-thrash-irctc-staffer-to-paralysis/articleshow/62531189.cms