In the recent days, few websites have emerged claiming that they are on a quest to expose fake news. But their quest was coated with hatred against BJP and Hinduism. Altnews.in is a website that claims that it exposes all sorts of fake news on the social media. But after reading this article, you will definitely laugh at the claims made by Altnews. Circulating fake news on social media was just started few years back but did you know that Altnews was the pioneer in circulating fake news?
Altnews.in, which is run by Pratik Sinha claims to be a free thinker on twitter. But on twitter, Mr Suresh Nakhua exposed altnews completely. The website called www.truthofgujarat.com which is presently run by Pratik Sinha was founded by his father late Mukul Sinha Ji. In every article of this website, you can sense anti-Hindu and anti-BJP feeling. At times, it even acts like a terrorist sympathizer.
An article in the website claimed that after the Godhra riots, the then CM of Gujarat Mr Narendra Modi had visited the relief camp of minorities after 35 days. People would definitely question why it took so long to the then CM Modi to visit the relief camp of minorities? Probably this was the intention of the website www.truthofgujarat.com.
Link: https://www.truthofgujarat.com/shaken-core-kaun-hai-yeh-insaan-impostor-large/
The above article was written by late Mukul Sinha, father of Pratik Sinha, who was even the lawyer of terrorist Javed Shiek.
Look at the below image that shows the false claim made by Mukul Sinha Ji.
Request u to specifically fact check the attached para

Link : https://t.co/tY8TElEnam pic.twitter.com/ZufE9XY1kJ

— Suresh Nakhua (@sureshnakhua) September 9, 2017
This false claim was noticed by Mr Suresh Nakhua. Soon, Mr Suresh asked "SM Hoax Slayer" to expose or do further research on that particular paragraph. But surprisingly their response was not encouraging. SM Hoax Slayer is popular among the left leaning seculars.
Mr Suresh Nakhua decided to investigate and soon he proved that the paragraph was filled with false information. Finally, the website managed by Pratik Sinha is caught spreading fake news. Now with what morality will he call other sites as fake news websites?
Mr Suresh submitted the articles that was published in "The Hindu" and "Times of India" to prove that the website managed by the so called fake news exposer Pratik Sinha is spreading false information.
The Hindu of 7th March says "Narendra Modi visited relief camps on 6 March 2002." https://t.co/cuK4zKHdR1 pic.twitter.com/7TUWOmxAdo

— Suresh Nakhua (@sureshnakhua) September 10, 2017
The Times of India also reported the next day that Narendra Modi visited relief camps on 6 March 2002.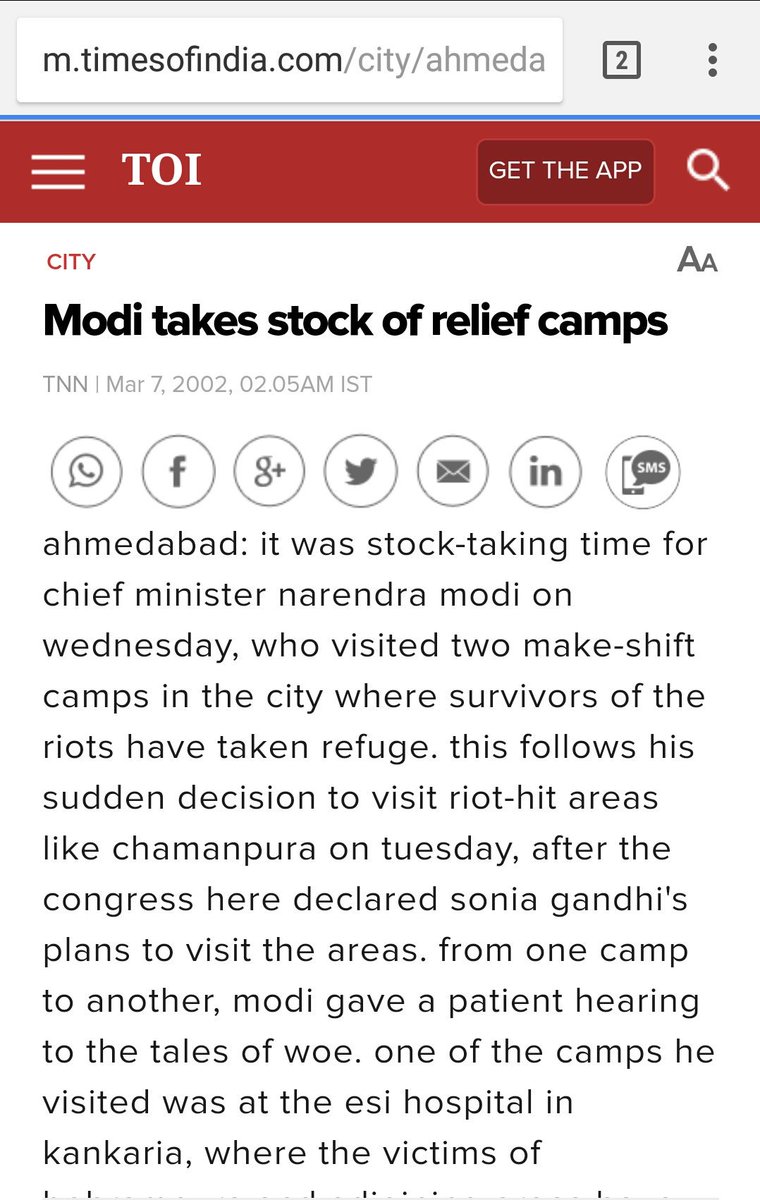 The above two articles show that the then CM of Gujarat Mr Narendra Modi did visit the relief camp of minorities.
Alleged fake news busters busted out in under 48 hours.https://t.co/IEzTHhzp0D

— Suresh Nakhua (@sureshnakhua) September 10, 2017
So, I was just wondering what could be the reason for @SMHoaxSlayer for not busting out this lie & @boomlive_in not responding ?

— Suresh Nakhua (@sureshnakhua) September 10, 2017
Was it because the lies of father of @free_thinker who is also admin of @altnews were requested to be exposed ?

— Suresh Nakhua (@sureshnakhua) September 10, 2017
---
Nishika Ram